Blog/Market Talk
Posted Apr 26, 2017 by Martin Armstrong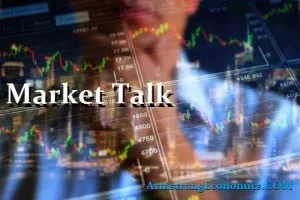 Strong US earnings are matching or indeed breaching expectations and the DOW is reflecting the confidence. Well, that is how the mainstream opinion feels – which is always good to know. Asia followed the momentum with the core reflecting strong daily returns. The Nikkei closed another 1% higher, this time with the Yen continuing to play around the mid 111's. Both Hang Seng and ASX joined the fun closing up around +0.6%. The Shanghai remains heavy as banks withdraw capital from Wealth Management Teams ahead of the regulatory report expected early in June.
We did see a strong opening for Europe but have seen prices ease back as the day wore on. With the exception of the IBEX, all core closed positive but only barely. Retailers have been leading the way setting stocks at almost 2yr highs. Although Financials put-in a reasonable performance today they are lagging majors as concerns continue over the issue of additional capital raising. Credit Suisse announced a $4bn rights issue, investors were probably slightly relieved as many had expected the figure to be closer to the EUR 8bn Deutsche reported back in February. Europe did not move too much ahead of the expected Tax Reform announcement due late US trading and also the ECB meeting Thursday from Frankfurt.
US markets were all trading stronger ahead of the news conference with record highs set again. Having heard the three tire Tax Plan, reduction to 15% in Corporate Tax, hopes to abolish the Death Tax. We have heard a rough guide of things to come with the proposed outcome being more jobs and a target in-excess of 3% growth. Markets are fairly well behaved at time of the conference and even upon the completion stocks remained positive in good volume. In the final 30mins of trading the DOW turned negative upon the markets reassessment. Market Talk is that lack of detail has unnerved buyers and is having a deflated effect after two very strong days of gains. Still a lot to play for with ECB, Details and possible House shutdown the end of the week.
2's closed 1.27% (u/c), 10's at 2.30% (-3bp), Bunds 0.35% (-2bp) which closes the US/Germany spread at +195bp. France 0.88% (-1bp), Italy 2.29% (+4bp), Greece 6.23% (-3bp), Turkey 10.22% (-12bp), Portugal 3.53% (-2bp) and UK Gilts at 1.08% (u/c).