Blog/Market Talk
Posted Apr 26, 2019 by marty armstrong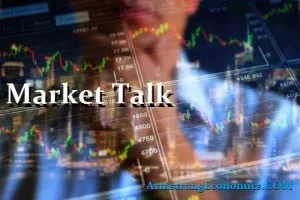 ASIA:
The bank of Japan announced they plan on keeping interest rates low until the spring of 2020, as weaker global demand and Chinese-US relations were taking a toll on the export reliant economy.
China today announced that a French warship had entered the Taiwanese strait earlier this month. In a surprising move by the European country, Chinese defense ministry spokesman Ren Guoqiang said the French warship "illegally entered China's territorial waters" on April 7.
In other news, Walt Disney has expressed emphasis on continuing to grow in Asia as it identifies that the Asia Pacific region will be key to future Growth. The Movie Avengers topped 100 million USD in China on its opening day which is a record for China.
The major Asian stock markets had a mixed day today: SENSEX decreased 323.82 points(-0.83%) to 38,730.86; Hang Seng decreased 256.03 points(-0.86%) to 29,549.80; Shanghai decreased 77.79 points(-2.43%) to 3,123.83; Kospi decreased 10.53 points(-0.48%) to 2,190.50; however NIKKEI 225 and ASX 200 took the opposite route , increased 107.58 points(0.48%) to 22,307.58 and 62.70 points(0.99%) to 6,382.10 respectfully.
The major Asian currency markets had a mixed day today: The NZDUSD increased 0.0026 or 0.40% to 0.6617 and The USDCNY increased 0.0201 or 0.30% to 6.7542; however The AUDUSD and The USDJPY took the opposite route  decreased 0.0004 or 0.06% to 0.7011 and 0.5960 or 0.53% to 111.5740 respectfully.
Gold increased 2.64USD/t oz. or 0.21% to 1,276.07 and Silver increased 0.0225 USD/t. oz or 0.15% to 14.9722
Some economic news:
South Korea
GDP (QoQ) (Q1) decreased from 1.0% to -0.3%
GDP (YoY) (Q1) decreased from 3.1% to 1.8%
Japan
Foreign Bonds Buying increased from 598.7B to 1,170.0B
Foreign Investments in Japanese Stocks increased from 527.4B to 1,426.6B
BoJ Interest Rate Decision remain the same at -0.10%
Indonesian:
Interest Rate Decision remain the same at 6%
Deposit Facility Rate (Apr) remain the same at 5.25%
Lending Facility Rate (Apr) remain the same at 6.75%
EUROPE:
Scotland PM Nicola Stugeon announced she wants a Scottish independence referendum by 2021 if Brexit occurs. She also mentioned that then Scotland would reapply as an independent country. Talking of Brexit, the Brexit Party has a new member Ann Widdecombe. Mrs Widdecombe who represented the Conservatives announced she will be joining the Brexit party, she was subsequently kicked out of the conservatives for this move. The Brexit party led by Mr. Farage have recently surged ahead of Labour and Conservatives in the European Parliament polls.
The latest Eurobarometer released by the European Parliament on Thursday stated that the majority of Brits, Italians and Czech would support an EU membership. The most enthusiastic of those to remain are interestingly the Netherlands, Swedes and Germans.
The major European stock markets had a negative day today: CAC 40 decreased 18.39 points or -0.33% to 5,557.67; The FTSE 100 decreased 37.62 points, or -0.50% to 7,434.13 and DAX decreased 30.56 points or -0.25% to 12,282.60.
The major European currency markets had a mixed day today: The GBPUSD increased 0.0002 or 0.02% to 1.2902 and The USDCHF increased 0.0002 or 0.02% to 1.0205; however The EURUSD took the opposite route decreased 0.0019 or 0.17% to 1.1133
Some economic news from Europe:
Norway:
Industrial Confidence (Q1) decreased from 8.7 to 7
Spain:
Spanish PPI (YoY) increased from 1.7% to 2.4%
Spanish Unemployment Rate (Q1) increased from 14.45% to 14.70%
UK:
CBI Distributive Trades Survey (Apr) increased from -18 to 13
US / AMERICAS:
Wall Street was up and down today, as earnings continue. The Dow lost -134.97 points (26,462.08close, down -0.51%), while the S&P 500 was just barely in the red, down only -1.08 points (2,926.17 close, down -0.04%) and the Nasdaq closed up +16.67 (8,118.68 close, up +0.21%). After leading the major indices yesterday, the Russell 2000 was down today, closing at 1,575.61 (-12.52 points, down -0.79%).
Healthcare (+1.13%) and Communication Services (+1.08%) lead the charge while Materials (-1.30%) and Industrials (-1.99%) were the anchors. 3M (-12.9%), Tesla (-4.26%), Verizon (-2.15%) and Intel (-1.89%) were among the biggest losers of the day, with 3M having its worst drop in over 30 years (Black Monday) after posting earnings well below expectations, and announcing plans to cut 2,000 jobs across its business. Facebook (+5.85%), Lam Research (+4.93%), Alexion (+4.30%), Microsoft (+3.31%), PayPal (+2.80%), and Comcast (+2.58%) were among the days winners.
On the economic front, the Labor Dept posted weekly jobless claims at an estimated 230,000 (week ending April 20th) – the largest increase in 19 months and an increase over the prior week's number as well. This reading was a bit higher than had been expected, and also well above the prior week's number.
U.S. Census Bureau reported durable goods orders in March increased by 2.7% – above expectations. Excluding transportation, orders increased only 0.4% though.
The Canadian markets were essentially flat for the day, with the TSX Composite closing just barely in the red at 16,576.10 (-0.06%) and the TSX 60 closing at 993.71 (unchanged).
Brazil's Bovespa was back in the green, gaining 1,506.60 points (96,552.03 close, up +1.59%).
ENERGY:
The sanctions on Iranian oil is expected to reduce the supply of Crude oil by around half a million to a million barrels of oil, issues in Venezuela and Libya are not helping the current supply situation. Reports are emanating that Saudi will apply a cap on Crude oil price if it escalates higher.
The most of the oil markets had a green day today: Brent increased 0.27 USD/BBL or 0.36% to 74.9140; Natural gas increased 0.04 USD/MMBtu or 1.62% to 2.5011; Gasoline increased 0.0141 USD/GAL or 0.66% to 2.1438 and Heating oil increased 0.0042 USD/GAL or 0.20% to 2.1012; however Crude Oil took the opposite route decreased 0.14 USD/BBL or -0.21% to 65.6225.
Top commodity gainers are Nature Gas (1.75%), Lumber(4.44%) ,Bitumen(1.51%) and Coffee(1.49%),. Biggest losers are Sugar (-2.52%), Feeder Cattle(-2.00%) ;Copper(-1.68%) and Live Cattle (-1.64%).
The above data were collected around noon 13:05 EST time on Thursday
BONDS:
Japan -0.04%(+0bp), US 2's 2.39% (+1bps), US 10's 2.53%(+3bps), US 30's 2.99%(+4bps), Bunds -0.01% (-6bp), France 0.37% (+3bp), Italy 2.69% (-2bp), Turkey 18.02% (+11bp), Greece 3.32% (-51bp), Portugal 1.19% (+2bp), Spain 1.09% (+6bp) and UK Gilts 1.16% (-4bp).
US 4-week Bill Auction decreased from 2.400% to 2.390%
US 8-week Bill Auction decreased from 2.390% to 2.380%
US 7-Year Note Auction increased from 2.281% to 2.426%