Blog/Market Talk
Posted Apr 25, 2017 by Martin Armstrong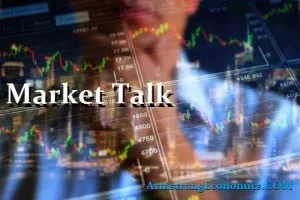 Monday's Asian trading needed to see Europe's and the US reaction before getting too carried away and that is probably what we saw today. With all core indices seen making strong progress we saw another good day for the Nikkei (+1.1%), a healthy 1.3% return for the Hang Seng and KOSPI while the Shanghai and ASX gained around +0.25%. China continues to lag due mainly to the exodus of investment flows. Increased regulations on Chinese banks is halting the usual money flow to external managers and has even reversed. Over the past few days the flow has stopped which is having a negative impact on domestic bond prices, which hit their highest yields in over two years. Domestic banks are to return reports on their businesses by June 12, so the conclusion many traders are making is that the leveraged being used was too excessive and so are liquidating positions ahead of the reporting deadline. Late in US trading we see the JPY trading above 111.
Another positive day for all core European indices with gains across the board of around +0.15%. Having had the euphoria following Sundays voting, the stage is now set for the run-off to be held Sunday May 7th. A more pressing matter concerns the ECB rate decision to be announced Thursday, but markets will be eager to listen to the press conference as questions tend to draw more detail than the prepared remarks. Late in US trading the Euro and GBP appear to be struggling with todays gains so it will be interesting to see where we close on the Monthly's. Gold has lost another $10+ in todays trading but so have other safe-havens assets as we watch yields rise in the bond markets.
The NASDAQ was the talk of the day today breaking the psychological 6K barrier but not forgetting the Russell also trading at contract highs. Many are now questioning valuations especially given that corporates have curtailed their buy-backs which could also be a reflection upon absolute levels. Corporate earnings are supporting recent moves but with the added momentum of imminent tax reforms ahead of Friday – so, could this be the start of something more substantive! We also saw supportive economic data in the form of Home Price Index beating expectations by 0.01% to release at 5.8%.
2's closed 1.27% (+4bp), 10's at 2.33% (+6bp), Bunds at 0.37% (+5bp) which closes the US/Germany spread at +196bp (+1bp). France closed 0.89% (+7bp), Italy closed 2.25% (+8bp), Greece 6.26% (-2bp), Turkey 10.34% (+5bp), Portugal 3.55% (+3bp) and finally UK Gilts at 1.08% (+3bp).