Blog/Market Talk
Posted Apr 24, 2020 by Martin Armstrong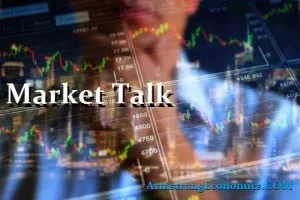 ASIA:
The Indian government has announced a new policy on Foreign Direct Investment (FDI) from border sharing countries. The new law came into effect after the Foreign Exchange Management Act (FEMA) notification which was released late night on April 22. This law mandated prior government approvals for FDI from India's neighbors such as Pakistan, China, and Bangladesh. The policy also added that approval would be required for deals where the beneficial or the ultimate owner of the investment, whether directly or indirectly, is from these neighboring countries.
Prime Minister Narendra Modi on Thursday shared a finance ministry report to highlight steps taken by his government to help the "most vulnerable" sections of society during the coronavirus-induced lockdown. The ministry said more than 330 million poor people received financial assistance of approx. 4.1 billion USD under the welfare scheme announced on 26 March by Prime Minister.
Leading figures in India's crypto industry are reading positive signs from Facebook's $5.7 billion investment in India's largest mobile operator. One of India's prominent crypto exchange said this is a clear sign of crypto emerging as a popular technology in India. Facebook investing $5.7B in Jio is great news for India's crypto system, and Facebook's cryptocurrency Libra may become a reality in India as Jio has also been working on blockchain crypto tech.
More than 232,000 people may have been infected in the first wave of Covid-19 in mainland China, four times the official figures, according to a study by Hong Kong researchers. China reported more than 55,000 cases as of February 20, but according to research by academics at Hong Kong University's school of public health, the true number would have been far greater if the definition of a COVID-19 case that was later used had been applied from the outset. China has now reported more than 83,000 cases.
The US is calling on China to permanently shut down the country's wet markets where the deadly coronavirus is thought to have first emerged late last year. In a statement following a virtual meeting of the foreign ministers of the Association of Southeast Asian Nations (ASEAN), Secretary of State Mike Pompeo said, "Given the strong link between illegal wildlife sold in wet markets and zoonotic diseases, the United States has called on the People's Republic of China to permanently close its wildlife wet markets and all markets that sell illegal wildlife. I call on all ASEAN governments to do the same." Following this statement, China's foreign ministry emphasized again that it has closed down all live-animal markets but resisted closing the wet markets.
The major Asian stock markets had a mixed day today:
NIKKEI 225 decreased 167.44 points or -0.86% to 19,262.00
Shanghai decreased 29.97 points or -1.06% to 2,808.53
Hang Seng decreased 145.99 points or -0.61% to 23,831.33
ASX 200 increased 25.50 points or 0.49% to 5,242.60
Kospi decreased 25.72 points or -1.34% to 1,889.01
SENSEX decreased 535.86 points or -1.68% to 31,327.22
The major Asian currency markets had a mixed day today:
AUDUSD increased 0.00091 or 0.14% to 0.63820
NZDUSD increased 0.0000 or 0.00% to 0.60030
USDJPY decreased 0.23 or -0.22% to 107.41
USDCNY increased 0.00027 or 0.00% to 7.09351
Precious Metals:
Gold decreased 6.43 USD/t oz. or -0.37% to 1,724.90
Silver decreased 0.11 USD/t. oz or -0.70% to 15.1930
Some economic news from last night:
Japan:
National CPI (MoM) increase from -0.1% to 0.0%
CPI, n.s.a (MoM) (Mar) increased from -0.2% to 0.0%
National Core CPI (YoY) (Mar) decreased from 0.6% to 0.4%
National CPI (YoY) (Mar) remain the same at 0.4%
Corporate Services Price Index (CSPI) (YoY) decreased from 2.1% to 1.6%
Singapore:
URA Property Index (QoQ) (Q1) decreased from 0.50% to -1.00%
Some economic news from today:
Japan:
All Industries Activity Index (MoM) decreased from 0.6% to -0.6%
Singapore:
Industrial Production (MoM) (Mar) increased from -22.1% to 21.7%
Industrial Production (YoY) (Mar) increased from -0.7% to 16.5%
India:
Bank Loan Growth increased from 6.1% to 7.2%
Deposit Growth increased from 7.9% to 9.5%
FX Reserves, USD increased from 476.48B to 479.57B
EUROPE:
A down day for Major European indices as no concrete financial plans concluded during yesterdays after calls with EU senior MPs.
The EU chief negotiator has told the media that talks up to this point were disappointing and that real progress must come by June if there is any chance of making the set deadlines. A joint decision would be made at the end of June as to whether they will extend the deadline.
Still, no progress has been made regarding the "recovery fund" which would pump trillions of euros into the economy. There is very much a divide between northern and southern states. European Commission head Ursula von der Leyen stated that talks have been positive, and arguments were made in a very constructive manner.
Turkey made a complaint to the EU stating Greece is using them. This comes after the EU criticized Turkey's illegal drilling for oil in the Mediterranean Sea.
The major Europe stock markets had a negative day today:
CAC 40 decreased 57.68 points or -1.30% to 4,393.32
FTSE 100 decreased 74.38 points, or -1.28% to 5,752.23
DAX 30 decreased 177.70 points or -1.69% to 10,336.09
The major Europe currency markets had a mixed day today:
EURUSD increased 0.00309 or 0.29% to 1.08062
GBPUSD increased 0.00104 or 0.08% to 1.23633
USDCHF decreased 0.0006 or 0.06% to 0.9755
Some economic news from Europe today:
UK:
GfK Consumer Confidence (Apr) remain the same at -34
Core Retail Sales (YoY) (Mar) decreased from 0.4% to -4.1%
Core Retail Sales (MoM) (Mar) decreased from -0.5% to -3.7%
Retail Sales (YoY) (Mar) decreased from 0.0% to -5.8%
Retail Sales (MoM) (Mar) decreased from -0.3% to -5.1%
Germany:
German Business Expectations (Apr) decreased from 79.5 to 69.4
German Current Assessment (Apr) decreased from 92.9 to 79.5
German Ifo Business Climate Index (Apr) decreased from 85.9 to 74.3
Norway:
GDP (QoQ) (Q1) decreased from 1.6% to -1.5%
GDP Mainland (QoQ) (Q1) decreased from 0.2% to -1.9%
Spain:
Spanish PPI (YoY) decreased from -2.2% to -5.0%
US/AMERICAS:
President Trump signed phase 3.5 of the coronavirus relief legislation into law this Friday. The $484 billion in funding will provide 310 billion to the Paycheck Protection Program (PPP), $75 billion to hospitals across the US, and $25 billion for coronavirus testing. The administration said that more relief efforts are underway.
States across the US, mainly in the south and Midwest, are making plans to reopen their economies incrementally in the near future. The federal government permitted each state to choose their reopening plans as long as they follow a three-step guideline to ensure that the proper precautions are considered. Georgia currently has the most aggressive plan to reopen its state economy, with Governor Brian Kemp allowing businesses previously deemed non-essential to reopen today. The president said he does not support Kemp's decision but believes each governor will do what is best for their people.
NASA is urging people not to congregate for the historic SpaceX launch in Cape Canaveral, Florida. The launch, scheduled for May, will mark the first time in nearly a decade that a manned spacecraft will launch from US soil, as most missions takeoff in rural Khasikstan. This is the first manned mission for SpaceX as well. An event of this magnitude would typically be used as an opportunity to promote Florida tourism, but NASA is urging those interested to livestream the event from home.
Brazil's Justice Minister Sérgio Moro resigned from his role in what could be a devastating blow to the Bolsonaro administration. President Bolsonaro recently fired Federal Police Director Maurício Valeixo and the formal notice included Moro's signature. However, Moro claims he neither supported nor signed the letter to fire Valeixo. The federal police are now investigating Moro's claims and are also launching an investigation into the president's business dealings that may involve a money laundering scheme.
US Market Closings:
Dow advanced 260.00 points or 1.11% to 23,775.27
S&P 500 advanced 38.94 points or 1.39% to 2,836.74
Nasdaq advanced 139.77 points or 1.65% 6o 8,634.52
Russell 2000
Canada Market Closings:
TSX Composite advanced 169.27 points or 1.19% to 14,420.36
TSX 60 advanced 11.17 points or 1.3% to 873.14
Brazil Market Closing:
Bovespa declined -4,345.98 points or 5.45% to 75,327.32
ENERGY:
Brent and WTI's volatility came down today as both oil's moved up 2.2% and 3.7%, respectively. Many banks and analysts are calling the bounce temporary in nature and expect further weakness ahead.
The oil markets had a mixed day today:
Crude Oil increased 0.58 USD/BBL or 3.52% to 17.0800
Brent increased 0.46 USD/BBL or 2.16% to 21.7900
Natural gas decreased 0.07 USD/MMBtu or -3.88% to 1.7300
Gasoline increased 0.0359 USD/GAL or 5.35% to 0.7066
Heating oil decreased 0.0288 USD/GAL or -3.68% to 0.7538
The above data was collected around 15.32 EST on Friday.
Top commodity gainers: Crude Oil (3.52%), Gasoline (5.35%), Palladium (2.43%), and Ethanol (8.29%)
Top commodity losers: Natural Gas (-3.88%), Heating Oil (-3.68%), Coffee (-5.13%), and Cotton (-5.34%)
The above data was collected around 15.35 EST on Friday.
BONDS:
Japan -0.01%(-1bp), US 2's 0.21% (-0bps), US 10's 0.60%(-1bps); US 30's 1.19%(-1bps), Bunds -0.47% (-4bp), France 0.02% (-5bp), Italy 1.84% (-17bp), Turkey 11.51% (-49bp), Greece 2.31% (-3bp), Portugal 1.10% (-11bp); Spain 0.97% (-8bp) and UK Gilts 0.29% (+0bp).