Blog/Market Talk
Posted Apr 24, 2019 by marty armstrong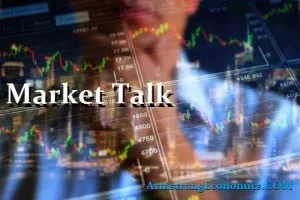 ASIA:
The North Korean leader Kim Jong-un visits Russia for the first time near the city of Vladivostok. Talks are due to commence tomorrow between the two nations as Russia wishes to discuss North Korea's nuclear problem. This, along with continued efforts to engage with China, is a continued effort for North Korea to hedge against the U.S. Earlier this month North Korea accused U.S. Secretary of State Mike Pompeo of "talking nonsense" and asked for him to be removed from nuclear talks, and replaced with someone who "is more careful and mature in communicating."
Japanese PM Abe apologized and  promised to pay approximately 3.2 million yen (29,000 USD) to each of the victims of the forced government led Eugenics program which was designed to prevent the birth of poor-quality descendants. In what seems to be an unthinkable program, occurred in Japan during the years of 1948 until 1996.
The major Asian stock markets had a mixed day today: ASX 200 increased 62.70 points(0.99%) to 6,382.10; Sensex increased 489.80 points(1.27%) to 39,054.68; Shanghai increased 3.02 points( 0.09%) to 3,201.61; however NIKKEI 225 Hang Seng and KOSPI took the opposite route, NIKKEI 225 decreased 76.84 points(-0.35%) to 22,182.90; Hang Seng decreased 157.41 points(-0.53%) to 29,805.83 and KOSPI decreased 19.48 points(-0.88%) to 2,201.03.
The major Asian currency markets had a mixed day today: The USDJPY increased 0.0650 or 0.06% to 111.9250 and The USDCNY increased 0.0069 or 0.10% to 6.7350; However The AUDUSD and The NZDUSD took the opposite route, The AUDUSD decreased 0.00863 or -1.22% to 0.70147 and The NZDUSD decreased 0.0062 or 0.94% to 0.6594.
Gold increased 4.8USD/t oz. or 0.38% to 1,277.74 and Silver increased 0.146 USD/t. oz or 0.99% to 14.9902.
Some economic news from Asia:
Australia:
CPI (YoY) (Q1) decreased from 1.8% to 1.3%
CPI (QoQ) (Q1) decreased from 0.5% to 0.0%
CPI Index Number (Q1) remain the same at 114.10
Trimmed Mean CPI (YoY) (Q1) decreased from 1.8% to 1.6%
Trimmed Mean CPI (QoQ) (Q1) decreased from 0.4% to 0.3%
Weighted mean CPI (QoQ) (Q1) decreased from 0.4% to 0.1%
Weighted mean CPI (QoQ) (Q1) decreased from 1.7% to 1.2%
Japan:
Corporate Services Price Index (CSPI) (YoY) remain the same at 1.1%
All Industries Activity Index (MoM) decreased from 0.0% to -0.2%
Leading Index increased from 96.5 to 97.1
Indian:
M3 Money Supply increased from 10.6% to 10.9%
Indonesian:
Loans (YoY) (Mar) decreased from 12.13% to 11.55%
EUROPE:
The UK have allowed Huawei to help build the country 5G infrastructure going against US opposition that any country dealing with Huawei will be an increased liability. The CEO of Huawei earlier in the year stated that any investments turned away from the US will be allocated to the UK. Government borrowing in the UK has now hit a 17 year low, the 24.7bn figure for the financial year 2018-19 has nearly been halved since the previous year, 17.2bn GBP less than the previous year. IN 2009-2014 more than 100bn GBP was borrowed each year to tackle the financial crises.
Hospitals in Paris today announced that they acknowledge information about Yellow Jacket protesters was inappropriately released to a government database, while denying law enforcement officials had access to the information.
The major European stock markets had a mixed day today: DAX increased 77.65 points or 0.63% to 12,313.16; however CAC 40 and The FTSE 100 took the opposite route, decreased 15.62 points or -0.28% to 5,576.06 and  51.32 points, or -0.68% to 7,471.75 respectfully.
The major European currency markets had a mixed day today: The USDCHF increased 0.00017 or 0.02% to 1.02017; however The EURUSD and The GBPUSD took the opposite route; decreased 0.0062 or 0.55% to 1.1163 and 0.0012 or 0.09% to 1.2926 respectfully.
Some economic news from Europe:
German Business Expectations decreased from 95.6 to 95.2
German Current Assessment decreased from 103.9 to 103.3
German Ifo Business Climate Index decreased from 99.6 to 99.2
French Business Survey (Apr) decreased from 103 to 101
Italian Trade Balance Non-EU (Mar) increased from 2.16B to 3.42B
Public Sector Net Borrowing (Mar) increased from -0.51B to 0.84B
Public Sector Net Cash Requirement (Mar) increased from 0.671B to 8.871B
Spanish Trade Balance increased from -4.48B to -2.63B
ZEW Expectations (Apr) increased from -26.9 to -7.7
US / AMERICAS:
A bit of a leveling off day after setting some new record highs yesterday. The Nasdaq was off nearly nineteen points today (8,102.02 close, down -0.23%) while the S&P 500 gave back over six points (2,927.25 close, down -0.22%) and the Dow lost a little over fifty nine points (26,597.05 close, down -0.22%). The Russell 2000 was the loan major index in the green again today, closing at 1,588.13 (up +0.19%).
Energy sector was the laggard today (-1.85%) – lead down by Chevron (-3.07%) and Exxon Mobil (-1.94%). Chevron took a hit after Occidental came out with a competing bid for Anadarko Petroleum (whom Chevron had previously announced plans to acquire). While most believe Chevron will end up paying whatever it must, the possible increase in cost to close this deal is not ideal.
As earnings season is full steam ahead, Boeing reported in-line with expectations but announced it is pulling back its 2019 guidance given the ongoing issues with its 737 Max planes. This is not a surprise, and Boeing actually ended the day in the green (+0.39%).
Tomorrow will see market reactions to Microsoft, Tesla, PayPal and others who reported after the bell today. While Tesla is a lightning rod stock, Microsoft and PayPal are real drivers of technology that are helping lead the way to cloud and payments innovation.
Not much on the economic front today. Rather enjoyable to have a relatively quiet day on the political front as well (not counting Twitter banter).
The Canadian markets performed similarly today, with the TSX Composite closing at 16,586.52 (-0.50%) and the TSX 60 closing at 993.71 (-0.63%).
Brazil's Bovespa was also in the red, closing at 95,045.43 (-0.92%).
ENERGY:
The EU today approved a 385 million Euro renewable energy program for Lithuania in attempt to support renewables in the country. The EU currently gets more than 30% of energy from the EU and has plans to be 50% reliant on the renewable energies by 2030.
The Saudi Oil Minister stated today that they will not be ramping up (and assuming OPEC following the lead) the oil production any time soon, as yesterday we say prices hit recent highs with the issue of Iranian oil wavers being dropped.
The oil markets had a mixed day today: Brent increased 0.13 USD/BBL or 0.17% to 74.5075 and Natural gas increased 0.012 USD/MMBtu or 0.49% to 2.4613; however Crude Oil; Gasoline and Heating oil took the opposite route; Crude Oil decreased 0.33 USD/BBL or -0.50% to 66.0554; Gasoline and Heating oil decreased
0.0036 USD/GAL or -0.17% to 2.1323 and 0.0152 USD/GAL or -0.72% to 2.0987 respectfully.
Top commodity gainers are Palladium (1.87%), Lean Hogs(1.14%) ,Orange Juice(1.04%) and Oat(1.02%),. Biggest losers are Cocoa (-2.99%), Ethanol(-2.55%) ;Feeder Cattle(-2.16%) and Wheat (-1.71%).
The above data was collected around noon 14:20 EST time on Wednesday
BONDS:
Japan -0.03%(+0bp), US 2's 2.34% (+1bps), US 10's 2.52%(-7bps), US 30's 2.99%(+4bps), Bunds -0.01% (-6bp), France 0.35% (-4bp), Italy 2.63% (+4bp), Turkey 17.60% (+11bp), Greece 3.30% (-0bp), Portugal 1.19% (+2bp), Spain 1.07% (+6bp) and UK Gilts 1.18% (-2bp).
German 10-year Bund Auction increased from -0.050% to 0.020%
US 5-year Note Auction increased from 2.172% to 2.315%