Blog/Market Talk
Posted Apr 24, 2017 by Martin Armstrong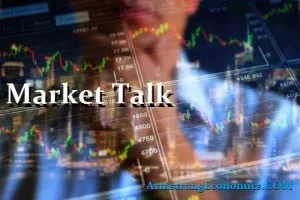 Donald Trump's tweet on Saturday for plans of a "big" tax reform announcement on Wednesday has probably been overshadowed by Sundays event. The first round victory for Macron and going head to head with Le Pen certainly propelled Europe, but may be questionable how much of an effect it had away from President Trumps tweet. Much had been credited to the Trump rally this year but complacency started to build so the market is desperate for details. Headlines are going to be key as we approach the 100 days (29th April) and potential US government shutdown. Having seen a 200+ points rally in the first few minutes of cash trading, then the rest of the day was reasonably well behaved. The NASDAQ sets another record while we await further performance for the DOW and S+P to join the party.
Thursday we hear from the ECB when they set monetary policy (no change expected) but the market will be eager to explore discussions surrounding an easing of the extraordinary monetary stimulus program. Interesting price action for GBP which after a failed sympathy rally on the back of the Euro eventually closed sub 1.2800.
2's closed 1.23% (+5bp), 10's closed 2.27% (+3bp), Bunds 0.32% (+8bp) closing the US/Germany spread at +195bp (-5bp). France 0.82% (-7bp), Italy 2.17% (-7bp), Greece 6.28% (-18bp), Turkey 10.29% (-8bp), Portugal 3.52% (-19bp) and UK Gilts 1.05% (+2bp).