Blog/Market Talk
Posted Apr 23, 2021 by Martin Armstrong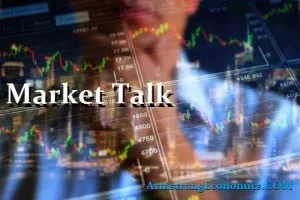 ASIA:
India's biggest oil refiner, Indian Oil Corp Ltd's refineries are operating at about 95% of their capacity, down from 100% at the same time last month, Reuters reported. Coronavirus cases have surged in India, leading to curbs on movement across the country, a move analyst say could hit fuel demand in the world's third-largest oil importer and consumer. Consultancy FGE said it estimates gasoline demand will drop by 100,000 barrels per day (bpd) in April and by more than 170,000 bpd in May if further restrictions are imposed. India's total gasoline sales came to nearly 747,000 bpd in March. Diesel demand is expected to contract by 220,000 bpd in April and by another 400,000 bpd in May, according to FGE. India's diesel consumption, a key indicator linked to economic growth and which accounts for about 40% of overall refined fuel sales in India, was 1.75 million bpd in April.
The major Asian stock markets had a mixed day today:
NIKKEI 225 decreased 167.54 points or -0.57% to 29,020.63
Shanghai increased 9.05 points or 0.26% to 3,474.17
Hang Seng increased 323.41 points or 1.12% to 29,078.75
ASX 200 increased 5.30 points or 0.08% to 7,060.70
Kospi increased 8.58 points or 0.27% to 3,186.10
SENSEX decreased 202.22 points or -0.42% to 47,878.45
Nifty50 decreased 64.80 points or -0.45% to 14,341.35
The major Asian currency markets had a mixed day today:
AUDUSD increased 0.00245 or 0.32% to 0.77280
NZDUSD increased 0.00139 or 0.19% to 0.71682
USDJPY increased 0.13 or 0.12% to 108.10
USDCNY decreased 0.00311 or -0.05% to 6.49293
Precious Metals:
Gold decreased 9.56 USD/t oz. or -0.54% to 1,774.38
Silver decreased 0.21 USD/t. oz or -0.82% to 25.956
Some economic news from last night:
Japan:
CPI, n.s.a (MoM) (Mar) increased from 0.0% to 0.2%
National Core CPI (YoY) (Mar) increased from -0.4% to -0.1%
National CPI (MoM) increased from 0.1% to 0.2%
National CPI (YoY) (Mar) increased from -0.4% to -0.2%
Manufacturing PMI (Apr) increased from 52.7 to 53.3
Services PMI remain the same at 48.3
Australia:
Manufacturing PMI increased from 56.8 to 59.6
Services PMI increased from 55.5 to 58.6
New Zealand:
Credit Card Spending (YoY) increased from -12.6% to 2.2%
Singapore:
URA Property Index (QoQ) (Q1) increased from 2.90% to 3.30%
Some economic news from today:
Hong Kong:
CPI (YoY) (Mar) increased from 0.30% to 0.50%
India:
Bank Loan Growth decreased from 5.6% to 5.3%
Deposit Growth decreased from 11.4% to 10.9%
FX Reserves, USD increased from 581.21B to 582.41B
Singapore:
CPI (YoY) (Mar) increased from 0.7% to 1.3%
Indonesia:
M2 Money Supply (YoY) (Mar) decreased from 11.30% to 6.90%
EUROPE/EMEA:
The International Monetary Fund says in its latest forecast that the rollout of COVID-19 vaccines and vast sums of government aid will accelerate global economic growth to a record high this year in a powerful rebound from the pandemic recession. IMF said it expects the world economy to expand 6% in 2021, up from the 5.5% it had forecast in January. It would be the fastest expansion for the global economy in IMF records dating back to 1980. In 2022, the IMF predicts, international economic growth will decelerate to a still strong 4.4%, up from its January forecast of 4.2%. The monetary fund expects the 19 countries that share the euro currency to collectively expand 4.4% this year and 3.8% in 2022. Japan is expected to register 3.3% growth this year and 2.5% next year.
The major Europe stock markets had a mixed day:
CAC 40 decreased 9.34 points or -0.15% to 6,257.94
FTSE 100 increased 0.32 points or 0.00% to 6,938.56
DAX 30 decreased 40.90 points or -0.27% to 15,279.62
The major Europe currency markets had a mixed day today:
EURUSD increased 0.0036 or 0.30% to 1.20512
GBPUSD increased 0.00037 or 0.03% to 1.38415
USDCHF decreased 0.00052 or -0.06% to 0.91655
Some economic news from Europe today:
UK:
GfK Consumer Confidence (Apr) increased from -16 to -15
Core Retail Sales (MoM) (Mar) increased from 2.5% to 4.9%
Core Retail Sales (YoY) (Mar) increased from -1.0% to 7.9%
Public Sector Net Borrowing (Mar) increased from 15.31B to 27.27B
Public Sector Net Cash Requirement (Mar) increased from 14.364B to 19.225B
Retail Sales (MoM) (Mar) increased from 2.2% to 5.4%
Retail Sales (YoY) (Mar) increased from -3.6% to 7.2%
France:
French Manufacturing PMI (Apr) decreased from 59.3 to 59.2
French Markit Composite PMI (Apr) increased from 50.0 to 51.7
French Services PMI (Apr) increased from 48.2 to 50.4
Germany:
German Composite PMI (Apr) decreased from 57.3 to 56.0
German Manufacturing PMI (Apr) decreased from 66.6 to 66.4
German Services PMI (Apr) decreased from 51.5 to 50.1
Euro Zone:
Manufacturing PMI (Apr) increased from 62.5 to 63.3
Markit Composite PMI (Apr) increased from 53.2 to 53.7
Services PMI (Apr) increased from 49.6 to 50.3
US/AMERICAS:
Former Director of the United States National Economic Council Larry Kudlow criticized Biden's proposed tax hikes and infrastructure spending. Praising the prior administration, Kudlow said that Trump's regulatory curbs, tax incentives, and Operation Warp Speed has help the economy to regain traction now that the nation is beginning to reopen. In terms of the newly proposed capital tax, "we fall badly behind in the global race for capital, but a tax hike maelstrom is going to throw a wet blanket over the entire economic boom. If it ain't broke, don't fix it," Kudlow stated.
The White House declined to attribute Thursday's poor stock market performance to Biden's capital gains tax hike announcement. "I've been doing this long enough not to comment on movements in the stock market," Jen Psaki, White House press secretary, said during a press briefing. "But I did see data, factually, that it went back up this morning." However, numerous analysts came out today to declare that the 39.6% proposed capital gains tax would be reduced in Congress. Goldman declared that "Congress will settle on a more modest increase, portentially around 28%." Still, it seems as if the Biden administration is keen on implementing this tax increase amid an uptick in post-pandemic spending.
Canadian Prime Minister Justin Trudeau received the AstraZeneca vaccination this Friday. In a similar fashion to Mexico's President Andrés Manuel López Obrador, PM Trudeau visibly received the vaccination to ease public concerns after numerous nations banned the vaccination due to adverse side effects such as blood clotting. Trudeau stated on Thursday that "the best vaccine for you is the first one that's offered," before announcing that he and his wife, who already had the coronavirus, will receive the AstraZeneca vaccine. National Advisory Committee on Immunization (NACI) originally stated that AstraZeneca should only be used by persons over 55, but numerous provinces lowered the age range to 40 as vials sat on shelves. The Canadian government anticipates 4.1 million AstraZeneca shots becoming available by June.
The Canadian government is banning all flights from Pakistan and India amid a rise in coronavirus cases. As of yesterday, India reported over 314,000 new cases. Cargo flights will be permitted as to not disrupt the supply chain on essential items. Those departing from Pakistan or India but arriving to Canada via a third party must produce a negative COVID test before entering the country. All persons arriving to Canada from any country must still undergo a COVID test as well as a two-week mandatory quarantine at a government-approved facility. Health Minister Patty Hajdu noted that only 1.8% of travelers who arrive in Canada test positive for the virus.
US Market Closings:
Dow advanced 227.59 points or 0.67% to 34,043.49
S&P 500 advanced 45.18 points or 1.09% to 4,180.16
Nasdaq advanced 198.4 points or 1.44% to 14,016.81
Russell 2000 advanced 39.24 points or 1.76% to 2,271.86
Canada Market Closings:
TSX Composite advanced 70.69 points or 0.37% to 19,102.33
TSX 60 advanced 3.93 points or 0.35% to 1,136.4
Brazil Market Closing:
Bovespa advanced 1,158.58 points or 0.9% to 120,530.06
ENERGY:
The oil markets had a green day today:
Crude Oil increased 0.73 USD/BBL or 1.19% to 62.1600
Brent increased 0.69 USD/BBL or 1.06% to 66.0900
Natural gas increased 0.009 USD/MMBtu or 0.33% to 2.7580
Gasoline increased 0.022 USD/GAL or 1.11% to 1.9967
Heating oil increased 0.0128 USD/GAL or 0.69% to 1.8736
Top commodity gainers: Platinum (1.73%), Palm Oil (1.33%), Lumber (2.72%) and Cotton (2.72%)
Top commodity losers: Wheat (-1.13%), Gold (-0.54%), Silver (-0.82%), and Oat (-0.93%)
The above data was collected around 11:25 EST on Friday.
BONDS:
Japan 0.0730%(+0bp), US 2's 0.1554%(+0.00%), US 10's 1.5666%(+1.06bps); US 30's 2.2506%(+0.01%), Bunds -0.2670% (-1bp), France -0.0156% (-1bp), Italy 0.7820% (+2.6bp), Turkey 17.80% (+14bp), Greece 0.924% (+2.8bp), Portugal 0.407% (+0.1bp); Spain 0.401% (+0.44bp) and UK Gilts 0.746% (+0.5bp).