Blog/Market Talk
Posted Apr 23, 2018 by Martin Armstrong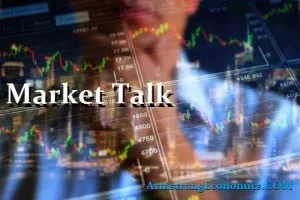 Asia tried to be positive today, but soon after the opening bell we were back in the red again with early volume increasing. However, with the exception of Nikkei, HSI and Shanghai this was the case. Early jitters were rejected for the SENSEX in India as support for IT, banks and auto's helped values. The INR continues to drift settling close to the days high at 66.45 which is proving most beneficial for the stock market. Interesting that it was the IT sector that led prices lower on the Hang Seng as dealers claim fears of the potential US trade conflict. The HSI finished lower following mainland Shanghai index weaker down -0.5%. The Nikkei lost -0.35% but what made matters worse for Japan, is that it combines with the Yen's 1% decline today now challenging the 109 handle. It was the currency markets that dominated much of the talk today and that across all time zones.
Fear that the US economy will accelerate away from the rest of the world was the reason given for the bond market weakness today and that had repercussions everywhere. Hot talk was the US 10's move toward the psychological 3% barrier which also hit European peripheral but more so, has seen a significant move in the DXY (US Dollar Index). The dollars bounce was the major reason European indices faired well today. In positive early US trading that helped sentiment but the turn towards the US close has seen European futures join the drift lower. UBS numbers beat expectation but closed the day off almost 3% given concerns over the competitive playground and the "Unpredictable market environment" it was claimed.
US started-out well but, was then hit as bond yields, the energy price reversal and commodities weighed on confidence. Although 3% US 10's was averted intraday, it remains on the table for the week. We have not had a 3% handle since late 2013 when volumes were light and they managed an up-tic on Christmas Eve; prior to that is was back in 2011. This is being absorbed by equity markets currently and so will probably lighten the effect once realised. All indices finished the day with only minimal losses. Currency is the main key for this week. It is worth keeping an eye on this especially when it starts to accelerate the capital flow into the US.
Japan 0.07%, US 2's closed 2.47% (+1bp), US 10's 2.98% (+2bp), 30's 3.14% (-1bp), Bunds 0.63% (+3bp), France 0.84% (+1bp), Italy 1.79 (+2bp), Greece 4% (u/c), Turkey 12.24% (u/c), Portugal 1.67% (+5bp), Spain 1.30% (+4bp), and Gilts 1.54% (+6bp).