Blog/Market Talk
Posted Apr 22, 2020 by Martin Armstrong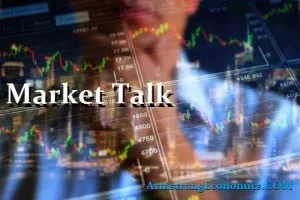 ASIA:
Facebook will buy a 10% stake in the digital business of Reliance Industries for 5.7 billion USD, as the social media firm looks to leverage its highly popular WhatsApp chat service to offer digital payment services. The deal will help the Reliance Industries cut debt that has piled up in its expensive push to secure top spot for its Jio Infocomm telecom business.
The Indian government has targeted to procure 40.7 million tonnes of wheat and 11.29 million tonnes of rice for the central pool during the ongoing crop marketing season, which is scheduled to end by August this year. As per the projections given by states, the production of wheat is likely to be 118.4 million tonnes while out of winter rice is likely to be 16.68 million tonnes.
Electric vehicle (EV) sales in India have risen sharply over the year, with two-wheeled modes of transport accounting for the vast majority of sales in the world's second-most-populous country. Sales of EVs in the country hit 156,000 in the 2019-20 financial year, figures from the Society of Manufacturers of Electric Vehicles (SMEV) showed Monday, up from 130,000 the previous year.
China has rejected Australia's call for a probe examining the global response to the coronavirus pandemic — including Beijing's early handling of the outbreak. Chinese foreign ministry spokesman Geng Shuang said the accusations disrespected "the Chinese people's tremendous efforts and sacrifices" in fighting the contagion. "Any question about China's transparency in the prevention and control of epidemic situation is not in line with facts," Geng told a reporter at a press briefing.
A Japanese government panel says tsunami waves measuring more than 20 meters high could hit northern Japan if a megaquake of magnitude 9 or stronger occurs in one of two deep sea trenches. The government panel has been studying the possible scale of an earthquake, and tsunami waves it could trigger, in either a part of the Chishima Trench or the Japan Trench.
The major Asian stock markets had a mixed day today:
NIKKEI 225 decreased 142.83 points or -0.74% to 19,137.95
Shanghai increased 16.97 points or 0.60% to 2,843.98
Hang Seng increased 99.81 points or 0.42% to 23,893.36
ASX 200 decreased 0.10 points or -0.00% to 5,221.20
Kospi increased 16.77 points or 0.89% to 1,896.15
SENSEX increased 742.84 points or 2.42% to 31,379.55
The major Asian currency markets had a mixed day today:
AUDUSD increased 0.00175 or 0.28% to 0.63121
NZDUSD decreased 0.00215 or -0.36% to 0.59447
USDJPY increased 0.09 or 0.09% to 107.79
USDCNY increased 0.00263 or 0.04% to 7.10362
Precious Metals:
Gold increased 29.23 USD/t oz. or 1.73% to 1,714.95
Silver increased 0.13 USD/t. oz or 0.84% to 15.0505
Some economic news from last night:
South Korea:
PPI (MoM) (Mar) decreased from -0.3% to -0.8%
PPI (YoY) (Mar) decreased from 0.7% to -0.5%
Australia:
MI Leading Index (MoM) decreased from -0.4% to -0.8%
EUROPE/EMEA:
The European Commission is touting an idea to issue a 2 trillion euro recovery plan for the European Union. The EU leaders are expected to come together tomorrow to discuss a financial package for the Eurozone. There are still many concerns regarding the direction of the EU. Italy is complaining that not enough is being done and questioning the union as a whole.
The UK government is being criticized for not joining the EU equipment scheme when they had the chance. The scheme would have enabled the UK to have access to medical equipment, which would have helped to deal with the coronavirus. The UK told Brussels that there was a communication error that led them to be late for the deadline, whereas Brussels said they had ample time and resources to reach out to them to be a part of the scheme still.
Germany has eased the lockdown restrictions by allowing shops to open, but have introduced wearing face masks in public as a compulsory act. A leading German newspaper, The Bild, claimed China is responsible for the coronavirus outbreak and demanded that an invoice be sent to the Chinese government for damages in excess of 130 billion euros.
The coronavirus is showing the damage it is causing with the European consumer confidence index having had its greatest monthly drop and settling at its lowest level since the 2008 financial crisis. 
The major Europe stock markets had a green day today:
CAC 40 increased 54.34 points or 1.25% to 4,411.80
FTSE 100 increased 129.60 points, or 2.30% to 5,770.63
DAX 30 increased 165.18 points or 1.61% to 10,415.03
The major Europe currency markets had a mixed day today:
EURUSD decreased 0.00418 or -0.39% to 1.08144
GBPUSD increased 0.00203 or 0.17% to 1.23183
USDCHF increased 0.00251 or 0.26% to 0.97226
Some economic news from Europe today:
UK:
Steel Production (Metric Ton) (Mar) increased from 575.70K to 629.80K
Core CPI (YoY) (Mar) decreased from 1.7% to 1.6%
Core CPI MoM (MoM) (Mar) decreased from 0.6% to 0.1%
Core PPI Output (YoY) (Mar) increased from 0.5% to 0.9%
Core PPI Output (MoM) (Mar) increased from -0.1% to 0.3%
Core RPI (MoM) (Mar) decreased from 0.5% to 0.2%
Core RPI (YoY) (Mar) increased from 2.5% to 2.7%
CPI (MoM) (Mar) decreased from 0.4% to 0.0%
CPI (YoY) (Mar) decreased from 1.7% to 1.5%
CPI, n.s.a (Mar) remain the same at 108.60
PPI Input (MoM) (Mar) decreased from -0.9% to -3.6%
PPI Input (YoY) (Mar) decreased from -0.2% to -2.9%
PPI Output (YoY) (Mar) decreased from 0.5% to 0.3%
PPI Output (MoM) (Mar) remain the same at -0.2%
RPI (YoY) (Mar) increased from 2.5% to 2.6%
RPI (MoM) (Mar) decreased from 0.5% to 0.2%
Italy:
Italian Industrial New Orders (YoY) (Feb) decreased from -1.9% to -2.6%
Italian Industrial New Orders (MoM) (Feb) decreased from 1.1% to -4.4%
Italian Industrial Sales (YoY) (Feb) decreased from 3.80% to 0.90%
Italian Industrial Sales (MoM) (Feb) decreased from 5.50% to -2.10%
Euro Zone:
Consumer Confidence (Apr) decreased from -11.6 to -22.7
US/AMERICAS:
The Senate passed another bill that will issue an additional $484 billion to aiding coronavirus relief efforts. Of those funds, $310 billion to the null Paycheck Protection Program (PPP). Some are voicing concerns over whether any amount of relief aid could prevent an economic collapse if the economy remains closed. "The virus bailouts have already cost over $2 trillion. Our annual deficit this year will approach $4 trillion. We can't continue on this course. No amount of bailout dollars will stimulate an economy that is being strangled by quarantine," Senator Rand Paul stated.
President Trump is demanding that Harvard University return the $9 million in aid they received from the PPP. Harvard has a $41 billion endowment, the largest of any university in the country, and the president said he plans to launch an investigation into those funds as well.
The Federal Housing Finance Agency (FHFA), which operates Fannie Mae and Freddie Mac, announced plans to bail out mortgages in an attempt to ease lending. "Purchases of these previously ineligible loans will help provide liquidity to mortgage markets and allow originators to keep lending," FHFA Director Mark Calabria stated this Wednesday. Furthermore, mortgages that closed between February 1, 2020 and on or before May 31, 2020 may be eligible for the government's forbearance program which could suspend payments for up to a year.
Canada sent two planes to China to pick up a shipment of medical supplies, but both planes returned empty. Canadian Prime Minister Justin Trudeau said Canada has "been fighting in a very competitive international environment" for personal protective equipment (PPE). Trudeau said quarantine measures and checkpoints interrupted the supply line, describing the logistical restrictions as "severe."
US Market Closings:
Dow advanced 456.94 points or 1.99% to 23,475.82
S&P 500 advanced 62.75 points or 2.29% to 2,799.31
Nasdaq advanced 232.15 points or 2.81% to 8,495.38
Russell 2000 advanced 16.43 points or 1.39% to 1,201.52
Canada Market Closings:
TSX Composite advanced 348.1 points or 2.5% to 14,288.16
TSX 60 advanced 21.28 points or 2.52% to 856.91
Brazil Market Closing:
Bovespa advanced 1,714.39 points or 2.17% to 80,687.15
ENERGY:
WTI and Brent bounced back from an 18-year low that was formed yesterday. Oil's comeback was helped when US President Trump announced that the US navy will not go soft on an Iranian vessels that are provoking the US Navy in the region, declaring that the US Navy will shoot them on site. WTI pushed up 22.30% to 14.15 and Brent climbed above 20, moving up in excess of 7%.
The oil markets had a green day today:
Crude Oil increased 4.75 USD/BBL or 47.45% to 14.7600
Brent increased 1.65 USD/BBL or 8.54% to 20.9800
Natural gas increased 0.035 USD/MMBtu or 1.90% to 1.8730
Gasoline increased 0.0883 USD/GAL or 14.50% to 0.6972
Heating oil increased 0.0089 USD/GAL or 1.11% to 0.8079
The above data was collected around 13.21 EST on Wednesday.
Top commodity gainers: Crude Oil (47.45%), Ethanol (8.42%), Gasoline (14.50%), and Brent (8.54%)
Top commodity losers: Rubber (-1.90%), Rice (-0.86%), Wheat (-0.41%), and Soda Ash (-0.45%)
The above data was collected around 13.26 EST on Wednesday.
BONDS:
Japan 0.00%(-2bp), US 2's 0.22% (+1bps), US 10's 0.63%(+6bps); US 30's 1.23%(+7bps), Bunds -0.41% (+8bp), France 0.13% (+5bp), Italy 2.06% (-11bp), Turkey 12.00% (-62bp), Greece 2.54% (+25bp), Portugal 1.29% (+11bp); Spain 1.16% (+15bp) and UK Gilts 0.33% (+3bp).