Blog/Market Talk
Posted Apr 22, 2019 by marty armstrong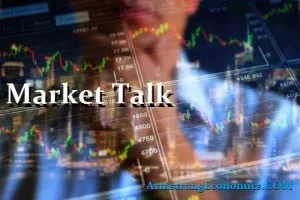 Asia:
The somewhat controversial Chinese company Huawei posted a 39% increase in first quarter revenue, despite pressure from the US government. Huawei is investing heavily in the realm of 5G networks, which offer speeds of up to ten times that of the current 4G technology. There are currently many scientists who are against the new network, claiming there are adverse health effects of sending data over a 400Mhz system. Supposedly there were tests were conducted in the Netherlands for the 5G network, and birds had dropped dead out of the sky during the same time. While we cannot confirm if this is true, there does seem to be much controversy over the technology due to the lack of testing thus far before deployment.
The apparent suicide bombings over the weekend in Sri Lanka that tragically killed nearly 300 people caused the government to issue a ban on social media sites to censor the "false news" that was circulating online. Amongst those that were blocked were YouTube, Snapchat, WhatsApp, and Viber. Media outlets have been reporting that many speculate the local government had plenty of information in advance to thwart the attack.
The major Asian stock markets had a mixed day today. NIKKEI 225 increased 17.34 points (0.08%) to 22,217.90; KOSPI increased 0.50 points (0.02%) to 2,216.65. However, Shanghai and SENSEX took the opposite route and decreased 55.75 points(-1.70%) to 3,215.04 and 495.10 points (-1.26%) to 38,645.18 respectfully. Hang Seng and ASX 200 were both closed today due to the Easter holiday.
The major Asian currency markets had a mixed day today. The USDJPY increased 0.0340 or 0.03% to 111.9440 and the USDCNY increased 0.0100 or 0.15% to 6.7116. The AUDUSD and the NZDUSD took the opposite route and decreased 0.0017 or 0.23% to 0.7135 and 0.0008 or 0.12% to 0.6677 respectfully.
Gold increased 2.4 USD/t oz. or 0.19% to 1,273.76 and silver increased 0.09 USD/t. oz or 0.60% to 15.026
Some economic news from last Friday:
Indian FX Reserves, USD increased from 413.78B to 414.90B
Australia's CFTC AUD speculative net positions increased from -54.4k to -46.9K
Japan's CFTC JPY speculative net positions decreased from -71.5K to -87.1K
Europe:
Most of the major European stock markets were closed today due to the Easter holiday today, while the FT announced that European Banks are set to report a third consecutive quarter of "grim" investment banking revenues as earnings season picks up.
Japanese PM Shinzo Abe, has left for Europe on an eight-day trip to tackle global issues such as fair trade. China's progress with Europe is also a potential talking point.
A comedian was elected president in Ukraine, although trained as a lawyer the millionaire comedian won by a landslide taking more than 70% of the votes. Russia says it wants him to show "sound judgement," "honesty," and "pragmatism" so that relations can improve.
The major European currency markets had a mixed day. The EURUSD increased 0.0013 or 0.11% to 1.1259 and the USDCHF increased 0.0016 or 0.15% to 1.0160. The GBPUSD took the opposite route and decreased 0.0006 or 0.05% to 1.2982.
Some economic news from Europe:
Italy:
Italian Business Confidence (Apr) decreased from 100.8 to 100.6
Italian Consumer Confidence (Apr) decreased from 111.2 to 110.5
UK:
UK's CFTC GBP speculative net positions increased from -6.5K to 0.9K
Eurozone:
CFTC EUR speculative net positions increased from -102.2K to -98.0K
U.S./Americas:
U.S. markets traded in a choppy pattern today after a short week last week that saw both Pinterest (PINS) and Zoom (ZM) execute their IPO's just before the three-day holiday weekend began. Starting the week, the Dow lost 48.49 points (-0.18%) today, closing at 26,511.05. The S&P 500 closed marginally up at 2,907.97 (+0.10%). The Nasdaq had a slightly better day, gaining 17.20 points (+0.22%) and closing at 8,015.27. The Russell 2000 on the other hand declined 5.70 points (-0.36%), closing at 1,560.04.
President Trump announced Herman Cain had asked to withdraw his nomination for a position on the Federal Reverse board. This news comes after multiple Republican senators voiced reluctancy to back a Cain nomination, which means he likely would not have received the support required to be appointed to the board. Trump has reiterated his disappointment with the Federal Reserve's interest rate policy and will likely nominate another candidate who shares his viewpoint.
The clash between Democrats and Republicans seems to have no end in sight. President Trump filed a lawsuit against House Democrats today to block the release of his personal financial records. This news comes shortly after a redacted version of the Mueller report was released to the public last week – which called into question activities during the Trump campaign, but stopped short of criminal charges. Trump has cited "presidential harassment" on the part of the democrats numerous times. House Oversight and Government Reform Committee Chairman Elijah Cummings referred to his committee's desired investigation as a "friendly subpoena," but Trump believes his political rivals are on a "witch hunt" to remove him from office.
On the corporate front, a surveillance video has gone viral of a parked Tesla Model S vehicle bursting into flames in China. Not much detail has been provided, and the company said it is investigating the issue. This comes as Tesla conducted an investor day event today to review their plans for true driverless transportation, dubbed "Autonomy Day". The stock closed down -3.85% today and is scheduled to share earnings later this week.
The USD Index declined -0.18% this Monday (last reading 97.29). The USDCAD declined -0.32% (last reading 1.3347).
In Canada, both the TSX Composite and the TSX 60 declined by -0.21% today, closing at 16,577.28 and 993.16 respectfully.
Brazil's Bovespa remained relatively unchanged this Monday, adding 9.80 points (+0.01%) and closing at 94,588.06.
Energy:
The U.S., as expected, announced today that it will end the Iranian oil wavers that subsequently sent the Crude oil price higher. The Trump administration stated that they wish to push the oil exports to zero. Secretary of State Mike Pompeo mentioned, "We want the Iranian people to know that we are listening to them and standing with them." The Iranian President Roubini's approval rating was around 60% as of 2017, with less than 20% declaring unfavorable opinions of Roubini. In contrast, the latest poll by Reuters puts President Trump's approval rating at 37%, which is a new low.
The oil markets had a green day today. Crude Oil increased 1.66 USD/BBL or 2.59% to 65.5387; Brent increased 2.15 USD/BBL or 2.99% to 74.1310; Natural gas increased 0.03 USD/MMBtu or 1.20% to 2.5225; Gasoline and Heating oil increased 0.0587 USD/GAL or 2.79% to 2.1301 and 0.0346 USD/GAL or 1.67% to 2.1030 respectfully.
Top commodity gainers were Brent (3.00%), Crude Oil (2.59%), Gasoline (2.83%), and Coffee (2.27%). The biggest losers were Lumber (-2.44%), Wheat (-1.91%), Lean Hogs(-1.28%), and Cocoa (-1.26%).
The above data was collected around 15:21 EST time on Monday.
Bonds:
Japan -0.03%(-1bp), US 2's 2.39% (-2bps), US 10's 2.58%(-3bps), US 30's 2.96%(-3bps), Bunds 0.02% (+0bp), France 0.37% (+0bp), Italy 2.60% (-2bp), Turkey 17.30% (+30bp), Greece 3.31% (+0bp), Portugal 1.19% (-4bp), Spain 1.06% (-0bp) and UK Gilts 1.19% (-4bp)
US 3-Month bill Auction increased from 2.380% to 2.400%
US 6-Month bill Auction increased from 2.390% to 2.400%