Blog/Market Talk
Posted Apr 21, 2016 by Martin Armstrong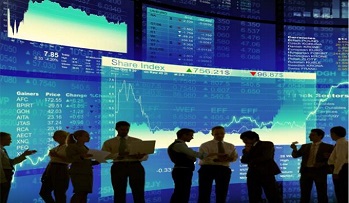 Hang Seng decided to join the Nikkei's performance overnight with both indices returning a 2% gain for the day. Sadly, the Shanghai was unable to join the fun with that market eventually closing down -0.7%. Actually, that was a result as earlier in the day it had been down 4%. A large shortage of liquidity was a possible reason dealers provided for the equity weakness and we did see the PBOC do a seven-day reverse repurchase agreement for 250 bln Yuan during the day. Late in the US day all core Asian indices are trading roughly 1% lower.
Europe opened small positive as we awaited for the next instalment from the ECB. No change in rates (Depo -0.4% and Refi at 0%) or QE size as expected and so we waited for the press conference, followed by the release of the credit bond details. The Govy Bond Markets did not like it (see below) and the equity markets were not that keen either. Closing with a mixed response we were influenced late in the European day as the weakness seen in the US market.
Having seen a strong performance in the DOW yesterday and closing at levels not seen in nearly a year, it really was not a surprise we see a retracement today. However, as we mentioned in last Fridays Market Talk we are nudging up against Weekly Reversals and so resistance is expected at the end of this week and at these levels. The DOW closes tonight down 113 points (-0.6%) and so a little profit-taking is to be expected. Weekly Jobless Claims released at 247k against a forecast of 263k and was the lowest since 1973. Also, Phili Fed data released -1.6 versus a consensus of 8.9.
It took until the US afternoon session before we saw the USD start a recovery of recent losses. This evening we are watching the DXY trade at 94.60 with gains made against both the Euro and GBP (-0.9%). Gold also saw a change in direction this afternoon after running out of steam above the $1270 level.
Early in the day we saw weakness in the fixed-income markets from Asia through to the US. Obviously, Europe saw some wild swings with the peripherals no exception, whilst the US 10yr remained relatively calm eventually closing at 1.86%. In Europe, flowing the ECB action, Bunds traded down (price, up in yield) 8.5bp to close at 0.24%. This closes the US/Bund spread this evening at 162bp (6.5bp tighter). Italy 10yr close 1.46% (+7bp), Greece 8.47% (-58bp), Turkey 8.98% (+5bp), Portugal 3.18% (+6bp) and UK Gilt 10yr closes 1.59% (+11bp).