Blog/Market Talk
Posted Apr 21, 2021 by Martin Armstrong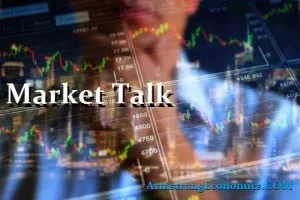 ASIA:
China's economic indicators for the first quarter of 2021 have been released. At an annualized rate, the economy grew 18.3% from January through to April, facilitating a complete economic recovery as the world deals with the disruption of COVID-19, and consumption reasserts itself, registering the highest tally since 1993. In line with the GDP figures, industrial output increased 24.5% from last year, exports by 38.7%, imports 29.2%, retail sales of consumer goods 33.9%, and fixed-asset investment by 25.6%, all positive indicators showing a healthy and resilient economy, which is forecast to end the year up around 8.4% as a whole.
India's central bank, the Reserve Bank of India (RBI) on Monday constituted a committee to evaluate the role of asset reconstruction companies (ARCs) in stressed debt resolution and review their business model. The committee will review the existing legal and regulatory framework and recommend measures to improve the efficacy of ARCs. It will also review their role in stressed asset resolution under the Insolvency and Bankruptcy Code (IBC), and suggest means to improve liquidity and trading of security receipts.
Rating agency S&P affirmed Japan's A+/A-1 sovereign debt ratings on Wednesday, citing its rich current account surplus and an expected gradual economic recovery from the COVID-19 pandemic. The global rating agency said its outlook for Japan remains stable, reflecting prospects the world's third-largest economy will achieve average nominal growth of about 1.8% over the next four years. The rating agency said Japan's economy has weathered the pandemic "without serious long-term damage," pointing to resilience in its job market that will see employment rebound "relatively quickly as the pandemic fades away."
The major Asian stock markets had a negative day today:
NIKKEI 225 decreased 591.83 points or -2.03% to 28,508.55
Shanghai decreased 0.01 points or -0.00% to 3,472.93
Hang Seng decreased 513.81 points or -1.76% to 28,621.92
ASX 200 decreased 20.30 points or -0.29% to 6,997.50
Kospi decreased 49.04 points or -1.52% to 3,171.66
SENSEX closed
Nifty50 closed
The major Asian currency markets had a mixed day today:
AUDUSD increased 0.0024 or 0.31% to 0.77488
NZDUSD increased 0.00453 or 0.63% to 0.72101
USDJPY increased 0.07 or 0.06% to 108.17
USDCNY decreased 0.00998 or -0.15% to 6.48941
Precious Metals:
Gold increased 13.42 USD/t oz. or 0.75% to 1,790.67
Silver increased 0.52 USD/t. oz or 2.00% to 26.388
Some economic news from last night:
South Korea:
PPI (MoM) (Mar) increased from 0.8% to 0.9%
PPI (YoY) (Mar) increased from 2.1% to 3.9%
Australia:
MI Leading Index (MoM) increased from 0.2% to 0.4%
Retail Sales (MoM) increased from -0.8% to 1.4%
New Zealand:
CPI (QoQ) (Q1) increased from 0.5% to 0.8%
CPI (YoY) (Q1) increased from 1.4% to 1.5%
EUROPE/EMEA:
Organization for Economic Cooperation and Development (OECD), which brings together the world's most industrialized economies, will begin discussing the report on Spain's economy in the coming days. Spain set out its macroeconomic situation – recent estimates have reduced this year's growth forecast to 6.5% – as well as the main guidelines of its recovery plan and a list of the usual pending reforms. Germany and Greece were the main evaluators of this document, and they came up with alternative visions. The report outlines that the drop in public revenue and the rollout of stimulus measures will leave Spanish public debt at around 120% of gross domestic product (GDP) for several years to come. This will leave very little room for fiscal measures when the next crisis hits, and even more so if interest rates start to go up again, as the Bundesbank is beginning to suggest.
The major Europe stock markets had a green day:
CAC 40 increased 45.44 points or 0.74% to 6,210.55
FTSE 100 increased 35.42 points or 0.52% to 6,895.29
DAX 30 increased 66.46 points or 0.44% to 15,195.97
The major Europe currency markets had a mixed day today:
EURUSD decreased 0.00051 or -0.04% to 1.20294
GBPUSD decreased 0.00089 or -0.06% to 1.39293
USDCHF increased 0.00155 or 0.17% to 0.91755
Some economic news from Europe today:
UK:
Core CPI (YoY) (Mar) increased from 0.9% to 1.1%
Core CPI MoM (MoM) (Mar) increased from -0.5% to 0.4%
Core PPI Output (YoY) (Mar) remain the same at 1.7%
Core PPI Output (MoM) (Mar) increased from 0.3% to 0.4%
Core RPI (YoY) (Mar) remain the same at 1.6%
Core RPI (MoM) (Mar) decreased from 0.5% to 0.3%
CPI (MoM) (Mar) increased from 0.1% to 0.3%
CPI (YoY) (Mar) increased from 0.4% to 0.7%
CPI, n.s.a (Mar) increased from 109.10 to 109.40
PPI Input (YoY) (Mar) increased from 3.3% to 5.9%
PPI Input (MoM) (Mar) increased from 0.9% to 1.3%
PPI Output (YoY) (Mar) increased from 0.9% to 1.9%
PPI Output (MoM) (Mar) decreased from 0.7% to 0.5%
RPI (MoM) (Mar) decreased from 0.5% to 0.3%
RPI (YoY) (Mar) increased from 1.4% to 1.5%
House Price Index (YoY) increased from 8.0% to 8.6%
US/AMERICAS:
Unbeknownst to many, not all migrants arriving at the border are of Mexican decent. Last month, 85,000 of the 172,000 migrants who tried to cross the border came from Honduras, El Salvador, and Guatemala, as reported by Reuters. Mexican President Andrés Manuel López Obrador previously criticized US President Biden for providing false hope to migrants during his campaign and creating a larger crisis at the US-Mexico border. "Expectations were created that with the Government of President Biden there would be a better treatment of migrants. And this has caused Central American migrants, and also from our country, wanting to cross the border thinking that it is easier to do so," he stated. Now, the Biden administration will provide 6,000 seasonal worker Visas to people from Honduras, El Salvador, and Guatemala. Numerous labor unions in the US have opposed this action, stating already high unemployment rates in the US due to the coronavirus. The additional 6,000 visas are in addition to the 66,000 visas permitted for the fiscal year that ends on September 30.
Mortgage applications in the US spiked 8.6% last week, according to the Mortgage Bankers Association's seasonally adjusted index. This marks the first weekly increase since February. Average 30-year fixed-rate mortgages declined 3,2% from 3.27% the previous week. Refinances spiked 10% last week as well, but remain 23% lower YoY. The surge in real estate buying has not slowed, as home prices soar and inventory shrinks.
The US has been distributing an average of 63,800 coronavirus vaccinations per day, maintaining a weekly rate over 3 million shots daily for two consecutive weeks. Around 25% of the nation's population is fully vaccinated, according to the Centers for Disease Control and Prevention (CDC). Over 80% of people over the age of 65 have received the full vaccination as well. Still, there is no clear timeframe for when state lockdowns and other coronavirus related restrictions will be lifted.
The Bank of Canada voted to maintain interest rates at 0.25%, and will scale back its QE program. "Effective the week of April 26, weekly net purchases of Government of Canada bonds will be adjusted to a target of $3 billion. This adjustment to the amount of incremental stimulus being added each week reflects the progress made in the economic recovery," the bank noted. The central bank raised the nation's economic outlook to 6.5% for the current fiscal year, 2.5% higher than their initial forecast. Economic expansion should slow to 3.7% in 2022, according to the bank, and 3.25% the year after.
US Market Closings:
Dow advanced 316.93 points or 0.94% to 34,138.23
S&P 500 advanced 38.49 points or 0.93% to 4,173.43
Nasdaq advanced 163.95 points or 1.19% to 13,950.22
Russell 2000 advanced 51.42 points or 2.35% to 2,239.63
Canada Market Closings:
TSX Composite advanced 102.47 points or 0.54% to 19,143.25
TSX 60 advanced 5.69 points or 0.5% to 1,139.72
Brazil Market Closing:
Bovespa declined 871.79 points or -0.72% to 120,061.99
ENERGY:
The oil markets had a negative day today:
Crude Oil decreased 0.48 USD/BBL or -0.77% to 62.1900
Brent decreased 0.46 USD/BBL or -0.69% to 66.1100
Natural gas decreased 0.038 USD/MMBtu or -1.39% to 2.6890
Gasoline decreased 0.0121 USD/GAL or -0.60% to 2.0053
Heating oil decreased 0.0104 USD/GAL or -0.55% to 1.8697
Top commodity gainers: Wheat (2.46%), Palm Oil (2.29%), Palladium (4.14%) and Corn (2.18%)
Top commodity losers: Bitumen (-1.49%), Lumber (-2.19%), Rubber (-1.21%), and Natural Gas (-1.39%)
The above data was collected around 11:12 EST on Wednesday.
BONDS:
Japan 0.0740%(-1bp), US 2's 0.15%(-0.002%), US 10's 1.5642%(+0bps); US 30's 2.26%(+0.002%), Bunds -0.2600% (-0bp), France -0.0099% (-0bp), Italy 0.7770% (-1bp), Turkey 17.48% (-1bp), Greece 0.9260% (+0bp), Portugal 0.413% (-0bp); Spain 0.407% (+0bp) and UK Gilts 0.723% (-1bp).
German 10-Year Bund Auction increased from -0.360% to -0.250%