Blog/Market Talk
Posted Apr 21, 2020 by Martin Armstrong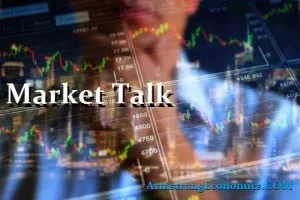 ASIA:
India's market regulator, the Securities and Exchange Board of India (SEBI), temporarily eased some fund-raising regulations for listed entities to give them easier and faster access to capital markets. To allow more companies to avail fast-track rights issuances, SEBI reduced the required average market capitalization of public shareholding required to 1 billion rupees from 2.5 billion rupees and minimum period of listing to 18 months from 3 years.
Some shops and businesses opened in rural India on Monday (Apr 20) as part of a staggered exit from an almost four-week-long lockdown that has left millions out of work and short of food. As per government regulations, some factories and farming were allowed from Monday in the hinterland which has been less-hard hit by COVID-19.
South Korean and Chinese officials and sources familiar with US intelligence on Tuesday cast doubt on reports that North Korean leader Kim Jong Un is gravely ill after a cardiovascular procedure even as the White House closely monitored the matter.
The US has called for Chinese authorities to allow a prominent human rights lawyer- Wang Quanzhang to return home, after having spent almost five years in "unjust detention." Wang was released two weeks ago after serving four-and-a-half years for "subversion." Chinese authorities have not allowed him to return to his home town of Jinan to reunite with his family and have put him in Beijing even after completing his 14 days of coronavirus quarantine.
A Japanese expert who criticized the country's response to the coronavirus warned the healthcare system is "on the verge of collapse," and that the Olympics may not be able to go ahead even in 2021. There have been 171 deaths recorded so far in Japan and 10,751 cases, with the country under a month-long state of emergency, initially covering seven regions but now in place nationwide.
The major Asian stock markets had a negative day today:
NIKKEI 225 decreased 388.34 points or -1.97% to 19,280.78
Shanghai decreased 25.54 points or -0.90% to 2,827.01
Hang Seng decreased 536.47 points or -2.20% to 23,793.55
ASX 200 decreased 131.70 points or -2.46% to 5,221.30
Kospi decreased 18.98 points or -1.00% to 1,879.38
SENSEX decreased 1,011.29 points or -3.20% to 30,636.71
The major Asian currency markets had a mixed day today:
AUDUSD decreased 0.00677 or -1.07% to 0.62770
NZDUSD decreased 0.00887 or -1.47% to 0.59529
USDJPY increased 0.08 or 0.07% to 107.77
USDCNY increased 0.01706 or 0.24% to 7.10085
Precious Metals:
Gold decreased 14.59 USD/t oz. or -0.86% to 1,677.11
Silver decreased 0.3795 USD/t. oz or -2.49% to 14.8825
Some economic news from last night:
New Zealand:
RBNZ Offshore Holdings (Mar) decreased from 48.90% to 46.40%
Some economic news from today:
New Zealand:
GlobalDairyTrade Price Index decreased from 1.2% to -4.2%
EUROPE/EMEA:
European markets fell heavily today, with the CAC, FTSE, MIB, and DAX down around 4% and IBEX 35 and FTSE 100 down 3%. This shows there is still significant weakness in the markets globally and the effects of the coronavirus are far from over.
The Dutch Prime Minister spoke today at a press conference to say primary schools will reopen in May. However, large sporting events will be canceled until September 1st. In addition, current restrictions will remain in place for three more weeks. Germany is taking it one step further and canceling world-famous Oktoberfest which begins late September.
The German defense minister told Sueddeutsche Zeitung that Germany is planning on buying 93 Eurofighters and 45 F-18s to replace their current fleet of Tornado bombers.
George Soros was a guest writer for the Guardian today, suggesting that the EU should issue bonds. The principal on the bonds would not need to be repaid, making them perpetual in nature, and can be redeemed at the issuer's discretion. He went on to say this was a once in a lifetime event, and extraordinary measures should be taken. The proposal was for a 1 trillion euro bond with a 0.5% coupon, costing the EU 5 billion euros a year or less than 3% of the EU budget. He says 1 trillion would be too much for the current market, and thus it is more advisable to issue the bond in installments.
The FT reported that Polish ministers are calling for a crackdown on EU tax havens to finance the economy during the coronavirus crisis.
The major Europe stock markets had a negative day today:
CAC 40 decreased 170.84 points or -3.77% to 4,357.46
FTSE 100 decreased 171.80 points, or -2.96% to 5,641.03
DAX 30 decreased 426.05 points or -3.99% to 10,249.85
The major Europe currency markets had a mixed day today:
EURUSD decreased 0.00121 or -0.11% to 1.08515
GBPUSD decreased 0.01755 or -1.41% to 1.22647
USDCHF increased 0.00173 or 0.18% to 0.96981
Some economic news from Europe today:
UK:
Average Earnings ex Bonus (Feb) decreased from 3.1% to 2.9%
Average Earnings Index +Bonus (Feb) decreased from 3.1% to 2.8%
Claimant Count Change (Mar) increased from 5.9K to 12.1K
Employment Change 3M/3M (MoM) (Feb) decreased from 184K to 172K
Unemployment Rate (Feb) increased from 3.9% to 4.0%
Swiss:
Trade Balance (Mar) increased from 3.536B to 4.020B
Spain:
Spanish Trade Balance increased from -3.51B to -2.12B
Germany:
German ZEW Current Conditions (Apr) decreased from -43.1 to -91.5
German ZEW Economic Sentiment (Apr) increased from -49.5 to 28.2
Euro Zone:
ZEW Economic Sentiment (Apr) increased from -49.5 to 25.2
US/AMERICAS:
US President Trump will enact an executive order to temporarily suspend immigration to curb the spread of the coronavirus. The legislation is still processing, but is expected to include a full suspension on work visas and green cards. One unnamed official told CNN that they expect the temporary ban to last 120 days and there may be exceptions for certain foreign workers.
The US, Mexico, and Canada announced plans to extend their non-essential travel ban for an additional 30 days. US Acting Department of Homeland Security Secretary Chad Wolf said the decision was a collaborative effort between the bordering countries. "As President Trump stated last week, border control, travel restrictions and other limitations remain critical to slowing the spread and allowing the phased opening of the country," Wolf commented. The US currently has more cases than any other nation in the world with 810,276 confirmed cases and 44,234 deaths.
Mexico's Deputy Health Minister Hugo Lopez-Gatell announced today that the cases are expected to rapidly rise as the country enters "the phase of rapid spread where a large number of infections and hospitalizations are accumulated." As of Monday, Mexico reported 8,772 coronavirus cases and 712 deaths. Mexican authorities have already extended their lockdown measures until May 30.
Brazil's Supreme Court is launching an investigation into the anti-quarantine protest that occurred over the weekend that was attended by President Bolsonaro. Justice Alexandre de Moraes said the messages promoted at the event were "unconstitutional and are not to be confused with freedom of expression." Although he did not mention the president by name, he did say that several government members attended the rally. Calling the matter "very serious," de Moraes claims the event had "the clear purpose of controlling or even destroying the strength of critical thinking" essential to democracy."
US Market Closings:
Dow declined 631.56 points or -2.67% to 23,018.88
S&P 500 declined 86.6 points or -3.07% to 2,736.56
Nasdaq declined 297.50 points or -3.48% to 8,263.23
Russell 2000 declined 28.25 points or -2.33% to 1,185.09
Canada Market Closings:
TSX Composite declined 448.22 points or -3.12% to 13,940.06
TSX 60 declined 27.35 points or -3.14% to 844.63
Brazil Market Closing:
Bovespa declined 17.53 points or -0.02% to 78,972.76
ENERGY:
After yesterday's historical fall in WTI futures, the June contract also tanked 43.86% with a price of 11.47 (at one point it fell -65%), Brent crude followed with a -26.20% drop, closing at 18.87. US President Trump stated that it was a great time to buy oil and that he will be purchasing 75 million barrels of oil for the national reserve.
The oil markets had a mixed day today:
Crude Oil increased 42.13 USD/BBL or 111.96% to 4.5000
Brent decreased 6.7 USD/BBL or -26.20 % to 18.8700
Natural gas decreased 0.053 USD/MMBtu or -2.74% to 1.8830
Gasoline decreased 0.1314 USD/GAL or -18.02% to 0.5978
Heating oil decreased 0.143 USD/GAL or -15.36% to 0.7877
The above data was collected around 12.45 EST on Tuesday.
Top commodity gainers: Crude Oil (111.96%), Ethanol (4.83%), Soybeans (0.33%), and Rice (2.64%)
Top commodity losers: Palladium (-10.43%), Brent (-26.20%), Gasoline (-18.02%), and Heating Oil (-15.36%)
The above data was collected around 12.53 EST on Tuesday.
BONDS:
Japan 0.02%(+1bp), US 2's 0.20% (-1bps), US 10's 0.56%(-7bps); US 30's 1.13%(-11bps), Bunds -0.48% (-3bp), France 0.08% (+1bp), Italy 2.18% (+23bp), Turkey 12.62% (+43bp), Greece 2.46% (+33bp), Portugal 1.18% (+13bp); Spain 1.02% (+12bp) and UK Gilts 0.30% (-4bp).
Spanish 3-Month Letras Auction increased from -0.462% to -0.291%
German 2-Year Schatz Auction decreased from -0.650% to -0.680%
UK 5-Year Treasury Gilt Auction inreased from 0.117% to 0.168%
US 52-Week Bill Auction decreased from 0.260% to 0.165%