Blog/Market Talk
Posted Apr 21, 2017 by Martin Armstrong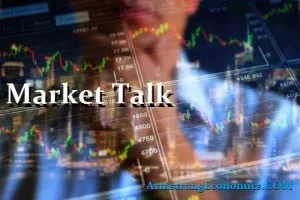 Having seen a strong US close on the back of potential tax reforms sooner rather than later, Asia responded with positive returns across the board. Well, actually the Hang Seng closed with a small loss of -0.06% which almost felt like a gain. Obviously, after such a volatile week traders have squared books as much as possible and will sit back and wait for news coming from France. The Yen lost its bid which made way for the Nikkei to rally (+1%) but also saw strong returns for the ASX (+0.6%) and KOSPI (+0.75%). In late US trading all core started to fade due to a combination of a weaker US market, a return for safe-haven assets and falling energy prices. The yen trades back into the 108's as many express concerns over what could be a volatile Monday.
France commanded most of the talk today initially after the incident last night in Paris and then back to Sundays election. The CAC opened weak hitting lows just ahead of midday and then managed a rally into the close. It still finished down -0.4% on the day but off the mornings lows. Other core indices were pretty much mixed after a wild week despite the better than expected Eurozone PMI releasing at 56.7 against estimates of 56.3 – its fastest pace in six years. It will be interesting to see Sundays results as it looks as the volatility is expected to remain for another two weeks yet. Maybe also the World Bank and IMF Spring Meeting could throw some spice into the mix.
Most of the session saw weaker prices in the US which was probably pretty good, given the price decline seen in oil. Results this week have been encouraging on the whole but should be mentioned the strong performance for some of the Industrials earnings. Domestic growth and returns have shown well for many industrial majors both beating and raising guidance. Core indices are closing firmer on the week but remain lower on the month.
2's closed 1.18% (u/c), 10's at 2.24% (+1bp), Bunds 0.24% (u/c) which closes the spread at +200bp. France 0.91% (-2bp), Italy 2.24% (u/c), Greece 6.46% (-2bp), Turkey 10.37% (-11bp), Portugal 3.71% (-3bp) and UK Gilts 1.03% (-4bp).