Blog/Market Talk
Posted Apr 20, 2018 by Martin Armstrong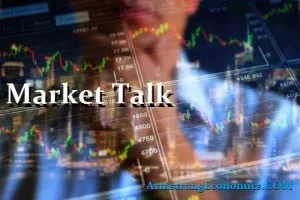 The uncertainty seen in US markets was reflected here in Asia overnight with all indices closing weak. Yesterdays gains were soon retraced even despite the attempted mid-morning recovery. The tech sector weighed on most indices, but financials, energy, manufacturing and real estate all added to the declines. Both the Hang Seng and Shanghai finished at their days lows and the late US prices are indicating they resume Monday where we closed this evening. SENSEX appeared to reject the surrounding weakness as it recovered by the close. That could well have been the currency aspect of the trade, as that broke the psychological 66 barrier. Closing this evening at 66.10 is the weakest we have seen since early 2017. The Yen was also a currency much discussed as it drifted towards the 108 handle. The Nikkei was down but only just with currency obviously prepared to play its part.
It was not the same story in Europe but again, probably the part that currency plays. That said, we saw again a very noticeable difference between the DAX and CAC. The German DAX was again heavy with auto's, Engineering and financials still a drag on the core. Even into the close, equities held their ground as it was the currency that took the pressure, eventually breaking the 1.23 level and closing down -0.5% on the day. GBP was also weak with BREXIT again in the headlines following possible weekend negativity.
Todays US session seemed to be all about Apple and its 4% price decline. This takes the stock negative for the year and highlights concerns many have about iPhone sales. Being such a dominant stock has had a negative effect on indices and we saw all core markets close lower across the board. This has been the main storey worrying momentum and even with earnings beating expectations. One saving grace however was the renewed strength of the US Dollar which certainly helped international players. The treasury market remained weak with yields creeping higher across the curve with no flight to safety even being discussed around the market.
Japan 0.055%, US 2's closed 2.46% (+3bp), 10's closed 2.96% (+5bp), 30's 3.15% (+5bp), Bunds 0.6% (u/c), France 0.83% (+1bp), Italy 1.77% (u/c), Greece 4% (+1bp), Turkey 12.24% (-1bp), Portugal 1.62% (-1bp), Spain 1.26% (-1bp) and Gilts 1.48% (-4bp).