Blog/Market Talk
Posted Apr 20, 2016 by Martin Armstrong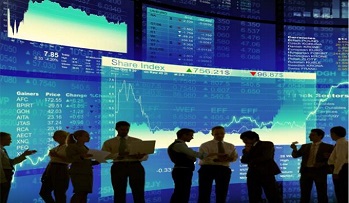 Nikkei opened well and also saw a retracement of the JPY, but unfortunately, other Asian indices did not follow suit. Having seen a 0.5% gain in the first hour of trading, we spent the rest of the day drifting back to almost unchanged. Shanghai and Hang Seng, meanwhile, were hit from the opening and really did not look back. Closing down 2.6% on the day, the Shanghai actually bounced from the 4% seen earlier in the day, but there were still concerns surrounding state-owned enterprises. The yuan also traded weaker on the day at 6.4674. In late US futures, we are seeing the Nikkei gain an additional 320 points, 1.9% from the cash close.
Europe opened on  a nervous note following the uncertainty in Asia, but that proved to be the low point as all core markets rallied with the clock. Oil saw a similar pattern which provided additional confidence for all core indices. IBEX was the stand-out performer closing up 2% after banks stocks (BBVA +5.8% AND Banco Popular Espanol +4.2%) rallied. FTSE managed a recovery into the close having spent most of the day in negative territory. GBP also suffered late in the day (against the USD) as market participants continue to debate BREXIT vote. Ahead of the ECB press conference dealers are starting to get nervous.
The DOW has reached levels not seen since last summer as oil rises whilst gold and Treasuries prices are hit. Reported earlier (by the EIA) was that the current over-supply may be curved by reducing US supply and a lower than forecasted inventory balance. There are weekly reversals just overhead that we will address later so there could be an interesting end to the week. Stocks did loose a little lustre ahead of the close and interestingly dealers apportioned the blame on the rising US dollar. The DXY closed this evening at 94.53 a gain on the day of 0.6%.
Bonds found few buyers in any maturity as we saw an almost parallel shift across the curve. 2/10's steepened 2.5bp after 2's gained 3.5bp and 10's 6bp to close 1.85%. That was not the picture in Europe just ahead of the ECB decision and press conference tomorrow. German 10's tightened 2bp and was last seen at 0.155%. Closing the US/German spread at 168.5bp. Italy 10yr closed 1.39% (-1bp), Greece 9.04% (+11bp), Turkey 8.93% (-16bp), Portugal 3.12% (+2bp) and Gilts 1.48% (-2bp).