Blog/Market Talk
Posted Apr 20, 2020 by Martin Armstrong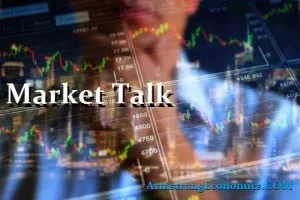 ASIA:
India has pitched for enhancing the emergency assistance of the National Development Bank to $10 billion from $1 billion. The issue was flagged by union finance minister Nirmala Sitharaman at the annual meeting of the board of governors of the National Development Bank (NDB) via video conference on Monday. NDB has so far approved $ 5 billion of financial assistance to BRICS (Brazil, Russia, India, China and South Africa) countries. The NDB was established by the BRICS countries in 2014 for the purpose of mobilizing resources for infrastructure and sustainable development projects in BRICS and other emerging market economies and developing countries.
India's central bank, Reserve Bank of India, cut its key deposit rate (reverse repo rate) by 25 basis points (bps) to 3.75% with immediate effect. This is the second time rate cut announced by the central bank in three weeks to discourage banks from parking idle funds and spur lending instead to revive a flagging economy amid the coronavirus lockdown.
A Chinese embassy spokesperson said on Monday India's new rules for foreign investment violate WTO principles of non-discrimination and are against free and fair trade, potentially opening a new flashpoint in their uneasy ties. On Saturday, India stepped up scrutiny of investments from companies based in neighboring countries, in what is widely seen as a move to stave off takeovers by Chinese firms during the coronavirus outbreak.
China's central bank has introduced a homegrown digital currency across four cities as part of a pilot program, marking a milestone on the path toward the first electronic payment system by a major central bank. Internal tests of the digital currency are being conducted in four large cities around China – Shenzhen, Suzhou, Chengdu and Xiong'an.
The number of daily coronavirus cases in Singapore topped 1,000 for the first time since the pandemic began — driven by a surge in infections among migrant workers — even as rival financial hub Hong Kong reported no new cases. The city-state recorded 1,426 new cases on Monday, bringing the total number of Covid-19 infections to more than 8,000, according to a statement by the health ministry.
The major Asian stock markets had a mixed day today:
NIKKEI 225 decreased 228.14 points or -1.15% to 19,669.12
Shanghai increased 14.06 points or 0.50% to 2,852.55
Hang Seng decreased 49.98 points or -0.21% to 24,330.02
ASX 200 decreased 134.50 points or -2.45% to 5,353.00
Kospi decreased 16.17 points or -0.84% to 1,898.36
SENSEX increased 59.28 points or 0.19% to 31,648.00
The major Asian currency markets had a green day today:
AUDUSD increased 0.00072 or 0.11% to 0.63672
NZDUSD increased 0.00385 or 0.64% to 0.60609
USDJPY increased 0.17 or 0.15% to 107.69
USDCNY increased 0.00789 or 0.11% to 7.08495
Precious Metals:
Gold increased 7.9 USD/t oz. or 0.47% to 1,692.40
Silver increased 0.11 USD/t. oz or 0.72% to 15.2940
Some economic news from last night:
China:
PBoC Loan Prime Rate decreased from 4.05% to 3.85%
Japan:
Exports (YoY) (Mar) decreased from -1.0% to -11.7%
Imports (YoY) (Mar) increased from -13.9% to -5.0%
Trade Balance (Mar) decreased from 1,108.8B to 4.9B
New Zealand:
CPI (QoQ) (Q1) increased from 0.5% to 0.8%
CPI (YoY) (Q1) increased from 1.9% to 2.5%
Some economic news from today:
Indonesia:
Foreign Direct Investment (YoY) (Q4) decreased from 17.80% to -9.20%
Hong Kong:
Unemployment Rate (Mar) increased from 3.70% to 4.20%
EUROPE/EMEA:
European major markets drifted up today with low volatility throughout the day.
Problems still loom in Europe as Italy and Germany are not coming to terms with sufficient financing options. Friedrich Merz, who is likely to be next in line after Angela Merkel for the CDU party, was very critical of the Eurobonds that Italy had suggested, raising questions as to whether the EU project can survive. The Guardian reported that the EU gave Hungary, who has a sixth of the population of Italy, twice as many funds from the emergency relief funds which further angered the Italians.
However, today Angela Merkel did announce that she is willing to finance a recovery through some sort of joint issuance of bonds. Germany today took steps to ease the lockdown as shops across the country began to open albeit with strict measures within shopping districts.
The IMF in a recent interview with the BBC told the audience to be wary of the current economic forecasts as the reality could be a significantly larger drop in world economic growth. Kristalina Georgieva, managing director of the IMF, said this could be a global recession we have never seen before in our lifetimes.
The United Arab Emirates is widening the scope of coronavirus testing to cover all citizens and residents across the Gulf nation. Total coronavirus cases are now at 7,265, including 43 deaths.
The major Europe stock markets had a green day today:
CAC 40 increased 29.29 points or 0.65% to 4,528.30
FTSE 100 increased 25.87 points, or 0.45% to 5,812.83
DAX 30 increased 50.12 points or 0.47% to 10,675.90
The major Europe currency markets had a mixed day today:
EURUSD decreased 0.00019 or -0.02% to 1.08675
GBPUSD decreased 0.00107 or -0.09% to 1.24589
USDCHF increased 0.00177 or 0.18% to 0.96752
Some economic news from Europe today:
UK:
Rightmove House Price Index (MoM) decreased from 1.0% to -0.2%
Germany:
German PPI (YoY) (Mar) decreased from -0.1% to -0.8%
German PPI (MoM) (Mar) decreased from -0.4% to -0.8%
Euro Zone:
Trade Balance (Feb) increased from 1.3B to 23.0B
Current Account (Feb) increased from 31.8B to 40.2B
Current Account n.s.a. (Feb) increased from 10.5B to 33.8B
US/AMERICAS:
The US Paycheck Protection Program (PPP) has come under harsh criticism as many claim it only benefits larger "small businesses," which the government controversially defined as any company with under 500 employees. In protest, Shake Shack and Union Square Hospitality Group announced plans to return their $10 million stimulus check this Monday. Representatives from the organization called the PPP "extremely confusing" and stated their organization has the liquidity to stay afloat, whereas smaller businesses do now. "If this act were written for small businesses, how is it possible that so many independent restaurants whose employees needed just as much help were unable to receive funding. We now know that the first phase of the PPP was underfunded, and many who need it most, haven't gotten any assistance," representatives for the group announced, further stating they have the capital to weather the slowdown while smaller businesses do not.
Multiple analysts downgraded Disney's stock today, noting that the coronavirus has caused a near shutdown for many of the company's revenue sources including theme parks, movie theaters, sports, and retail. This news comes after Disney announced they are laying off 100,000 employees, and may not reopen theme parks until 2021. UBS analysts John Hodulik believes the company's advertising revenue will be affected as well and anticipates a drastically lower attendance to theme parks once they reopen. "[T]his business [is] less profitable until there is a widely available vaccine," Hodulik said.
Brazil's President Jair Bolsonaro joined protestors in his country's capital this weekend to protest the current lockdown. This comes one week after the president fired his administration's health minister for supporting a prolonged quarantine. As of April 19, Brazil reported 38,654 cases and 2,462 deaths.
US Market Closings:
Dow declined 592.05 points or -2.44% to 23,650.44
S&P 500 declined 51.40 points or -1.79% to 2,823.16
Nasdaq declined 89.41% or -1.03% to 8,560.73
Russell 2000 declined 15.75 points or -1.28% to 1,213.35
Canada Market Closings:
TSX Composite advanced 28.4 points or 0.20% to 14,388.28
TSX 60 advanced 0.13 of a point or 0.01% to 871.98
Brazil Market Closing:
Bovespa declined 17.53 points or -0.02% to 78,972.76
ENERGY:
The biggest story of the day has to be the dramatic fall of WTI oil. Over the weekend, there was news that there was an oversupply of WTI and storage facilities were totally full. Next, news emerged that there were many tankers being rented just to store oil. Then news emerged that WTI plunged to around 19 dollars, resting around 1 cent. However, latest prices have shown that the price in fact has gone negative with reports that producers are willing to actually pay buyers to take the oil, with the price going as far as -45 USD for the front month's futures contract! This is the first time in recorded history that crude has dropped into the negatives, far surpassing the 1986 low of $10.20 pb.
The oil markets had a mixed day today:
Crude Oil decreased 36.47 USD/BBL or -199.62% to -18.20
Brent decreased 2.35 USD/BBL or -8.37 % to 25.7300
Natural gas increased 0.103 USD/MMBtu or 5.85% to 1.8650
Gasoline decreased 0.0175 USD/GAL or -2.29% to 0.7482
Heating oil decreased 0.0626 USD/GAL or -6.32% to 0.9276
The above data was collected around 15.06 EST on Monday.
Top commodity gainers: Wheat (2.10%), Cotton (2.18%), Natural Gas (5.85%), and Rice (0.83%)
Top commodity losers: Crude Oil (-199.62%), Brent (-8.37%), Heating Oil (-6.32%), and Ethanol (-4.20%)
The above data was collected around 15.06 EST on Monday.
BONDS:
Japan 0.03%(-0bp), US 2's 0.20% (-0bps), US 10's 0.64%(-2bps); US 30's 1.25%(-3bps), Bunds -0.45% (+3bp), France 0.08% (+5bp), Italy 1.98% (+19bp), Turkey 12.19% (-191bp), Greece 2.11% (-0bp), Portugal 1.07% (+9bp); Spain 0.92% (+10bp) and UK Gilts 0.34% (+4bp).
US 3-Month Bill Auction decreased from 0.280% to 0.125%
US 6-Month Bill Auction decreased from 0.290% to 0.145%
French 3-Month BTF Auction increased from -0.476% to -0.451%
French 6-Month BTF Auction increased from -0.445% to -0.414%
French 12-Month BTF Auction increased from -0.431% to -0.388%