Blog/Market Talk
Posted Apr 20, 2017 by Martin Armstrong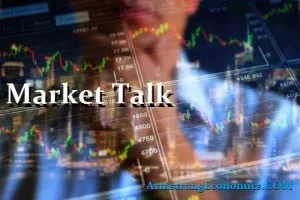 Financials, energy, and resources took Asian markets weaker early in the sessions but had reversed all by the close with only the Nikkei not managing a gain. The Yen lost a lot of momentum today having faded the 108.00 level and late this US evening plays around the 109.40 range. Data released from China has not been that bad and so any global reversal was bound to have a more pronounced effect for the Shanghai and Hang Seng indices. The ASX had also taken its fair share of the beating this week and so also saw a healthy rebound.
The market appears to be taking this weekends French election in its stride and is set for a run of the mill type of affair! The Euro and European bourse's performed well today as they follow closely the projections hinted at for Sunday. At time of writing the popular expectation is that Fillon and Macron are extremely close with Le Pen just a few points behind the two. We obviously know from recent events that polls mean very little but today stocks recovered, Bonds sold off and the Euro rallied. Christine Lagarde expressed major concerns for the Euro area if Le Pen were to surprise markets adding to state that the European project has been a protection from war! Remember the old saying – in peace time the weapon of war is currency. With Emmanuel Macron showing as leader in the latest poll the CAC saw its best day in a while rallying 1.5% whilst the other closed just small firmer. Sundays election could have a major effect on markets next week, so expect position squaring tomorrow as traders hedge where they can.
Treasury Secretary, Steven Mnuchin, hinted at a conference in Washington that proposed tax reforms will be huge and maybe sooner than the markets are expecting. Upon this news stocks increased the opening run and we soon saw the DOW up 200 points. The markets have been waiting news on this for a while and with plenty of money on the side-lines and having just seen a pullback, we could see some interesting price action next week. Results seen more much of the S+P index have been better than expected; the question now is has this been priced in yet! Friday we will see Manufacturing PMI, Existing Home Sales and Earnings from more large corp's (GE, Honeywell etc.).
2's closed 1.19% (+1bp), 10's at 2.23% (+2bp), Bunds at 0.24% (+3bp) which closes the spread at +199bp (-2bp), France 0.91% (-3bp), Italy 2.24% (-2bp), Greece 6.48% (-3bp), Turkey 10.48% (-13bp), Portugal 3.74% (-3bp) and Gilts 1.07% (+1bp).