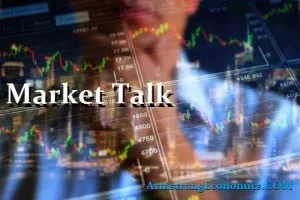 Asia:
China's central bank asked police to investigate a fake rate-cut report. The report emerged on social media, causing pressure on tech firms within China.
In other news, China furthered relationship with Russia after purchasing 24 fighter jets Su-57. The Su-57 jet is touted as the world's best military jet, which is quite controversial as geopolitical events heat up. China's own J-20 jet is seen as a good allrounder, but apparently the Chinese officials were impressed with the aerodynamic capabilities of the Su-57.
India, on the 27th of March, successfully sent rockets into orbit to test their ASAT technology. This rocket has the ability to knock out unwanted satellites. Today, NASA stated that their missile tests could disrupt the ISS as 24 pieces of debris is on course for a potential hit with the ISS. However, Delhi insisted that the test was carried out in low orbit at an altitude of 300 km. PM Modi stated that it has now established India as a global space power, and they plan to send an astronaut into space by 2020. However, with a country with so much poverty, this has faced some controversy.
Most of the major Asian stock markets had a green day today: Hang Seng increased 62.65 points (0.21%) to 29,624.67; SENSEX increased 184.78 points (0.48%) to 39,056.65; ASX 200 increased 25.40 points (0.41%) to 6,242.40; KOSPI increased to 8.90 points (0.41%) to 2,177.18, and Shanghai increased 6.46 points (0.20%) to 3,176.82. However, NIKKEI 225 took the opposite route and decreased -3.72 points (-0.02%) to 21,505.31.
The Major Asian currency markets had a mixed day today:
The AUDUSD decreased 0.0046 or 0.65% to 0.7065, and the NZDUSD decreased 0.0059 or 0.86% to 0.6746. The USDJPY and the USDCNY took the opposite route and increased 0.0410 or 0.04% to 111.3810 and 0.0097 or 0.14% to 6.7276 respectfully.
Gold increased 3.79 USD/t oz. or 0.29% to 1,291.27 and Silver decreased 0.01 USD/t. oz or 0.09% to 15.09.
Some economic news from yesterday late evening:
Japan:
Monetary Base (YoY) decreased from 4.6% to 3.8%
South Korea:
CPI (YoY) (Mar) decreased from 0.5% to 0.4%
CPI (MoM) (Mar) decreased from 0.4% to -0.2%
Australia:
Building Approvals (MoM) (Feb) increased from 2.3% to 19.1%
Private House Approvals (Feb) decreased from 2.1% to -3.6%
RBA Interest Rate Decision (Apr) remain the same at 1.5%
New Zealand:
NZIER Business Confidence (Q1) decreased from -17% to -29%
NZIER QSBO Capacity Utilization (Q1) remain the same at 92.8%
Some economic news from Tuesday:
Indian Nikkei Market Manufacturing PMI (Mar) decreased from 54.3 to 52.6
New Zealand GlobalDairyTrade Price Index decreased from 1.9% to 0.8%
Europe:
Labour Member of Parliament Yvette Cooper proposed a bill to prevent a no-deal Brexit come April 12th, stating 10 days is not enough time to create a deal. This would require Prime Minister Theresa May to ask for an extension of Article 50.
Turkey's Erdogan is challenging the municipal election results that saw opposition CHP wins in major cities, including Istanbul. More to come here for sure.
The major European stock markets had a green day today: CAC 40 increased 17.95 points or 0.33% to 5423.47; the FTSE 100 increased 73.74 points, or 1.01% to 7,391.12, and the DAX increased 72.80 points or 0.62% to 11754.79.
The major European currency markets had a mixed day today: the EURUSD decreased 0.0017 or 0.15% to 1.1195, and the USDCHF decreased 0.0004 or 0.04% to 0.9983. However, the GBPUSD took the opposite route and increased 0.0022 or 0.17% to 1.31210.
Some economic news from Europe:
Swiss:
CPI (YoY) (Mar) increased from 0.6% to 0.7%
CPI (MoM) (Mar) increased from 0.4% to 0.5%
UK:
Construction PMI (Mar) increased from 49.5 to 49.7
Spain:
Spanish Unemployment Change decreased from 3.3K to -34.0K
Eurozone:
PPI (YoY) (Feb) increased from 2.9% to 3.0%
PPI (MoM) (Feb) decreased from 0.3% to 0.1%
U.S./Americas:
A strange day in U.S. equities. Stocks were largely flat, but the 30-stock Dow dropped 79.29 points (-0.30%), closing 26179.13 – largely driven by Walgreens. The S&P 500 was flat (2867.24 close), while the Nasdaq gained 0.25% (2867.24 close) and the Russell 2000 fell by -0.18% (1553.32 close).
Walgreens had a terrible day, sinking 12.81% after releasing disappointing earnings and providing fairly pessimistic growth forecast. Top competitor, CVS Health, hit a 52-week intraday low ($51.77 vs a 52-week high of $82.15), closing down -3.8% for the day. While Rite Aid also made a new 52-week low at $0.56, closing down -8.97% for the day.
On the economic front, looks like Americans are spending a little less. Retail sales dropped 0.2% in February, while January's figure was revised to show a 1.7% increase from the prior month (original estimate 1.1%). The brief surge in spending during the first month of the year was not enough to offset the 2% drop during December 2018. Retail sales dropped significantly during Q4 overall; a time in which most companies rely on higher spending due to the holiday season. Food and beverage sales also took a hit during February after declining 1.2%.
A special House committee unanimously passed the Secure Act this Tuesday. The Secure Act is designed to offer additional flexibility for 401k plans in an effort to encourage small businesses to offer retirement options for employees. The act will implement new tax credits for businesses that set up automatic 401k enrollment. It also will grant part-time employees 401k eligibility. Despite ongoing tension between the left and right, this act is receiving bipartisan support and is largely expected to pass into law.
The USD Index increased by 0.70% (last reading 97.3). The USD/CAD increased by 0.22% (last reading 1.3335).
Yesterday, Bank of Canada Governor Stephen Poloz expressed a cautious confidence in the future of the Canadian economy. Poloz acknowledged that Canada's economy is experience a soft patch but that it is in line with the overall global economic slowdown. "The data that we've seen recently certainly supports our original interpretations that we were in for a temporary slowdown. How long it lasts is a bit of question mark," Poloz stated. Interest rates, which stand at 2.5% to 3.5%, are set to remain in place for now.
The Canadian markets closed in positive territory today. The TSX Composite rose +0.22% (16263.87 close), and the TSX 60 increased +0.28% (970.43 close).
The Bovespa continued to decline this Tuesday after dropping 667.70 points, a 0.70% decrease, before closing the day at 95386.76.
Energy:
The EIA released more data on the 29th regarding shale output and it wasn't pleasant. Shale output is down by around 90k barrels, meaning Crude and Brent are expected to continue to rise.
A recent WSJ report suggests that banks are increasing their targets for Crude prices in 2019 amid OPEC cuts.
A mixed day for the energy markets: Crude Oil increased 1.11 USD/BBL or 1.80% to 62.82; Brent increased 0.44 USD/BBL or 0.64% to 69.31; Gasoline increased 0.03 USD/GAL or 1.61% to 1.93, and Heating Oil increased 0.02 USD/GAL or 1.20% to 2.01. However, Natural Gas took the opposite route and decreased 0.02 USD/MMBtu or 0.63% to 2.69.
Top commodity gainers were Lean Hogs (2.16%), Bitumen (2.04%), Crude Oil (1.82%), and Gasoline (1.62%). The biggest losers were Ethanol (-2.17%), Coal (-1.00%) and Cotton (-0.83%).*
*The above data was collected around noon 15:31 EST time on Tuesday
Bonds:
Japan -0.06%(+1bp), US 2's 2.30% (+5bps), US 10's 2.48%(+8bps), US 30's 2.89%(+7bps), Bunds -0.05% (-2bp), France 0.36% (-2bp), Italy 2.53% (+1bp), Turkey 17.32% (-94bp), Greece 3.69% (-37bp), Portugal 1.26% (-2bp), Spain 1.13% (-3bp) and UK Gilts 1.01% (-4bp)
Japan 10-Year JGB Auction decreased from -0.002% to -0.006%
UK 5-year Treasury Gilt Auction decreased from 0.966% to 0.748%
Spanish 6-month Letras Auction decreased from -0.375% to -0.384%
Spanish 12-month Letras Auction decreased from -0.312% to -0.334%