Blog/Market Talk
Posted Apr 18, 2017 by Martin Armstrong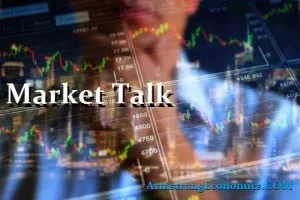 We saw a mixed session in Japan today with the Nikkei bouncing from yesterdays lows eventually closing up +0.35% whilst the currency rejected the 107 handle last trading mid 108 level. Shanghai has lost -0.8% also watching the Hang Seng give up 1.4%. It should be no surprise that markets are feeling jittery given current market uncertainties, so this retracement only makes a small dent following the impressive (near 10%) Q1 return. However, it was not until the European session that things started to get whippy – so lets just fast forward to events there!
It was the surprise announcement from UK PM Theresa May that spooked life into prices. In her address she outlined the UK's decision to leave the European Union is being hampered at every corner by other political parties playing games. Holding the election is just eight weeks time is the only way to get this out of the way ahead of final BREXIT negotiations. the FTSE was already trading heavy prior to the announcement but was hit harder upon it. GBP rallied and saw its largest one day gain in ages rallying over 250 pips to levels not seen since last December. FTSE eventually closed down 2.5% on the day with the currency rallying 2.2%. The CAC was also trading heavy following election talks finally closing on the days lows -1.6%. The Euro performed well against the USD also closing up 0.9% all having an impact to conclude the -0.75% decline in the DXY today.
Many were waiting for Goldman's results but few thought they would miss in such style! Trading revenue was down but people had questions across the board. EPS missed at $5.15 versus $5.31 expected which all helped to push shares lower which ended the day around 3% lower. J&J was the other bug loser also closing down around 3% which combined with Goldman made up for the majority of the DOW's daily losses! the broader S+P closed just 0.3% lower whilst we even saw the Russell close higher. Gold found a bid mid UK session, following the news conference, and eventually closed small firmer on the day at $1292.
US 2's closed 1.17% (-3bp), 10's 2.18% (-7.5bp), 30's 2.85% (-6bp). Bunds closed 0.15% – closes the US/Germany spread at +203bp. France 0.89%, Italy 2.24%, Greece 6.57%, Turkey 10.66% (+9bp), Portugal 3.78% and finally UK Gilt 10yr closed 1.01%.