Blog/Market Talk
Posted Apr 17, 2018 by Martin Armstrong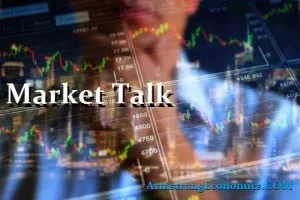 Again we saw Chinese equity markets suffer even after the better than forecast trade data. The 6.8% release was better than the 6.7% expected but, because March slowed compared to Jan and February this hit confidence in afternoon trading. The morning session had seen positive prints but could not hold the prices in late trading. The Shanghai finished the session down around -1.4% whilst the Hang Seng lost -0.8%. Other data was pretty much mixed but the damage was the most recent March number. China was surprised markets by announcing a cut in the RRR (Reserve Ratio Requirement) monies held by banks for reserves by 100bp (from 17% and 15% large / small respectively). Again, we saw the SENSEX gain ground but only as the INR lost value. The Nikkei was almost unchanged but the Yen has regained a little ground even though it retains the 107 handle.
Interesting today that although the economic data being released from Europe (including the sentiment number from Germany) were poor, the markets traded from strength to strength. All core trended firmer with positive sentiment seen from the US markets helping into the close. The DAX traded well with a +1.5% return as manufacturing, exporters and basic resources companies led the rally. Sentiment seemed quite positive as US markets opened and the feeling is that Europe was dragged along for the ride! Italian banks was another area that traded well supporting the FTSE MIB but, all looked good probably because the Euro and GBP were sold. GBP had earlier hit its highest since the BREXIT vote but lost that and more in late US trading as talk the Theresa May will face challenges in Parliament.
The fact that the Syrian conflict was not the major headline and earnings almost took centre stage has helped core US markets today. the DOW rallied over 200 points with the S+P adding 1% and the NASDAQ 1.75%. Strong earnings are boosting sentiment as we saw Netflix hit all time highs helping the impressive NASDAQ performance. A true capital flight today for the USA after we have seen stocks, currency and bonds all improving!
Japan 0.04%, US 2's closed 2.39% (+1bp), 10's 2.83% (u/c), 30's 3.02% (-1bp), Bunds 0.50% (-2bp), France 0.73% (-2bp), Italy 1.75% (-4bp), Greece 3.97% (-3bp), Turkey 12.67% (-10bp), Portugal 1.6% (-2bp), Spain 1.21% (-2bp) and Gilts 1.43% (-3bp). Talk today was that paper was bought after early signs of weakness following the poor sentiment numbers.