Blog/Market Talk
Posted Apr 17, 2017 by Martin Armstrong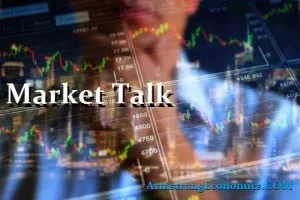 Weekend tensions continue to push money into safe-havens with the yen a good example of the flow. Gold, Treasuries and cash have also performed over the weekend. Trading down to the low 108's, its lowest level since last November but still well above the August sub-par level. The Nikkei reversed early losses however and eventually closed up 0.1% on the day. Australia, NZ and Hang Seng were closed for Easter. Also in Asia we saw China release GDP data which beat the expectation of 6.8% releasing at 6.9%.
Most European markets remained closed for the Easter holidays but the desks that were open were expressing views surrounding Turkey and the influence the election have upon markets. Having seen five national elections in three years the market is now looking for stability and a clarity of power. The margin probably means that Erdogan is unlikely to call an early election and therefore is being interpreted as an opportunity to boost the economy together with confidence ahead of a possible election late 2018. Certainly the market gave it its vote of confidence via the bond market tightening 10bp to close 10.57% this evening from Thursday's 10.67%.
US markets were more relieved than anything else today, especially after the fear built into the Thursday close. Geopolitical concerns surrounding Korea plus the elections that were due in Turkey nerved markets with many participants taking more off the table. Early Futures pricing had forecast a positive opening but then cash went from strength to strength, which contradicted earlier economic data when we saw US Empire Manufacturing miss expectation releasing at 5.2% compared to the 15 estimated. Late talk that Treasury Secretary Steven Mnuchin spoke in the FT that tax reform without boarder adjustment is possible helped spur the rally. This news together with talk of possibly increasing the budget deficit and issuing long dated paper stopped the earlier treasury rally having seen 10yr notes hit 2.19%. The USD also suffered early losses when the bond market started to re-price hike timing but volumes are so low we probably should await further economic data before traders start to second guess the FED. The DOW closed at session highs, up over 180 points (0.9%) with the broader S+P and NADAQ equally recording strong returns of similar (0.9%) gains.
US 2's closed 1.20% (-1bp), 10's closed 2.255% (+1.5bp) and 30's at 2.91%. Most European markets remained closed.