Blog/Market Talk
Posted Apr 16, 2020 by Martin Armstrong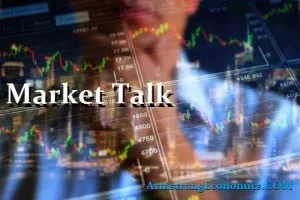 ASIA:
India identified 170 districts as hotspots including major metros – Delhi, Mumbai, Chennai, Bengaluru, and Kolkata. The Ministry of Home Affairs has issued a set of guidelines that informs which services and practices are permitted in these areas during the next phase of lockdown which will continue till May 3, 2020.
India has agreed to sell hydroxychloroquine tablets to Malaysia for use in the treatment of COVID-19 patients, a Malaysian minister told on Wednesday, with New Delhi partially lifting its bar on exports of the anti-malarial drug. India is the world's largest producer of hydroxychloroquine, sales of which have soared across the world, including in the United States, especially after President Donald Trump touted it as a potential weapon against COVID-19.
China stocks ended higher on Thursday on recovering global investor sentiment, but gains were modest ahead of March-quarter GDP data that is expected to show an economic contraction for the first time in nearly 30 years.
Singapore launched a new government-led certification program, SG Clean, for hotels and restaurants to restore public confidence in its facilities and raise the bar again in public sanitation amid the COVID-19 pandemic. To be certified "SG Clean," businesses must pass a seven-point checklist that includes screening the health and temperature of employees and workplace hygiene practices.
The major Asian stock markets had a mixed day today:
NIKKEI 225 decreased 259.89 points or -1.33% to 19,290.20
Shanghai increased 8.76 points or 0.31% to 2,819.94
Hang Seng decreased 138.89 points or -0.58% to 24,006.45
ASX 200 decreased 50.40 points or -0.92% to 5,416.30
Kospi decreased 0.01 points or 0.00% to 1,857.07
SENSEX increased 222.80 points or 0.73% to 30,602.61
The major Asian currency markets had a mixed day today:
AUDUSD decreased 0.0019 or -0.30% to 0.62960
NZDUSD decreased 0.00532 or -0.89% to 0.59428
USDJPY increased 0.1 or 0.09% to 107.64
USDCNY increased 0.01501 or 0.21% to 7.08781
Precious Metals:
Gold decreased 3.00 USD/t oz. or -0.17% to 1,714.10
Silver increased 0.01 USD/t. oz or 0.05% to 15.4070
Some economic news from last night:
China:
House Prices (YoY) (Mar) decreased from 5.8% to 5.3%
Japan:
Reuters Tankan Index (Apr) decreased from -20 to -30
Foreign Bonds Buying increased from -1,052.2B to -201.3B
Foreign Investments in Japanese Stocks decreased from 324.2B to -15.5B
South Korea:
Exports (YoY) (Mar) decreased from -0.2% to -0.7%
Imports (YoY) (Mar) increased from -0.3% to 0.3%
Trade Balance (Mar) decreased from 5.04B to 4.59B
Australia:
MI Inflation Expectations increased from 4.0% to 4.6%
Employment Change (Mar) decreased from 26.7K to 5.9K
Full Employment Change (Mar) decreased from 6.7K to -0.4K
Participation Rate (Mar) remain the same at 66.0%
Unemployment Rate (Mar) increased from 5.1% to 5.2%
EUROPE/EMEA:
Not too much volatility in the European markets today, as most of the major indexes closed up slightly, with smaller European markets suffering some losses.
EU Commission head Ursula von der Leyen today offered an apology to Italy for their lack of response to help tackle the virus. She said too many nations were not there to give a helping hand at the very beginning. It seems like a response to sway the public as many Italians are now in favor of leaving the EU. French President Macron was also signaling the Euro project could be a failure if there is no financial solidarity between the member nations.
The EU trade chief Phil Hogan warned that the EU needs to implement further measures to make it difficult for foreign companies to take over the European market. Recently, China was singled out for a country to be aware of during the financial crisis.
The UK received as many as 3.4 million applications for EU citizens to remain in the UK post-Brexit. EU Citizens have until June 30, 2021, to apply for residency, otherwise they will automatically lose their status. In other news, the UK told the EU the post-Brexit December deadline is set in stone and they are not willing to budge on the timeline.
The EU will pass a law that will stop executive bonuses for any firm that requires a state bailout. The EU this month introduced a common emergency program that will amount to 500 billion euros.
The major Europe stock markets had a mixed day today:
CAC 40 decreased 3.56 points or -0.08% to 4,350.16
FTSE 100 increased 30.78 points, or 0.55% to 5,628.43
DAX 30 increased 21.78 points or 0.21% to 10,301.54
The major Europe currency markets had a mixed day today:
EURUSD decreased 0.00593 or -0.54% to 1.08457
GBPUSD decreased 0.00788 or -0.63% to 1.24442
USDCHF increased 0.00384 or 0.40% to 0.96894
Some economic news from Europe today:
Germany:
German CPI (MoM) (Mar) decreased from 0.4% to 0.1%
German CPI (YoY) (Mar) decreased from 1.7% to 1.4%
German HICP (YoY) (Mar) decreased from 1.7% to 1.3%
German HICP (MoM) (Mar) decreased from 0.6% to 0.1%
German WPI (YoY) (Mar) decreased from -0.9% to -1.5%
German WPI (MoM) (Mar) increased from -0.9% to -0.4%
Norway:
Trade Balance (Mar) decreased from 18.3B to 2.5B
Swiss:
PPI (MoM) (Mar) increased from -0.9% to -0.3%
PPI (YoY) (Mar) decreased from -2.1% to -2.7%
Euro Zone:
Industrial Production (YoY) (Feb) decreased from -1.7% to -1.9%
Industrial Production (MoM) (Feb) decreased from 2.3% to -0.1%
UK:
BRC Retail Sales Monitor (YoY) (Mar) decreased from -0.4% to -3.5%
US/AMERICAS:
Numerous states across the US are expending their lockdown orders until May 15. Bordering northeast states are combining their efforts to contain the virus spread. New York, New Jersey, Pennsylvania, Rhode Island, Connecticut, Massachusetts, and Delaware are among the states set to expand their lockdown policies. Initially, various governments planned to reopen on April 30. Now, the federal government is leaving future policies in the hands of state governement. New Jersey Gov. Phil Murphy firmly stated that school will not reopen prior to May 15, with many speculating whether schools will reopen at all this year.
The unemployment figure is rapidly increasing in America. According to the Labor Department, an additional 5.245 million Americans filed for unemployment benefits last week. Since lockdown measures were mandated across most of the country, over 22 million Americans have lost their livelihoods.
The IRS launched a new website for Americans to monitor the availability of their personal stimulus checks. The website provides information on payment status, type, and whether more information (i.e. bank account information) is needed to process the claim. Around 80 million citizens will receive their checks this week, while other may have to wait months if not possibly a year into the future.
Canadian Prime Minister Justin Trudeau announced that the US-Canada border will not reopen for "many weeks." "I don't think we can talk about reopening things until we are confident that we have exactly the plan on responding to future resurgences of the virus," the PM stated this Thursday. Although supplies are permitted to pass the border, non-essential travel between the two nations is barred until further notice.
US Market Closings:
Dow advanced 33.33 points 0.14%, at 23,537.68
S&P 500 advanced 16.19 points or 0.58% to 2,799.55
Nasdaq advanced 139.19 points or 1.7% to 8,532.36
Russell 2000 declined 5.89 points or -0.5% to 1,178.09
Canada Market Closings:
TSX Composite declined 59.26 points or -0.42% to 13,899.32
TSX 60 declined 4.26 points or -0.50% to 842.76
Brazil Market Closings:
Bovespa declined 1,019.61 points or -1.29% to 77,811.85
ENERGY:
WTI crude continued to drop today and settled around the mid 19s. The Saudi Arabian Energy Minister today said that cuts could in fact drop to 20 million barrels per day, but they are targeting a price of 30-35 USD before they see that happening.
The oil markets had a mixed day today:
Crude Oil decreased 0.07 USD/BBL or -0.35% to 19.8000
Brent decreased 0.21 USD/BBL or -0.76 % to 27.4800
Natural gas increased 0.034 USD/MMBtu or 2.15% to 1.6160
Gasoline decreased 0.0118 USD/GAL or -1.53% to 0.7609
Heating oil increased 0.0032 USD/GAL or 0.33% to 0.9653
BONDS:
Japan 0.02%(-0bp), US 2's 0.19% (-1bps), US 10's 0.60%(-4bps); US 30's 1.21%(-6bps), Bunds -0.48% (-2bp), France 0.04% (-2bp), Italy 1.85% (-6bp), Turkey 14.56% (+40bp), Greece 2.14% (+11bp), Portugal 0.99% (+5bp); Spain 0.84% (-3bp) and UK Gilts 0.30% (-0bp).
US 4-Week Bill Auction decreased from 0.190% to 0.150%
US 8 Week Bill Auction decreased from 0.290% to 0.150%
French 3-Year BTAN Auction remain the same at -0.43%
French 5-Year BTAN Auction decreased from -0.22% to -0.36%
UK 30-Year Treasury Gilt Auction decreased from 1.029% to 0.680%
Spanish 3-Year Bonos Auction increased from 0.071% to 0.266%
Spanish 5-Year Bonos Auction increased from 0.238% to 0.411%
Spanish 15-Year Obligacion Auction increased from 0.852% to 1.193%