Blog/Market Talk
Posted Apr 16, 2019 by marty armstrong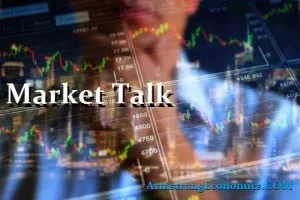 Asia:
China has added a new fiscal stimulus package in order to prevent a sharp slowdown. Local governments will be allowed to issue up to 320 billion USD in special purpose bonds to fund infrastructure projects, which is an increase of over 59% from last year.
Sony released "S.Ride," an app which could become Uber's latest challenger in Japan. Sony partnered with five taxi companies in Tokyo, providing access to 10,000 cabs.
The major Asian stock markets were green today: NIKKEI 225 increased 52.55 points (0.24%) to 22,221.66; ASX 200 increased 26.00 points (0.42%)to 6,277.40; SENSEX increased 369.80 points (0.95%) to 39,275.64; Hang Seng increased 319.15 points (1.07%) to 30,129.87; KOSPI increased 5.75 points (0.26%) to 2,248.63; Shanghai increased 75.81 points (2.39%) to 3,253.60.
The major Asian currency markets had a mixed day today: The AUDUSD increased 0.00045 or 0.06% to 0.71755, and the USDCNY increased 0.0039 or 0.06% to 6.7102. However, the NZDUSD and USDJPY took the opposite route and decreased 0.0002 or 0.03% to 0.6759 and 0.0560 or 0.05% to 111.9740 respectfully.
Gold decreased 11.09 USD/t oz. or -0.86% to 1,276.72, and silver increased 0.015 USD/t. oz or 0.10% to 15.0108.
Some economic news from last night:
China House Prices (YoY) (Mar) increased from 10.4% to 10.6%
New Zealand RBNZ Offshore Holdings (Mar) increased from 52.6% to 52.8%
Some economic news on Tuesday:
New Zealand GlobalDairyTrade Price Index decreased from 0.8% to 0.5%
Japan Tertiary Industry Activity Index (MoM) decreased from 0.6% to -0.6%
Indonesian Car Sales (YoY) (Mar) increased from -13.50% to -11.40%
Europe:
The EU parliament has enacted new laws regarding the term 'gig' economy, meaning those who are working 'on-demand' jobs, such as Uber. This law will give minimum rights to those employed by such services to allow more structure, such as maximum working hours, the right for compensation for late canceling of work, and the banning of exclusivity clauses. Member states have three years to fulfill the rules.
In France, following yesterday's tragic fire of the Cathedral of Notre Dame, President Macron announced that the 856-year-old monument will be rebuilt from public donations. Immediately, two businessmen pledged up to 300m euros to fix the damage from the blaze. Interesting to take note, in Shenzhen, China, there is an exact replica of the cathedral amongst other notable world buildings.
The major European stock markets had a green day today: CAC 40 increased 19.94 points or 0.36% to 5,528.67, the FTSE 100 increased 33.05 points, or 0.44% to 7,469.92, and the DAX increased 81.04 points or 0.67% to 12,101.32.
The major European currency markets had a mixed day today. The USDCHF increased 0.0034 or 0.34% to 1.0072. The EURUSD and the GBPUSD took the opposite route and decreased 0.0017 or 0.15% to 1.1290 and 0.0043 or 0.33% to 1.3054 respectfully.
Some economic news from Europe:
Euro Zone: ZEW Economic Sentiment increased from -2.5 to 4.5
German ZEW Current Conditions (Apr) decreased from 11.1 to 5.5
German ZEW Economic Sentiment (Apr) increased from -3.6 to 3.1
UK Average Earnings ex Bonus (Feb) decreased from 3.5% to 3.4%
UK Average Earnings Index +Bonus (Feb) remain the same at 3.5%
UK Claimant Count Change (Mar) increased from 26.7K to 28.3K
UK Employment Change 3M/3M (MoM) decreased from 222.0K to 179.0K
UK Unemployment Rate (Feb) remain the same at 3.9%
US/Americas:
Wall Street traded in positive territory today on the backdrop of early optimistic earning reports. The Dow advanced 67.89 points (+0.26%), closing at 26,452.66. The S&P 500 was relatively flat, finishing the day +0.05% at 2,907.06. The Nasdaq gained +0.30%, closing at 8,000.23. The Russell 2000 rose +0.23%, closing the day at 1582.79.
UnitedHealth Group reported relatively strong earnings, driving the stock higher in early trading but could not keep it from closing lower (-4.12%) due to fears of new proposals of universal Medicare in Washington, D.C. (Bernie Sanders recently proposed a bill that would replace privatized insurance with a government-funded plan).
CEO David Wichmann voiced concerns about the future of U.S. healthcare, stating such a plan would "destabilize the nation's health system." Other U.S. insurance stocks were down as well: Cigna (-7.80%), Anthem (-6.75%), and Humana (-7.46%).
Johnson & Johnson also announced better than expected Q1 earnings today, but overall profits were down 14% due to hundreds of millions spent on litigation fees related to its talc-based baby powder, and accusations of possible asbestos contamination. Johnson & Johnson also paid hefty legal fees due to issues with their popular blood thinner medication, Xarelto.
Bank of America also reported today, stating Q1 profit rose 6% to $7.3 billion, above expectations, while revenue remained flat.
In Technology, Apple and Qualcomm settled their ongoing dispute out of court today, causing Qualcomm's stock to jump 23.21%. Apple previously accused Qualcomm of illegal patent practices regarding their modem smart phone chips and had been engaged in legal battle around the world. The two companies agreed on a six-year patent license agreement. Additionally, Apple has agreed to pay Qualcomm an undisclosed sum.
The USD Index is up 0.14% (last reading 97.03). The USDCAD is down -0.08% (last reading 1.3351).
The Canadian markets closed relatively flat for the day. The TSX Composite declined 13.26 points or -0.08% (16,502.20 close), while the TSX 60 gained 0.59 points, or +0.06% (988.51 close).
Brazil's Bovespa advanced 1,250.34 points (+1.34%), closing at 94,333.31.
Energy:
Ohio lawmakers have introduced a clean energy bill, providing clean energy credits to those zero-emission power producers. Similar legislatures have been provided to the U.S. Supreme Court but have been rejected. Today Microsoft stated that by 2020, 60% of their data centers will be run by renewable energy only. Brazil is boosting its exports in crude oil as a stop gap for the lack of Venezuelan oil on the market.
Most of the oil markets had a green day today: Crude Oil increased 0.65 USD/BBL or 1.03% to 64.1221; Brent increased 0.49 USD/BBL or 0.69% to 71.7346; Gasoline increased 0.0161 USD/GAL or 0.80% to 2.0290; and Heating oil increased 0.0187 USD/GAL or 0.91% to 2.0805. However, Natural Gas took the opposite route and decreased 0.017 USD/MMBtu or -0.66% to 2.5781.
Top commodity gainers were Oat (2.25%), Cotton (1.90%), and Coffee (1.11%). The biggest losers were Wheat (-3.21%), Soybean (-1.20%), and Corn (-1.10%).
The above data was collected around 15:15 EST on Tuesday.
Bonds:
Chinese holdings in US bonds have increased for the third month in a row. The total amount of bonds being purchased stands at 1.13 trillion dollars. This pushes back earlier concerns that the Chinese were dumping Treasuries in favor of gold.
Japan -0.02%(+1bp), US 2's 2.39% (-0bps), US 10's 2.55%(-1bps), US 30's 2.96%(-1bps), Bunds 0.05% (-0bp), France 0.42% (+2bp), Italy 2.57% (+3bp), Turkey 17.51% (-4bp), Greece 3.84% (+5bp), Portugal 1.20% (+3bp), Spain 1.09% (+4bp) and UK Gilts 1.22% (+1bp).