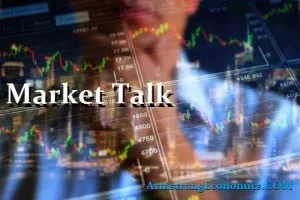 ASIA:
India laid out plans for the gradual reopening of its economy that will permit some manufacturing, agricultural work, and other activities to resume on a limited basis after April 20, provided they are not in designated coronavirus hotspots. India's top-down approach to implementing the initial countrywide lockdown was critical in slowing the rapid spread of the coronavirus.
India's retail inflation dropped to a four-month low in March, increasing the chances that the central bank will ease interest rates further in its efforts to encourage economic activity that has stalled amid the coronavirus outbreak. Annual retail inflation eased to 5.91% in March, down from 6.58% the previous month, the Ministry of Statistics data showed on Monday. Annual food inflation eased to 8.76% in March from 10.81% in February, the data showed.
Luo Huining, Beijing's top official in Hong Kong, has called for controversial national security laws, shelved since 2003, to be urgently passed to combat radical violence, foreign interference and pro-independence forces in the region. Luo said Hong Kong's pro-democracy movement was a "major blow" to the rule of law, threatening the "one country, two systems" principle under which it operates with China, and was influenced by pro-independence and radical violent forces.
China's central bank on Wednesday cut the interest rate on its medium-term lending facility (MLF) for financial institutions by 20 basis points to 2.95%, a record low, in an attempt to combat the economic fallout from the coronavirus health crisis. More easing is widely expected to help struggling companies get back on their feet. The IMF reduced China's growth rate to 1.2% from 6% in its January forecast.
Japan urged its citizens on Wednesday (April 15) to stay home, as media reports warned that as many as 400,000 of them could die of the coronavirus without urgent action, and Prime Minister Shinzo Abe came under pressure to hand out more cash. Japan, which tests only people with symptoms of the coronavirus, has so far recorded more than 9,000 infections, with nearly 200 deaths.
The major Asian stock markets had a negative day today:
NIKKEI 225 decreased 88.72 points or -0.45% to 19,550.09
Shanghai decreased 16.11 points or -0.57% to 2,811.17
Hang Seng decreased 290.06 points or -1.19% to 24,145.34
ASX 200 decreased 21.40 points or -0.39% to 5,466.70
Kospi closed
SENSEX decreased 310.21 points or -1.01% to 30,379.81
The major Asian currency markets had a mixed day today:
AUDUSD decreased 0.01392 or -2.16% to 0.63008
NZDUSD decreased 0.01365 or -2.24% to 0.59695
USDJPY increased 0.6340 or 0.59% to 107.7170
USDCNY increased 0.02681 or 0.38% to 7.07231
Precious Metals:
Gold decreased 2.5 USD/t oz. or -0.14% to 1,723.00
Silver decreased 0.165 USD/t. oz or -1.05% to 15.5050
Some economic news from last night:
Australia:
Westpac Consumer Sentiment (Apr) decreased from -3.8% to -17.7%
New Zealand:
FPI (MoM) (Mar) decreased from 2.1% to 0.7%
Some economic news from today:
China:
FDI (Mar) decreased from -8.60% to -10.80%
Indonesia:
Export Growth (YoY) (Mar) decreased from 11.00% to -0.20%
Import Growth (YoY) (Mar) increased from -5.11% to -0.75%
Trade Balance (Mar) decreased from 2.34B to 0.74B
Car Sales (YoY) (Mar) decreased from -2.70% to -15.00%
India:
WPI Food (YoY) (Mar) decreased from 7.79% to 4.91%
WPI Fuel (YoY) (Mar) decreased from 3.38% to -1.76%
WPI Inflation (YoY) (Mar) decreased from 2.26% to 0.90%
WPI Manufacturing Inflation (YoY) (Mar) decreased from 0.42% to 0.34%
Exports (USD) (Mar) decreased from 27.65B to 21.41B
Imports (USD) (Mar) decreased from 37.50B to 31.16B
Trade Balance (Mar) increased from -9.85B to -9.76B
EUROPE/EMEA:
The UK and EU have agreed upon three distinct stages of talks regarding trade post-Brexit with the aim of concluding talks by December 2020. So far, a statement was released describing the talks as "constructive." However, reports emerged that EU ministers are putting trade talks on the back burner as it currently is not a priority due to the coronavirus.
The EU has set legislation that any company that gets bailed out will be barred from paying dividends and bonuses to employees.
The EU introduced a roadmap for member countries lifting restrictions. The site stressed that timing was essential. EC head Ursula von der Leyen has stressed to people who wish to make travel plans to Europe in the summer to rethink their plans.
The EU issued a statement to US President Trump over his cancellation of WHO funding. The EU stated they deeply regretted the decision and that the WHO is needed more now than ever.
The major Europe stock markets had a negative day today:
CAC 40 decreased 170.19 points or -3.76% to 4,353.72
FTSE 100 decreased 193.66 points, or -3.34% to 5,597.65
DAX 30 decreased 416.80 points or -3.90% to 10,279.76
The major Europe currency markets had a mixed day today:
EURUSD decreased 0.01164 or -1.06% to 1.08706
GBPUSD decreased 0.01669 or -1.32% to 1.24621
USDCHF increased 0.00882 or 0.92% to 0.96872
Some economic news from Europe today:
Swiss:
SECO Consumer Climate (Q2) decreased from -7 to -40
France:
French CPI (MoM) (Mar) decreased from 0.0% to -0.1%
French CPI (YoY) decreased from 1.4% to 0.7%
French HICP (MoM) (Mar) increased from 0.0% to 0.1%
French HICP (YoY) (Mar) decreased from 1.6% to 0.8%
Spain:
Spanish CPI (MoM) (Mar) decreased from -0.1% to -0.4%
Spanish CPI (YoY) (Mar) decreased from 0.7% to 0.0%
Spanish HICP (MoM) (Mar) increased from -0.1% to 0.6%
Spanish HICP (YoY) (Mar) decreased from 0.9% to 0.1%
Italy:
Italian CPI (MoM) (Mar) increased from -0.1% to 0.1%
Italian CPI (YoY) (Mar) decreased from 0.3% to 0.1%
Italian CPI Ex Tobacco (MoM) (Mar) decreased from 0.2% to 0.1%
Italian HICP (MoM) (Mar) increased from -0.5% to 2.2%
Italian HICP (YoY) (Mar) decreased from 0.2% to 0.1%
Euro Zone:
Reserve Assets Total (Mar) increased from 864.68B to 866.26B
US/AMERICAS:
The Federal Reserve's Beige Book report was released today, painting a grim picture of the current economy. "Economic activity contracted sharply and abruptly across all regions in the United States as a result of the COVID-19 pandemic," the report began. The Fed acknowledged that social distancing measures have disrupted the leisure and hospitality sectors. Manufacturing contracted in most districts, with the auto industry nearly shutting down. "All Districts reported highly uncertain outlooks among business contacts, with most expecting conditions to worsen in the next several months," the report cited.
The Trump administration has suspended all funding to the World Health Organization (WHO). President Trump accused the organization of "severely mismanaging and covering up the spread of the coronavirus," and also accused the organization of implementing policies to support China in lieu of world health. Funding will not resume until an official review is conducted. The US was the most significant financial supporter of the WHO, contributing 15% of its budget or $400 million last year.
The US State Department is concerned that North Korea may engage in cyber terrorism that could threaten the security of the US banking system. "North Korea's malicious cyber activities threaten the United States and countries around the world and, in particular, pose a significant threat to the integrity and stability of the international financial system," the State Department noted in its advisory.
Several big-box stores in the US have stopped selling non-essential items in certain states. Walmart, Costco, and Target are among the retailers who have been permitted to stay open as they sell groceries and pharmaceuticals. Michigan and Vermont recently placed restrictions on retailors who must now rope off sections deemed "non-essential."
US Market Closings:
Dow declined 445.41 points or -1.86% to 23,504.35
S&P 500 declined 62.70 -points or 2.2% to 2,783.36
Nasdaq declined 122.56 points or -1.44% to 8,393.18
Russell 2000 53.36 points or -4.31% to 1,183.98
Canada Market Closings:
TSX Composite declined 299.85 points or -2.1% to 13,958.85
TSX 60 declined 17.45 points or -2.02% to 847.02
Brazil Market Closing:
Bovespa declined 1,-086.90 points or -1.36% to 78,831.46
ENERGY:
The EIA report confirmed a huge build in crude of 19.2 million barrels for the week of April 10, causing WTI to dip under 20 USD and brent to drop 6% to 27 USD per barrel. The EIA also suggested there could be a drop in US production of around 2m bpd.
The oil markets had a mixed day today:
Crude Oil increased 0.12 USD/BBL or 0.60% to 20.2300
Brent decreased 1.35 USD/BBL or -4.56% to 28.2500
Natural gas decreased 0.019 USD/MMBtu or -1.16% to 1.6220
Gasoline decreased 0.0279 USD/GAL or -3.44% to 0.7820
Heating oil decreased 0.038 USD/GAL or -3.82% to 0.9577
Top commodity gainers: Palm Oil (1.14%), Bitumen (2.63%), Rubber (0.77%), and Oat (1.58%)
Top commodity losers: Soda Ash (-3.41%), Brent (-4.56%), Gasoline (-3.44%), and Heating Oil (-3.82%)
The above data was collected around 10.20 EST on Wednesday.
BONDS:
Japan 0.02%(+1bp), US 2's 0.21% (-2bps), US 10's 0.66%(-9bps); US 30's 1.32%(-9bps), Bunds -0.47% (-9bp), France 0.04% (-6bp), Italy 1.95% (+16bp), Turkey 13.93% (-5bp), Greece 2.09% (+21bp), Portugal 0.94% (+2bp); Spain 0.85% (+1bp) and UK Gilts 0.31% (-3bp).
German 30-Year Bund Auction decreased from 0.010% to -0.090%
UK 10-Year Treasury Gilt Auction decreased from 0.376% to 0.270%