Blog/Market Talk
Posted Apr 14, 2020 by Martin Armstrong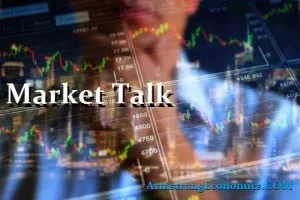 ASIA:
India has extended its national lockdown until May 3, 2020. Prime Minister Modi announced this decision today in a televised address to the nation. After April 20, some states that have avoided outbreaks may be allowed to resume. The country has at least 10,363 reported cases, including 339 deaths, according to the Ministry of Health.
The International Monetary Fund (IMF) further slashed India's growth estimate for FY21 to 1.9% from 5.8% that they estimated in January. The IMF is warning that the result may be the "worst recession since the Great Depression" that will dwarf the economic damage caused by the global financial crisis a decade back. It also said that India and China would be the only two major economies likely to register growth, with all others contracting.
The Daily Telegraph has stopped publishing lucrative Chinese branding daily material amid growing scrutiny over how Beijing is using the pandemic to expand its influence in English-language media aimed at western audiences. The removal of the paid-for sections comes as China aims to improve its standing with western audiences amid the pandemic.
The Chinese government is handing out cash to car buyers to help the world's biggest auto market get back on its feet after the coronavirus pandemic. The auto industry plays a crucial role in China's economy. More than 40 million people in the country rely on the sector for jobs, either directly or indirectly. The industry generates more than $1 trillion in revenue each year, or roughly 10% of China's manufacturing output.
The major Asian stock markets had a green day today:
NIKKEI 225 increased 595.41 points or 3.13% to 19,638.81
Shanghai increased 44.24 points or 1.59% to 2,827.28
Hang Seng increased 135.07 points or 0.56% to 24,435.40
ASX 200 increased 100.80 points or 1.87% to 5,488.10
Kospi increased 31.32 points or 1.72% to 1,857.08
SENSEX closed
The major Asian currency markets had a mixed day today:
AUDUSD increased 0.00346 or 0.54% to 0.64326
NZDUSD decreased 0.00101 or -0.17% to 0.60929
USDJPY decreased 0.55 or -0.51% to 107.10
USDCNY decreased 0.0035 or -0.05% to 7.0473
Precious Metals:
Gold increased 20.72 USD/t oz. or 1.21% to 1,736.15
Silver increased 0.36 USD/t. oz or 2.35% to 15.7640
Some economic news from last night:
China:
Exports (YoY) (Mar) increased from -17.2% to -6.6%
Imports (YoY) (Mar) increased from -4.0% to -0.9%
Trade Balance (USD) (Mar) increased from -7.09B to 19.90B
South Korea:
Export Price Index (YoY) (Mar) decreased from -2.0% to -3.3%
Import Price Index (YoY) (Mar) decreased from -1.0% to -7.7%
Australia:
NAB Business Confidence (Mar) decreased from -4 to -66
NAB Business Survey (Mar) decreased from 3 to -21
New Zealand:
External Migration & Visitors (Feb) decreased from 2.90% to -10.80%
Permanent/Long-Term Migration (Feb) increased from 6,860 to 8,250
Visitor Arrivals (MoM) decreased from -1.3% to -7.7%
Some economic news from today:
Indonesia:
Deposit Facility Rate (Apr) remain the same at 3.75%
Lending Facility Rate (Apr) remain the same at 5.25%
Interest Rate Decision remain the same at 4.50%
EUROPE/EMEA:
European markets were mixed, albeit not highly volatile after opening up from a two day Easter break.
The IMF said today that it expects global growth to shrink by 3%, and more developed economies by 6.1%, which would signal the worst decline in GDP since the Great Depression of the 30s.
European countries are beginning to ease restrictions. Italy and Spain are cautiously easing restrictions and allowing people to grocery shop. Current expectations are for a full opening of the economy in May.
The UK and EU have once again restarted trade talks post-Brexit. The Daily Express released an article suggesting that the Chancellor of the Exchequer Rishi Sunak was confident that a trade deal could be negotiated on time regardless of the coronavirus disruption. He also mentioned later in the day that the UK will be suffering some tough times ahead. The Office for Budget Responsibility said that the economy could shrink as much as 35% by June!
A leading German politician Gunther Oettinger said that the EU needed to be tougher on "debt rebels," as described by the UK express. He was, of course, talking to the likes of Italy who has a debt to GDP ratio of around 135%. Italy is contemplating following the UK and leaving the EU. Gunther went on to talk about how European countries in good years should build up reserves or pay off old debts to be better prepared for a crisis.
The major Europe stock markets had a mixed day today:
CAC 40 increased 17.06 points or 0.38% to 4,523.91
FTSE 100 decreased 51.35 points, or -0.88% to 5,791.31
DAX 30 increased 131.82 points or 1.25% to 10,696.56
The major Europe currency markets had a mixed day today:
EURUSD increased 0.00566 or 0.52% to 1.09756
GBPUSD increased 0.01043 or 0.83% to 1.26283
USDCHF decreased 0.00619 or -0.64% to 0.96051
US/AMERICAS:
The International Monetary Fund (IMF) released a report today in which they predict the global economy will contract by 3% in 2020. The organization is referring to the current situation as "the Great lockdown" and said we should not expect to see a recovery until 2021. "The magnitude and speed of collapse in activity that has followed [the lockdown] is unlike anything we've experienced in our lifetimes," Gita Gopinath, the IMF's chief economist, said. The IMF foresees the US economy shrinking by 5.9% this year and Canada's economy contracting 6.2%. "It is assumed that [in a longer shutdown] there will be some longer-lived damage realized in 2021 in the form of capital destruction, a temporary slowing in productivity growth, and a temporary increase in trend unemployment," the report stated.
Federal Reserve Vice Chairman Richard Clarida told Bloomberg News on Monday that the Fed has the tools to keep the US out of deflation. "I always thought that if we got hit it would be a shock to aggregate demand, and that is what I think it is," Clarida said, noting that the Fed is working to "offset" that issue. When asked about interest rates, Clarida said it would be "a long way down the road" before the Fed considered raising rates which are currently at 0%.
Biotech company Moderna announced today that it concluded phase one trials for a potential Zika virus vaccine. The company is currently working on producing a COVID-19 vaccine as well, and the successful first phase of Zika trials has many optimistic that their COVID-19 vaccine may prove effective too. "We expect the safety and tolerability profile of the Moderna COVID-19 vaccine to be very similar from the other vaccines. And so I think we start to be in a place where we are cautiously optimistic," CEO Stéphane Bancel stated.
US Market Closings:
Dow advanced 558.99 points or 2.39% to 23,949.76
S&P 500 advanced 84.43 points or 3.06% to 2,846.06
Nasdaq advanced 323.32 points or 3.95% to 8,515.74
Russell 2000 advanced 25.29 points or 2.09% to 1,237.33
Canada Market Closings:
TSX Composite advanced 182.49 points or 1.3% to 14,258.43
TSX 60 advanced 11.12 points or 1.3% to 864.47
Brazil Market Closing:
Bovespa advanced 1,082.54 points or 1.37% to 79,918.36
ENERGY:
The report by the IMF today suggesting that major economies will have dismal growth this year caused oil prices to plunge. WTI and Brent dropped 8% and 7% respectfully with WTI hovering over the 20 USD mark. Oilprice.com reports that China has been buying up cheap oil and putting it into storage, with the first quarter number coming in at 130 million tons of oil stored.
The oil markets had a negative day today:
Crude Oil decreased 2.07 USD/BBL or -9.24% to 20.3400
Brent decreased 2.09 USD/BBL or -6.58% to 29.6500
Natural gas decreased 0.09 USD/MMBtu or -5.20% to 1.6420
Gasoline decreased 0.0002 USD/GAL or -0.03% to 0.7843
Heating oil decreased 0.0619 USD/GAL or -5.90% to 0.9876
Top commodity gainers: Ethanol (6.67%), Platinum (3.86%), Orange Juice (2.44%), and Live Cattle (3.38%)
Top commodity losers: Crude Oil (-9.24%), Brent (-6.58%), Bitumen (-5.89%), and Heating Oil (-5.90%)
The above data was collected around 14.50 EST on Tuesday.
BONDS:
Japan 0.01%(+1bp), US 2's 0.23% (-2bps), US 10's 0.73%(-2bps); US 30's 1.38%(-1bps), Bunds -0.38% (-4bp), France 0.10% (-1bp), Italy 1.82% (+20bp), Turkey 13.98% (+32bp), Greece 1.93% (+12bp), Portugal 0.92% (+3bp); Spain 0.88% (+9bp) and UK Gilts 0.34% (+3bp).
French 3-Month BTF Auction increased from -0.477% to -0.476%
French 6-Month BTF Auction increased from -0.479% to -0.445%
French 12-Month BTF Auction increased from -0.465% to -0.431%