Blog/Market Talk
Posted Apr 13, 2021 by Martin Armstrong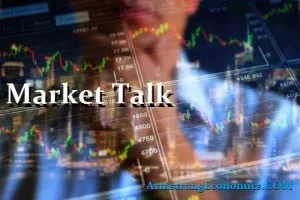 ASIA:
China's exports rose sharply in March while imports growth surged to the highest in four years in yet another boost to the nation's economic recovery, signaling improving global demand amid progress in worldwide COVID-19 vaccination. The data suggests the world's second-largest economy will continue to gather momentum as it emerges from the COVID-19-led slump in early 2020, though a lagging consumer rebound, a resurgence in COVID-19 cases in many countries and Sino-U.S. tensions have raised risks for the outlook. The data showed total Chinese imports jumped 38.1% year-on-year last month, the fastest pace since February 2017 on high commodity prices, beating a 23.3% forecast and compared with 17.3% growth in February.
India's retail inflation accelerated to a four-month high in March on higher food and transport costs amid rising coronavirus infection numbers and fears of a surge in some commodity prices due to lockdowns in some states. Annual retail inflation rose 5.52% in March, up from 5.03% in February, data released by the Ministry of Statistics showed on Monday. Retail food prices, which account for nearly half of the basket of items used to calculate the inflation rate, increased 4.94% in March on year compared to 3.87% in the previous month.
BlackRock has set up a partnership with Singapore's government-owned investment arm Temasek to launch a series of massive late-stage venture capital and early-growth private equity investment funds to advance decarbonization efforts on a global level. As Decarbonization Partners, the two investors intend to commit a combined $600m in initial capital to invest in multiple funds launched by the partnership, and also raise third-party capital from investors committed to net zero. Decarbonization Partners has a fundraising target of $1bn for its first fund, including capital from Temasek and BlackRock.
The major Asian stock markets had a mixed day today:
NIKKEI 225 increased 212.88 points or 0.72% to 29,751.61
Shanghai decreased 16.48 points or -0.48% to 3,396.47
Hang Seng increased 43.97 points or 0.15% to 28,497.25
ASX 200 increased 2.90 points or 0.04% to 6,976.90
Kospi increased 33.49 points or 1.07% to 3,169.08
SENSEX increased 660.68 points or 1.38% to 48,544.06
Nifty50 increased 194.00 points or 1.36% to 14,504.80
The major Asian currency markets had a mixed day today:
AUDUSD increased 0.00058 or 0.08% to 0.76355
NZDUSD increased 0.00106 or 0.15% to 0.70444
USDJPY decreased 0.23 or -0.21% to 109.14
USDCNY decreased 0.00239 or -0.04% to 6.54548
Precious Metals:
Gold increased 12.7 USD/t oz. or 0.73% to 1,745.21
Silver increased 0.546 USD/t. oz or 2.20% to 25.391
Some economic news from last night:
China:
Exports (YoY) (Mar) decreased from 60.6% to 30.6%
Imports (YoY) (Mar) increased from 22.2% to 38.1%
Japan:
M2 Money Stock (YoY) decreased from 9.6% to 9.5%
M3 Money Supply (Mar) increased from 1,942.7T to 1,949.5T
South Korea:
M2 Money supply (Feb) remain the same at 8.90%
Australia:
NAB Business Confidence (Mar) decreased from 18 to 15
NAB Business Survey (Mar) increased from 17 to 25
New Zealand:
NZIER Business Confidence (Q1) decreased from -6% to -13%
NZIER QSBO Capacity Utilization (Q1) decreased from 95.1% to 93.3%
Electronic Card Retail Sales (MoM) (Mar) increased from -2.5% to 0.9%
Electronic Card Retail Sales (YoY) (Mar) increased from -5.3% to 5.1%
Some economic news from today:
China:
Trade Balance (USD) (Mar) decreased from 103.25B to 13.80B
EUROPE/EMEA:
The U.K. economy grew 0.4% in February, rebounding from a sharp drop the previous month, as the rapid rollout of COVID-19 vaccines boosted confidence in a recovery from the pandemic. The Office for National Statistics said Tuesday that the expansion was led by a 1.3% increase in manufacturing output and a 1.6% boost in construction as most nonessential shops remained closed due to a nationwide lockdown. The economy remains 7.8% smaller than it was last February as the U.K. recovers from its worst recession in 300 years.
Investor sentiment in Germany fell unexpectedly in April, the ZEW economic research institute said on Tuesday, citing rising fears that private consumption could be depressed as Europe's largest economy gets closer to extending lockdown measures. The ZEW said its survey of investor economic sentiment fell to 70.7 points, its first drop since November 2020, from 76.6 the previous month. A Reuters poll had forecast a rise to 79.0.
Spain plans to invest 13.2 billion euros ($15.7 billion) to boost electric vehicle use, one of a raft of measures as the government prepares to deploy European Union pandemic recovery funds to modernize the economy, Prime Minister Pedro Sanchez said. Electrifying transportation is one of 20 flagship investments that Spain plans to make over the next three years, spending part of its portion of the EU's recovery fund, Sanchez said during a press conference on Tuesday in Madrid. Other programs include 6.8 billion euros to be spent on improving the energy efficiency of buildings and 4.3 billion euros for modernizing the public administration, he said.
The major Europe stock markets had a green day:
CAC 40 increased 22.42 points or 0.36% to 6,184.10
FTSE 100 increased 1.37 points or 0.02% to 6,890.49
DAX 30 increased 19.36 points or 0.13% to 15,234.36
The major Europe currency markets had a mixed day today:
EURUSD increased 0.00258 or 0.22% to 1.19405
GBPUSD decreased 0.00137 or -0.10% to 1.37409
USDCHF decreased 0.00121 or -0.13% to 0.92099
Some economic news from Europe today:
UK:
NIESR Monthly GDP Tracker increased from -1.6% to -1.5%
BRC Retail Sales Monitor (YoY) (Mar) increased from 9.5% to 20.3%
Construction Output (MoM) (Feb) increased from 0.0% to 1.6%
U.K. Construction Output (YoY) (Feb) increased from -6.5% to -4.3%
GDP (YoY) increased from -8.5% to -7.8%
GDP (MoM) increased from -2.2% to 0.4%
Index of Services remain the same at -1.9%
Industrial Production (YoY) (Feb) increased from -4.3% to -3.5%
Industrial Production (MoM) (Feb) increased from -1.8% to 1.0%
Manufacturing Production (MoM) (Feb) increased from -2.3% to 1.3%
Manufacturing Production (YoY) (Feb) increased from -5.0% to -4.2%
Monthly GDP 3M/3M Change decreased from -1.4% to -1.6%
Trade Balance (Feb) decreased from -12.59B to -16.44B
Trade Balance Non-EU (Feb) decreased from -4.46B to -10.73B
Germany:
German WPI (YoY) (Mar) increased from 2.3% to 4.4%
German WPI (MoM) (Mar) increased from 1.4% to 1.7%
German ZEW Current Conditions (Apr) increased from -61.0 to -48.8
German ZEW Economic Sentiment (Apr) decreased from 76.6 to 70.7
Italy:
Italian Industrial Production (YoY) (Feb) increased from -2.1% to -0.6%
Italian Industrial Production (MoM) (Feb) decreased from 1.1% to 0.2%
Euro Zone:
ZEW Economic Sentiment (Apr) decreased from 74.0 to 66.3
US/AMERICAS:
Cyberattacks are the biggest threat to the US economy, according to Federal Reserve Chairman Jerome Powell. A 2018 study conducted by the International Monetary Fund supports this theory after finding that cyberattacks may costs banks 9% or $100 billion of their net income annually. Powell warned that cyber security, and the risk of hacking into financial establishments, could cause a complete market crash similar in size to the Great Recession. "You would have a part of the financial system come to a halt, or perhaps even a broad part. And so we spend so much time and energy and money guarding against these things. There are cyberattacks every day on all major institutions now. That's a big part of the threat picture in today's world," the chairman cautioned.
The Food and Drug Administration is halting trials and usage of Johnson & Johnson's (-1.34%) coronavirus vaccine immediately after numerous recipients experienced blood clots. The one-dose vaccination was touted as a quicker alternative than Moderna and Pfizer vaccinations, although admittedly having a lower efficiency rate at warding of the coronavirus.  The FDA said the "adverse events appear to be extremely rare," but are urging a pause in its usage "out of an abundance of caution."
The US federal government spent at least $660 billion more than it profited last month, according to the Department of Treasury. The government spent nearly double on a YoY basis, making purchases to the tune of $927 billion in March. The spending surge is largely attributed to the Biden Administration's American Rescue Plan package and ongoing stimulus check payments. This marks the third-largest monthly deficit in American history.
US Market Closings:
Dow declined 68.13 points or -0.2% to 33,677.27
S&P 500  advanced 13.6 points or 0.33% to 4,141.59
Nasdaq advanced 146.1 points or 1.05% to 13,996.1
Russell 2000 declined 4.86% or -0.22% to 2,228.92
Canada Market Closings:
TSX Composite advanced 2.42 points or -.01% to 19,203.7
TSX 60 declined 0.75 of a point or -0.07% to 1,145.02
Brazil Market Closing:
Bovespa advanced 485.39 points or 0.41% to 119,297.13
ENERGY:
The oil markets had a green day today:
Crude Oil increased 0.61 USD/BBL or 1.02% to 60.3100
Brent increased 0.58 USD/BBL or 0.92% to 63.8600
Natural gas increased 0.067 USD/MMBtu or 2.62% to 2.6280
Gasoline increased 0.0045 USD/GAL or 0.23% to 1.9745
Heating oil increased 0.0092 USD/GAL or 0.51% to 1.8172
Top commodity gainers: Silver (2.20%), Natural Gas (2.62%), Lumber (2.25%) and Corn (2.28%)
Top commodity losers: Platinum (-1.25%), Feeder Cattle (-0.66%), Soybeans (-0.16%), and Rubber (-2.20%)
The above data was collected around 12:32 EST on Tuesday.
BONDS:
Japan 0.11%(+0bp), US 2's 0.16%(-0.008%), US 10's 1.65%(-2bps); US 30's 2.33%(-0.013%), Bunds -0.29% (-0bp), France -0.02% (+1bp), Italy 0.76% (+2bp), Turkey 17.50% (+2bp), Greece 0.92% (+5bp), Portugal 0.29% (+0bp); Spain 0.39% (-1bp) and UK Gilts 0.77% (-2bp).
Spanish 12-Month Letras Auction decreased from -0.506% to -0.516%
Spanish 6-Month Letras Auction decreased from -0.524% to -0.562%
Italian 10-Year BTP Auction decreased from 0.72% to 0.12%
Italian 3-Year BTP Auction increased from -0.22% to -0.17%