Blog/Market Talk
Posted Apr 13, 2018 by Martin Armstrong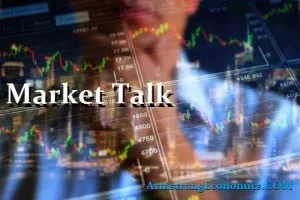 Asia has been predominantly better bid but for the Shanghai index. Here we saw values drift in afternoon trading to close on its low (-0.6%). Trade numbers were surprisingly poor for China posting a near $5bn deficit. The Hang Seng dipped with it, but to be fair was plus or minus small all day. The Nikkei performed (+0.55%), but probably on the back of a weak currency. The Yen traded back over 107.50 and appeared comfortable there until late US weakness brought a safety bid in most things ahead f the weekend. Yesterdays star performer, the SENSEX, traded well initially but drifted back to around unchanged following the regional trend. As we mentioned yesterday, many are watching currency movements in Hong Kong as talk is the peg is being tested daily. It has not traded outside of the 7.75/85 range since 1985, so at 33years is overdue – worth keeping an eye on it!
European stock markets are starting to resemble the bond market after such a quiet day. Talk is that volumes remain low, orders are quiet with many claiming geopolitical uncertainties dictating orders. Confidence is low, especially after poor Q1 returns and so they look to US markets for direction. A lot of talk, in and out of the City, of PM Theresa May's actions regarding Syria together with French claims of concrete evidence. The US sell-off did not affect Europe as came too late, so we need to wait for Mondays trading assuming no weekend news.
US markets opened positive on the back of strong results from financials, but the concern that markets will be closed for the next two days obviously scared a few. A weekend is a long time in politics these days and with so much at stake, many decided to take money off the table. That said, with cash market volumes declining yet their derivatives expanding, you will soon have to question which leads which! Maybe not a concern for next week, but will probably be due in H2 2018.
Japan 0.02%, US 2's closed 2.36% (+2bp), 10's 2.82% (-1bp), 30's 3.03% (-1bp), Bunds 0.51% (-1bp), France 0.74% (-1bp), Italy 1.79% (-1bp), Greece 4.04% (+7bp), Turkey 12.71% (+10bp), Portugal 1.63% (-4bp), Spain 1.22% (-2bp), and Gilts 1.43% (-2bp).