Blog/Market Talk
Posted Apr 13, 2017 by Martin Armstrong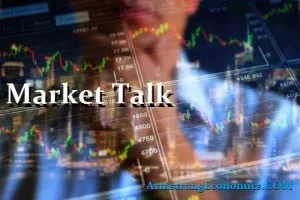 Currency, namely YEN, was the main talking point for the day as then yen approached 109 over Two big figures on the week. This obviously the currency move hit the Nikkei which closed down -0.7% all surrounding the on-going geopolitical concerns. Late in US trading news that the USA had dropped a large devise on Afghanistan hit stocks further which again propelled the currency but saw these levels rejected with the Yen back with a 109 handle. The initial move was blamed on Donald Trumps USD comment but appears to be a short-lived blip in a trend that looks to be developing. China beat forecasts with the Export data registering a positive +3.2% far better than the -1.2% seen in February. We saw a bit of a bounce in the Yuan trading back below the 6.9 level earlier in the week. Earlier in the day Australian employment data beat estimates by over 40k jobs but was countered by a fall in the price of Iron Ore which hit BHP and other related stock.
Despite Donald Trumps call for a weaker USD and some bond friendly comments towards the FED both the Euro and GBP lost ground together with core indices losses. All majors lost with the DAX, CAC, FTSE and IBEX all around -0.4% whilst peripheral (MIB FTSE) closed down -1.2% with Financials again leading the way. Le Penn continues to improve in recent polls, Banco Popular lost another 3% today on rumours of more capital raising, Putin is to host his annual call-in show, Turkey referendum Sunday, A member of the Germany Bundesbank (Dombret) calls for rate rises and on-going BREXIT negotiations, Syria and N. Korea are just some of the markets concerns which continues to push the large flow of money out of Europe and into USD assets.
US Financials started their reporting today and it was a mixed picture. Both Citi and JPM beat estimates whilst Wells missed. That didn't seem to matter however, as all three shares prices were lower today. Wells lost around -2.9% at one stage as costs continue to be a drag on their returns. The news of the US action in Afghanistan hit all core indices and that did not help confidence especially ahead of a long weekend. Demand continues to be found in Treasuries, Gold and tangibles (Softs did well today also) and interesting that the DXY remains above par. Stocks closing on their lows for the day.
2's closed 1.21% (u/c), 10's at 2.24% (-3bp), Bunds at 0.18% (-1bp) which closes the spread at +206bp (-2bp). France 0.91% (-1bp), Italy 2.29% (+1bp), Greece 6.48% (u/c), Turkey 10.67% (u/c), Portugal 3.85 (+3bp) and Gilts 1.04% (-1bp).