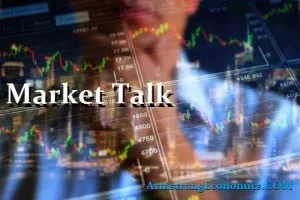 ASIA:
Asian markets have a very volatile day today. The surge in Covid-19 numbers globally has raised concerns worldwide. Indian markets fell in line with other major Asian markets. Nikkei in Japan, Hang Seng in Hong Kong, and Shanghai Composite in China fell between 0.5 percent and 1 percent on Monday. The continuing rise in Covid cases over the last six weeks also had an impact on the industrial sentiment and India's manufacturing sector activity weakened sharply in March, with the IHS Markit India Manufacturing Purchasing Managers' Index (PMI) slipping to a seven-month low of 55.4 in March from 57.5 in February. This marks an indication for a slowdown in the manufacturing sector due to restrictions on account of the fresh surge in Covid-19 pandemic cases and the situation is set to turn more challenging in April.
India's central bank has launched an Open Market Operations program Government Securities Acquisition Programme (G-SAP) — through which it will purchase government securities worth Rs 1 lakh crore in the first quarter of FY22. The RBI also announced that it would continue with a variable rate reverse repo to suck excess liquidity. While the 10-year G-Sec bond yields dropped 0.6% to 6.08 on Wednesday, the benchmark Sensex gained 0.9% to close at 49,661.7. In the backdrop of the government's elevated borrowing for this year, which the RBI has to ensure goes through without causing disruption, G-SAP aims to provide more comfort to the bond market, market participants said.
The major Asian stock markets had a mixed day today:
NIKKEI 225 decreased 229.33 points or -0.77% to 29,538.73
Shanghai decreased 37.73 points or -1.09% to 3,412.95
Hang Seng decreased 245.52 points or -0.86% to 28,453.28
ASX 200 decreased 21.20 points or -0.30% to 6,974.00
Kospi increased 3.71 points or 0.12% to 3,135.59
SENSEX decreased 1,707.94 points or -3.44% to 47,883.38
Nifty50 decreased 524.05 points or -3.53% to 14,310.80
The major Asian currency markets had a mixed day today:
AUDUSD increased 0.0002 or 0.03% to 0.76215
NZDUSD decreased 0.00001 or -0.00% to 0.70322
USDJPY decreased 0.29 or -0.26% to 109.37
USDCNY decreased 0.00696 or -0.11% to 6.55089
Precious Metals:
Gold decreased 8.87 USD/t oz. or -0.51% to 1,734.23
Silver decreased 0.39 USD/t. oz or -1.54% to 24.852
Some economic news from last night:
Japan:
Bank Lending (YoY) (Mar) increased from 6.2% to 6.3%
PPI (MoM) (Mar) increased from 0.6% to 0.8%
PPI (YoY) (Mar) increased from -0.6% to 1.0%
Indonesia:
Retail Sales (YoY) (Feb) decreased from -16.4% to -18.1%
Some economic news from today:
China:
M2 Money Stock (YoY) (Mar) decreased from 10.1% to 9.4%
New Loans (Mar) increased from 1,360.0B to 2,730.0B
Outstanding Loan Growth (YoY) (Mar) decreased from 12.9% to 12.6%
Chinese Total Social Financing (Mar) increased from 1,710.0B to 3,340.0B
India:
CPI (YoY) (Mar) increased from 5.03% to 5.52%
Cumulative Industrial Production (Feb) increased from -12.20% to -11.30%
Industrial Production (YoY) (Feb) decreased from -0.9% to -3.6%
Manufacturing Output (MoM) (Feb) decreased from -1.3% to -3.7%
Japan:
Machine Tool Orders (YoY) increased from 36.7% to 65.0%
EUROPE/EMEA:
The U.K. government on Monday announced an independent review into contracts it handed the now-defunct Greensill Capital, and the role played by former Prime Minister David Cameron in lobbying on the company's behalf for access to taxpayer funds just months before its collapse. The government said that a review led by lawyer Nigel Boardman would look at the government's use of supply-chain financing, said Greensill, a spokesman for Downing Street. The review will look at whether the company provided good value for taxpayers and how its contracts were secured.
The major Europe stock markets had a negative day:
CAC 40 decreased 7.73 points or -0.13% to 6,161.68
FTSE 100 decreased 26.63 points or -0.39% to 6,889.12
DAX 30 decreased 19.16 points or -0.13% to 15,215.00
The major Europe currency markets had a mixed day today:
EURUSD increased 0.00101 or 0.08% to 1.19114
GBPUSD increased 0.00448 or 0.33% to 1.37472
USDCHF decreased 0.00228 or -0.25% to 0.92222
Some economic news from Europe today:
Euro Zone:
Retail Sales (YoY) (Feb) increased from -5.2% to -2.9%
Retail Sales (MoM) (Feb) increased from -5.2% to 3.0%
US/AMERICAS:
Federal Reserve Chairman Jerome Powell said that "it's highly unlikely that we would raise rates" this year during a Sunday interview with CBS 60 Minutes. Powell, who in the past has repeatedly warned of the threat of high unemployment, said the "outlook has brightened substantially." The chairman admitted that the Fed does not have all the answers and the future remains uncertain, although the forecast is less pessimistic than prior months. "If the people who are at the margins of the economy are doing well, then the rest of it will take care of itself," Powell told CBS. Currently, the central bank predicts GDP will advance 6.5% in 2021, marking the fastest pace of growth in 37 years. Rates will eventually rise, but not until inflation moves "moderately above 2% for some time."
Microsoft acquired Nuance Communications in a $16 billion deal, while also acquiring $19 billion in debt. Microsoft stated this Monday that it will purchase the company for about 23% above its Friday close at $56 per share. Microsoft has been rapidly expanding its empire and is in discussions to purchase Discord for $10 billion, and acquired Zenimax in March to the tune of $7.6 billion. After a less than successful release of Microsoft's AI voice feature Cortana, the company is hoping that purchasing Nuance will help them to expand their voice recognition technology.
US Market Closings:
Dow declined 55.2 points or-0.16% to 33,,745.4
S&P 500 declined -0.81 of a point or -0.02% to 4,127.99
Nasdaq declined 50.19 points or -0.36% to 13,850
Russell 2000 declined 9.69 points or -0.43% to 2,233.78
Canada Market Closings:
TSX Composite declined 26.75 points pr -0.14% to 19,201.28
TSX 60 advanced 0.28 of a point or 0.02% to 1,145.77
Brazil Market Closing:
Bovespa advanced 1,141.84 points or 0.97% to 118,811.74
ENERGY:
The oil markets had a green day today:
Crude Oil increased 0.72 USD/BBL or 1.21% to 60.0400
Brent increased 0.65 USD/BBL or 1.03% to 63.6000
Natural gas increased 0.027 USD/MMBtu or 1.07% to 2.5530
Gasoline increased 0.0095 USD/GAL or 0.48% to 1.9716
Heating oil increased 0.0115 USD/GAL or 0.64% to 1.8191
Top commodity gainers: Crude Oil (1.21%), Natural Gas (1.07%), Lumber (2.84%) and Coffee (1.14%)
Top commodity losers: Platinum (-2.43%), Cotton (-1.98%), Zinc (-2.85%), and Rubber (-5.70%)
The above data was collected around 11:41 EST on Monday.
BONDS:
Japan 0.11%(+1bp), US 2's 0.17%(+0.014%), US 10's 1.68%(+1bps); US 30's 2.35%(+0.008%), Bunds -0.31% (-1bp), France -0.05% (-1bp), Italy 0.74% (-0bp), Turkey 17.56% (+1bp), Greece 0.88% (+1bp), Portugal 0.29% (+0bp); Spain 0.39% (+1bp) and UK Gilts 0.79% (+2bp).
US 3-Year Note Auction increased from 0.355% to 0.376%
US 6-Month Bill Auction increased from 0.035% to 0.040%
US 10-Year Note Auction increased from 1.523% to 1.680%
US 3-Month Bill Auction remain the same at 0.020%
French 3-Month BTF Auction decreased from -0.625% to -0.630%
French 6-Month BTF Auction decreased from -0.621% to -0.633%
French 12-Month BTF Auction increased from -0.632% to -0.629%