Blog/Market Talk
Posted Apr 12, 2017 by Martin Armstrong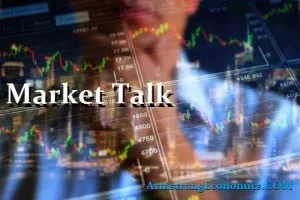 Asia traded heavy with the yen making new recent highs in the continued flight to quality/safety. Interesting we have seen such a tight trading range as we near almost half year lows and in rather thin volume. The blame continues to be placed at the feet of geopolitical tensions, France's upcoming elections and the uncertainty surround US tax and regulatory considerations. The Nikkei eventually closed down 1% but we saw a 1% rally in the Hang Seng index. Many things have to be considered here with Japan about to face elections and in China it is a short week as they have a national holiday on Friday. In China the Consumer Prices released marginally below expected (0.9% versus 1% previous) so we saw the Shanghai market close almost -0.5% lower. market did recover in the afternoon after reports said that Xi expressed opinion to President Trump that talks were the only way to ease tensions with North Korea.
Low volume trading in Europe also resulted in a mixed session across the board. IBEX was the outlier closing down -0.55% with Financials weighing on stocks. UK saw poor data release as Income Growth released weaker than expected revealing that earnings continues to slow. GBP was doing well then lost much of those gains until late comments by Trump reversed that move yet again. Gold continues to trade well into the end of the session with gains of around $10 at $1284, whilst the oil price lost 1% currently around $52.
The major topic for debate for the US session was the meeting between US Secretary of State Rex Tillerson and Russian Foreign Minister Vladimir Lavrov. Russia continues its demand for investigations and fact finding as Russia remains "Not Convinced" he said. Stocks were heavy all day but at a manageable level but were hit late in the day after the Trump comments that the USD was too strong. DOW and S+P as closes drifted below the 50D moving average. Bank earning remain an issue but we start to see those tomorrow – loan growth will be the measure many on the trading desks will be looking for. Wells Fargo, Citi and JPM all scheduled for Thursday. Trump-Stoltenberg news conference will happen after the close.
US 2's closed 1.21% (-2bp), 10's closed 2.27% (-3bp), Bunds 0.19% (-1bp) which closes the US/Germany spread at +208bp. France 0.92% (-4bp), Italy 2.28% (+2bp), Greece 6.48% (-7bp), Turkey 10.67% (-2bp), Portugal 3.82% (+1bp), Gilts 1.05% (u/c).