Blog/Market Talk
Posted Apr 10, 2017 by Martin Armstrong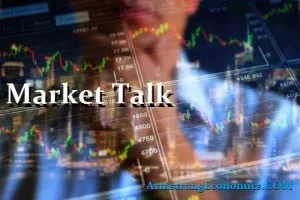 Asia saw a mixed session today with almost everyone discussing the rising geopolitical tensions in the region. The initial move into safe-haven trades appeared to be short-lived and so we saw yen trade back into the mid 111 range having rejected the 110's. The DXY closed strong on Friday and continues to trade strong. Exporters led the move higher in the Nikkei with solid gains for some of the Auto manufacturers. The Current Account for February was 2.81 trillion yen ($25bn) above the 2.51trln the market had been expecting. Most discussed point to highlight was the large amount of OAT's (French Government Bonds) that were sold. US treasuries sold were lower than many had expected. In Europe the stories were that the Japanese investors are concerned about Marine Le Pen possibly succeeding but the talk in Japan concerned the FSA monitoring lending overseas debt. This is possibly supporting for domestic yen debt instead but the Nikkei closed up +0.7%. The Shanghai and Hang Seng closed mixed and in light volume.
Global geopolitical uncertainty, upcoming elections in France, BREXIT negotiations, money leaving Europe (and may not return for sometime), a G7 meeting and banks raising funds on a seemingly monthly basis – all combines to weigh on the troubled European arena. Core markets were only slightly lower (FTSE -0.1%, DAX -0.2% CAC -0.55% and IBEX -0.87%) but if the currency were to fall first then assets could be the seesaw. The big discussion continues as to the effects of the FED v's the ECB monetary policies being at odds and the continued collapse in the velocity of money. G7 and French politics are the first couple of headlines to watch for but tomorrow we also see the UK inflation and wage data – GBP steady in todays trading and despite talking of capping net migration at 50k. Earnings season is upon us and so watch the numbers, US banks up first.
US stock trading today was termed "Reflation trade" following a seemingly event-less meeting between Trump and Xi with gains seen for Energy and Industrial stocks. Growth, hikes and geopolitics are all of concern but what the market is secretly waiting for is word on tax reforms and infrastructure reforms. If we do not see something on these front soon it could well be an interesting summer. In the near term however, we have earnings and with expectations so high (S+P 10%, Financials +15% for example) there is much built-in. Financials continue to lag but then look at 10yr TIPS performance the past few days and its should be not surprise. FED Chair Yellen to speak after the close of US trading so will have impact upon Asian markets.
2's closed 1.27% (-2bp), 10's 2.36% (-2bp), Bunds 0.2% (-2bp) which closes the spread at +216bp. France 0.92% (+4bp), Italy 2.22% (+2bp), Greece 6.63% (-8bp), Turkey 10.71% (-5bp), Portugal 3.78% (-4bp) and UK Gilts 1.07% (u/c).