Blog/Market Talk
Posted Mar 7, 2017 by Martin Armstrong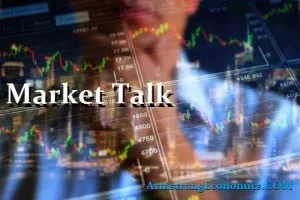 The Nikkei continued its two-day slide ending today with just small -0.2% decline. The JPY had one of its tightest trading ranges in awhile even with geopolitics playing out on its doorstep. The talk around Asia remains focused on the FED and implications upon their (Asia's) markets as they will be closed upon the NFP report release. Positions are being established now to end Q1 with many discussing the likelihood of three or four moves in 2017. The Shanghai and Hang Seng markets both returned positive (+0.3%) moves with energy and mining leading the pack. Gold started its decline again from yesterday's set-back and although weaker did not really make a move lower until the US session. Bonds were heavy most of the day with A$ losing ground after the initial rally. After RBA announced rates unchanged the focus for them also turned to the FED and the comparison with global returns and so saw bonds drift lower (price).
European indices had a rather lacklustre day with light volume with most core closing with little change. The DAX plays around recent highs with levels over the past couple of weeks not seen since early 2015. Deutsche bank's shares were again a hotly debated topic after the CEO's comments, but then 8.5bn has every reason to keep dealers on their toes. The trend continues to move away from bonds, despite yield levels, as many discard paper in favour of private sector assets was much of the talk today. FTSE hitting highs last week held a similar storyline, but then on the eve of the UK Budget there is still all the play for. GBP and Euro both traded heavier today but then with the FED next week this is probably not surprising – especially given the yield differential (2yr2yr now at +222bp). Equity markets continue to perform even though economic data fails to support the move.
US equities also traded in a narrow range but we do have so much over the next few trading days it is not surprising. Consolidating after the recent move is not a surprise but is impressive ahead of such events. The odds of the FED have increased, as we all know, but with the ECB at opposing stances the conflict looks to want to play its course. The 10yr10yr US/German bond yields currently stand at +219bp so this friction has to play out somewhere and it looks to have elected the currency market. The DXY trading this evening at around the 101.78 it looks to be in danger of challenging the recent highs and if successful, targeting the 2002 levels. Core indices drifted back to near session lows but with plenty ahead it is still early days yet.
2's closed 1.33% (+2bp), 10's 2.51% (+2bp) with 10yr Bunds at 0.32% (-1bp); closes the spread at +219bp. France 0.96% (+1bp), Italy 2.18% (+3bp), Greece 7.01% (+9bp), Turkey 10.86% (-14bp), Portugal 3.93% (+2bp) and UK Gilts 1.19% (-2bp)