Posted Nov 10, 2021 by Martin Armstrong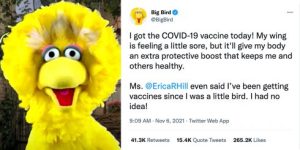 Sesame Street is using its platform to convince children to take the experimental mRNA vaccine. Klaus Schwab is an extremely dangerous man who has even started indoctrinating school children into his agenda using the Sesame characters. I strongly urge you to have your children stop watching this show. Schwab has taken this over to brainwash your children.
Senator Ted Cruz called this "government propaganda…for your five year old!" Regardless of your political beliefs, it is clear that this is completely wrong. Impressionable kids cannot understand the consequences of taking a vaccine with known life-threatening side effects. The long-term side effects are still unknown, but there have already been reports of children suffering irreparable damage. The death rate for children is 0.00%-0.03%, and it is completely unnecessary to subject children to this absurd experiment.
President Biden retweeted the comment and wrote, "Good on ya,@BigBird. Getting vaccinated is the best way to keep your whole neighborhood safe." Basically, they are shaming young kids, as they did adults, to take the vaccine for the greater good. I have heard stories of parents whose kids were begging for a vaccine as they were worried the other children would not want to play with them. This is the desired effect of the propaganda. Marketing the vaccine to children is a new low and the people behind this should be condemned. What's next? Including a needle in Happy Meals? Parents should be outraged that a seemingly innocent Sesame Street character is being used to peddle vaccines to their kids who could not possibly understand the consequences.