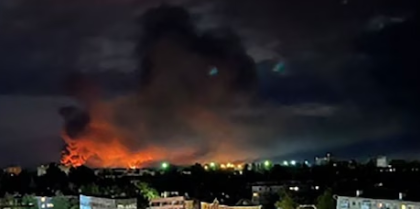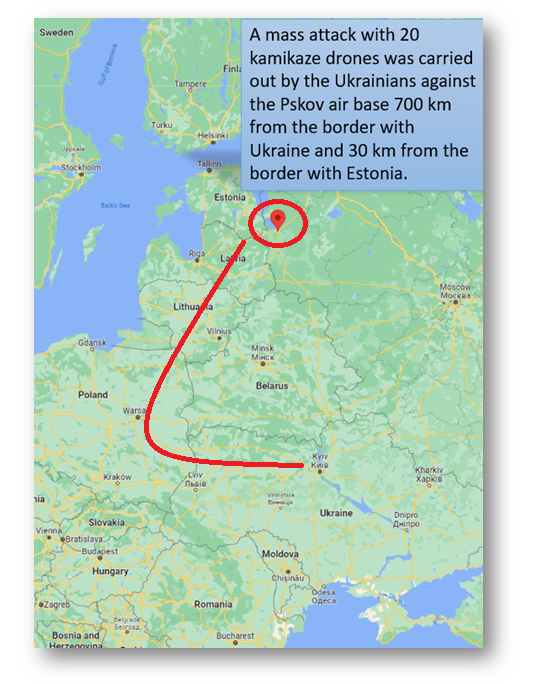 The Ukrainians carried out a mass attack with 20 kamikaze drones against the Pskov air base 700 km from the border with Ukraine and 30 km from Estonia. The drones hit an airport near Russia's border with Estonia and Latvia, causing a huge blaze and damaging four Il-76 military transport planes, which can carry heavy machinery and troops, the Russian state news agency Tass reported, citing emergency officials.
The development is very serious. Either the Ukrainian attack was made through the Baltic States' air space, which is, therefore, NATO, or, as some believe, they were fired from Estonia, pointing the finger at Ukraine, which has not confirmed or denied the attack. Either way, this is becoming a war between NATO and Russia, which means the Neocons are working hard to achieve their Christmas give – World War III.
Even Orbán of Hungary has come out and said that the US needs to call back Trump. "That's the only way out. Call back Trump." He knows that the Neocons have staged a coup of the United States, and they are achieving their dream – World War III and the personal destruction of Russia.
Meanwhile, as hedge funds lose their shirt and the life savings of their clients because of their bearish bias against the dollar, never before has the dollar been used as extensively in international payments as it is today. There is even a revolt internally at the famed Goldman Sachs. Just about everyone is bashing David Solomon from the  New York Times, Wall Street Journal, New York Magazine, and The Economist.
Despite this talk of de-dollarization, the losses have been massive. The use of the euro, on the other hand, has plummeted, as SWIFT data shows. More and more serious institutions have been reaching out to us and have come to their own conclusions that the Euro is on life-support. It cannot survive while NATO ramps up war.