Posted Jul 19, 2019 by Martin Armstrong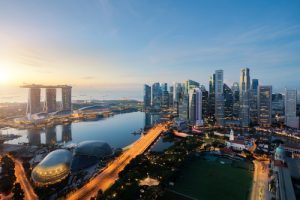 They are calling it an unexpected contraction in Singapore's economy which is in line with our Economic Confidence Model which bottoms in January 2020. In addition, China's exports have also declined by 1.3% during June. Gross domestic product in export-reliant Singapore declined by a shocking 3.4% in the second quarter from the previous three months. This was the biggest decline since 2012. Everywhere we look, the world economy is following the Economic Confidence Model perfectly. As stated before, the decline would be felt OUTSIDE the USA far more so than within the domestic economy.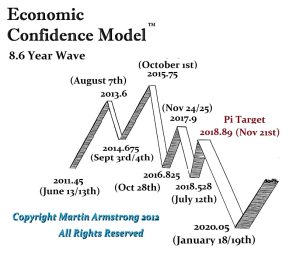 Of course, the blame is being laid on Trump citing his US-China trade war is having an impact on Asia, and that includes Singapore's latest export figures. Singapore saw exports fall for a second month in a row, this time by 17.3% in the month of June compared to a year ago. The economic growth in Singapore declined by 3.4% from the previous quarter. However, the world economy has been turning down before Trump's trade war as they are calling it. More than 10 years of Quantitative Easing has been unable to restore economic growth, but why look at trends when you can just bash Trump?
The global economy is still headed down into January 2020. Even if there was no trade war, the trend was set in motion from 2015.75. Within weeks of that turn at the peak of this cycle, Merkel began the refugee crisis which has undermined the confidence in Europe and her unilateral actions impacted all of the EU and has led to much discord. Costs of the refugee crisis have lowered economic growth and these people have not contributed to economic growth to any extent to offset the contraction. The negative interest rates have wiped out savers and force retired people back into the workforce just to stay alive. Meanwhile, governments have increased their taxation and nobody respects the fact that retired people are being forced out of their homes as taxes rise. There is no coordination and nobody will look at the whole.