Posted Mar 29, 2022 by Martin Armstrong
Supreme Court nominee Judge Ketanji Brown Jackson is a pedophile sympathizer who wants to dismantle the ideologies that founded America. Biden's only qualifications for his next Supreme Court nominee were that they were 1) black, 2) a woman, and 3) a pedophile sympathizer (i.e., Hunter's laptop filled with alleged images).
The media must stop praising Jackson for potentially becoming the first African-American woman on the Supreme Court as she does not acknowledge that biological women exist. Senator Marsha Blackburn, R-Tenn., asked Jackson, "Can you provide a definition for the word 'woman?'" Jackson responded, "Can I provide a definition? No, I can't," the judge said, adding, "Not in this context, I'm not a biologist."
How can she decipher the Constitution if she is unwilling to admit that women are biologically different from men? Former President Trump asked the same at a recent rally, adding, "a party that's unwilling to admit that men and women are biologically different in defiance of all scientific and human history is a party that should not be anywhere near the levers of power in the United States."
I suppose anyone disagreeing with her appointment can only be called a racist and not sexist as gender does not exist in woke America. Even then, the NAACP does not fully back Jackson. Jackson is also unable to determine the age of consent and has a long history of providing extremely lenient penalties for pedophiles.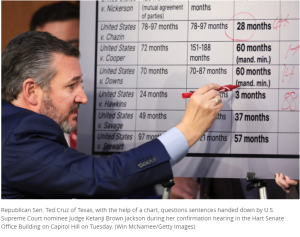 "I say to them there is only a market for this kind of material because there are 'lookers,' that they are contributing to child sex abuse," Jackson said. This is important to remember as Hunter Biden's laptop is allegedly filled with disturbing images of child abuse. Senator Ted Cruz asked why she provided light sentences "100 percent of the time."
Senate Judiciary Committee chairman Sen. Dick Durbin continued to interrupt anyone questioning Jackson, and we know that when the truth is censored, deep secrets are waiting to be unveiled. This is outrageous that someone is put up for the Supreme Court solely because they are a black woman. A simple review of the voting record of even Chief Justice Roberts reveals that he wrote the decision to support Obamacare, yet he was appointed by a Republican.
Who appoints these justices has no track record as to how they will vote. Justice Thomas is black, but he is one of the more conservative justices. Most of this is always theater for politicians. But when you put someone up who is simply filling a slot and is not qualified, this brings total insanity to the rule of law which underpins everything.