Carlos Ghosn, who was chairman of Nissan and Mitsubishi Motors as well as chairman and CEO of alliance partner Renault, fled Japan where he was out on bail in Tokyo. Ghosn was facing questionable criminal charges regarding under-reporting his salary and abusing his position by transferring personal investment losses to Nissan. Bringing such charges against him are highly suspicious given he was not Japanese and he was seeking to bring Nissan and Renault closer together.
He fled Japan to Lebanon where he is a citizen as well. He is also a citizen of Brazil and France. He said he fled because of the corruption in the Japanese legal system which is notorious for having a 99% conviction rate. Fair trials in Japan just do not exist. He made a public statement after arguing that the prosecutors were conspiring with Japanese board members of Nissan to remove him from his positions so they could take over the company. He fled when it became obvious that the trial was political and he called it a "rigged" justice system.
Ghosn confirmed in a statement that he had arrived in Lebanon, saying that he would "no longer be held hostage by a rigged Japanese justice system where guilt is presumed, discrimination is rampant, and basic human rights are denied."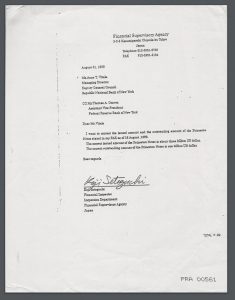 My Japanese clients believed the Japanese government had conspired to start my case because I had forecast at the March 1999 Tokyo Conference that the LDP would lose for the first time since World War II, which indeed took place. The first letter was dated August 18th, 1999, and was sent to Republic National Bank as well as the Federal Reserve. The FSA asked to confirm that I had $10 billion on deposit in the bank which was being sold for $10 billion claiming the total amount of notes issued was $30 billion. Republic responded on the 24th that they needed time. They stole the money from our accounts on August 27th and ran to the Feds.
The Federal Reserve went back to Japan and asked them to please confirm the amount since that was a huge amount of money. Then on August 31st, the Japanese government responded by claiming it was just a mistake. The amount was really $1 billion and not $10 billion. But Republic had already stolen the $1 billion, I believe, assuming the rest was missing somehow.
When this made the press in Japan, my clients could not believe that the agency in charge of the currency could make such a decimal place mistake so casually.
I have no opinion as to whether the Japanese government started everything intentionally or whether it as a stupid decimal mistake. But my clients supported me and told me back then, thank God this did not take place in Japan for there would never have been such an admission of that type of error.
When you are in a political case, nothing the government ever says or alleges can ever be trusted.