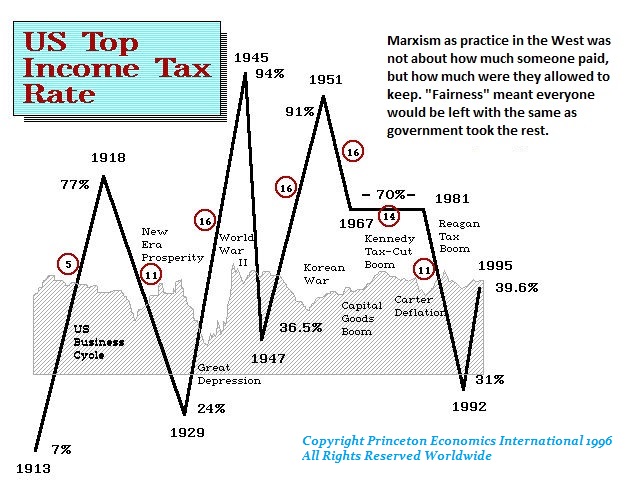 QUESTION: You do not think given the present animosity between the 2 parties, it would be best to let the Democrats win?
If you consider the KAOS for example fallowing a republican win, wouldn't It be best to let the communists win, give them 4 years to destroy the economy, & any chance they will ever hold office again ??
After all, the only way to bring Liberals on the side with the like-minded middle of the road conservatives is to allow the radical left to show their hand!
We could have peace & quiet ( after 4-4 yrs) & decimate the Democrats all while holding the upper ground.
Perhaps it's time to think of what's best for the country ?? 4 yrs of pain would teach the young anarchists just how rough things could be!
Just a thought!
DL
ANSWER: If I assume that Trump loses and the Democrats also take the Senate, we are looking at real tyranny and perhaps that is what 2022 is all about. I testified before the House Ways & Means Committee back in the '90s on tax reform. I explained that the biggest problem with the United States is that our tax code is like the brain wave of a schizophrenic. I have dealt with multinational corporations for decades and have to advise where to establish plants and where to avoid them. The #1 problem with the United States is that the Democrats come in and up go the taxes. The Republicans come in and they go back down.
Just because the Republicans win and cut taxes, that may last only 2 years. Companies NEED stability. Trump offered them a deal to bring their capital home and get a cut-rate one time. They would have to have been insane not to do so. However, if that was just cutting rates 5%, that would have been no incentive whatsoever and I would have had to advise stay where you are. You would not rent an apartment where the landlord has the right to raise your rate any time if he needs money. A lease is for a fixed amount for a fixed period.
The ONLY way to really drain the SWAMP is to (1) impose a rule that taxes cannot be changed unless there is a 2/3rds vote the same to impeach a president to prevent politics from creating this chaos, and (2) no family member may deal with any company or country that the politician is dealing with. This is STANDARD and it is dominant in Washington. They all claim they took nothing but it goes to their family.
In the case of Hunter Biden, let's be honest here. The bank transfers he engaged in which showed up on U.S. government reports that "show potential criminal activity" by Mr. Biden, other family members, and business partners. The report's phrasing is a sure indicator that Hunter Biden and his associates showed up by name in confidential Suspicious Activity Reports (SARS) issued by the Treasury Department.
To top it off, anyone else would be charged with money laundering facing 20 years in jail for what Hunter Biden did transferring nearly $2 million to his uncle. Then the money was sent to Chinese businessmen and to hide this transaction which is money laundering if anyone other than a politician's family was involved. The bank made an inquiry about the large amount and after the Bidens were not forthcoming, the bank closed the account (see the Senate report).
When I was going to go work in Singapore for a while, I asked a friend there to find a nice condo for me and I would wire him the deposit which was $5,000. I got there after about 2 months later and he said to me he never got the wire. I called my bank and asked to trace it. HSBC then returned the money stating that they could not verify I had no interest in his personal account. I had to then write him a check. The Bidens could send millions of dollars that were very suspicious and the bank just closed their account?
This is how the SWAMP works. It is out of control. They hate Trump because he isn't taking money.
I seriously doubt that we will have peace and quiet. REGARDLESS of who wins, the other side will not accept it. If Trump wins, I think they will do whatever they can to get rid of him by 2022. If Biden wins, we are looking at a major political crisis by 2022. There will be no 4 years of peace.