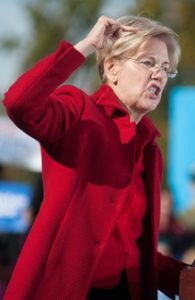 Warren's Wealth Tax is so destructive to the economy and demonstrates that she listens to Thomas Piketty, the French communist pretend economist. She wants to impose a 6% tax on billionaires per year. That means if you lost 20%, you still have to pay 6% of your assets every year to the government to fund her Medicare for All. This is similar to death taxes or inheritance taxes which destroyed the small farmers. When the founder died, the government claimed the land was worth a pile of money and then demanded 20% to 40% in taxes. To pay the tax, they were forced to sell the land. This is also how small businesses are destroyed.
Nowhere in her proposal is there any reform of the system. The doctors do not work for the government as in the VA or in countries like Britain. You cannot keep allowing hospitals and drug companies to charge outrageous prices when there is no competition and this forces insurance costs dramatically higher not to mention the lawyers suing doctors. When my mother was in the hospital, they refused to release her and kept her in bed for weeks which weakened her. They would release her only to rehab. The previous time they sent her to rehab, the doctor changed all her medicine and nearly killed her 2 years before. When my sister looked in the eyes of the hospital administrator trying to sell rehab again, she asked her if this was your mother, would you do that? She did not verbally respond but shook her head no ever so slightly. It was her job to keep the money flowing. This is the corruption in hospitals – it's all about the money. Warren simply wants to destroy the economy rather than address corruption in healthcare.
If I were president, I would convert all hospitals to a public institution like utilities. They would have to go under strict review and seek permission to raise the price of anything right down to toilet paper. There should be public hospitals created where private industry bids for a license since the government is incapable of managing anything as the VA Scandal demonstrated. They must be privately operated and foreign doctors who want citizenship should be granted that privilege in return for a work contract there at a reasonable rate for 5 to 10 years. ONLY when there is competition will prices ever come down.
I will state for the record right now – if Warren becomes president, our operation will leave the United States and I will have to seriously consider resigning my American citizenship. There would be no point in remaining in the United States for she would really lead to massive civil unrest and guarantee the decline and fall of the United States.