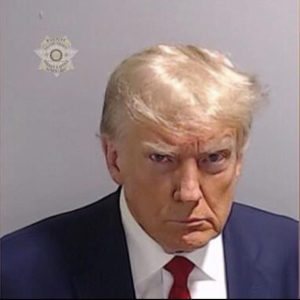 Donald Trump's notoriety is turning into increased popularity as he has become a martyr of the corrupt political system. He is receiving around-the-clock news coverage. Rallies are taking place in his favor, with a large group amassing outside the Fulton County jail that is composed of every demographic. His mugshot has been seen throughout the world and has been merchandised and sold. In many way his arrest has made him appear more civilian, instead of an elite business mogul he is now just another American battered by an unjust system.
Trump won the first GOP debate without attending as the most discussed candidate was not present. Former President Donald Trump declined the invitation to debate other GOP candidates and instead appeared on Tucker Carlson for a private interview. Trump's interview was posted to the internet minutes before Fox aired the official debate. Trump received more views on social media than the entire primary, receiving nearly 11 million views within the first four minutes of going live. Candidates who speak unfavorably on the president lose support, as we have seen the opposite with Ramaswamy who has gained favor after proclaiming Trump was a great president. His interview has become one of the most shared videos on social media, ever, and views have surpassed that of the last Super Bowl.
Some of the most prominent historical figures amassed notoriety and popularity after prison. This has been both negative and positive, with Nelson Mandela or even Adolf Hitler as examples of leaders whose popularity spiked after being jailed. A poll by FiveThirtyEight reported by the BBC shows that Trump's popularity is on the rise. In February, Trump held a two-point lead over Ron DeSantis (41% v 39%). Now, Trump's support has skyrocketed to 53% while DeSantis is a distant second at 16%.
The people want Trump. The powers that be will not allow him to retake office, which will only cause increased civil unrest. So brace yourself as all hell is going to break loose come 2024.