Blog/Politics
Posted Dec 15, 2019 by Martin Armstrong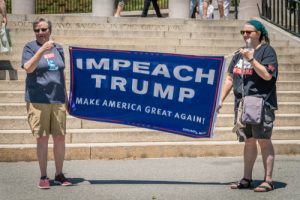 Trump is just the fourth president in the history of the United States to have articles of impeachment get this far. Of course, this is really just politics as evident by the party-line vote. With Nixon, there were votes on the issue that did not follow the party-line. This will be remembered as perhaps the straw that broke civilization for this action is simply polarizing the politics and there is no going back. This will not save the day for the Democrats in the 2020 election and may even have serious implications.
The impeachment is now out of committee and on the way to the House floor. The politics has become so hateful at this point we will see the House vote next week on these articles and if the Democrats fail to come to their senses, the House will pass on a simple majority and it will go to the Senate.
Trump will be the third president to have been impeached by the House. An impeached president has never been convicted and removed from office by the Senate. The chance of that remains extremely low. The Democrats will use this in 2020 and claim that they should be voted-in because the Republicans obstructed justice, which they define as simply their personal hatred of Trump for beating Hillary.
The outcome of this is more akin to lighting a match in a room full of gas. This will only result in the further fragmentation of the nation ensuring we are headed into a complete breakdown of the principles of democracy going into 2032.