Blog/Politics
Posted Jul 21, 2019 by Martin Armstrong

Sen. John Kennedy appeared on Tucker Carlson to discuss "The Squad," composed of Democratic Reps. Ilhan Omar of Minnesota, Alexandria Ocasio-Cortez of New York, Rashida Tlaib of Michigan, and Ayanna Pressley of Massachusetts, as they have become known. His comment that he did not believe that Trump's statement that either one loves America or go home to where you came from was certainly not racist. Trump has since said that anyone who hates America is free to leave. Moreover, there are only four races – white, black, red, and yellow.
"I'm not sure the president should exchange playground insults with them. When you try to argue with a fool, that proves there are two. But the president decided to do so," Kennedy continued. "The simple fact of the matter is that the four congresswomen think that America was wicked in its origins." Just because someone is of Spanish origin does not qualify them as a race – that is simply their ethnic origin no different than French, German, English, or American. It does seem that The Squad does not own a dictionary. They have equated the border detention centers to the concentration camps of Germany as if those at the border were being executed in gas chambers.
Senator Kennedy called then no liberals, like Pelosi, but "left-wing cranks and they are the reason that there are directions on a shampoo bottle." He added: "I think we should ignore them."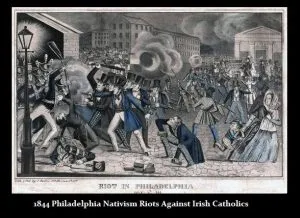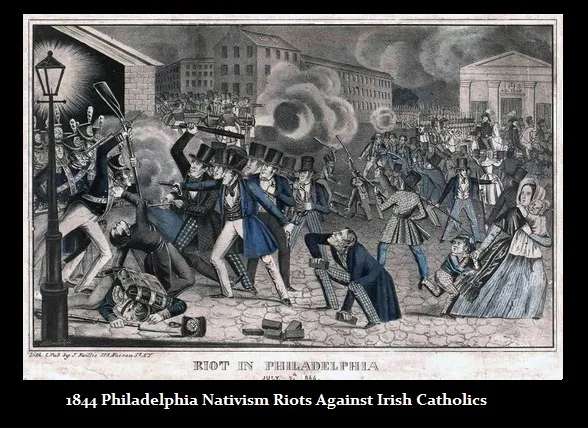 History is littered with prejudice and violence and the targets have always shifted over time. In the 1840s, there was violence against the Irish immigrants that they were taking all the jobs as cheap labor. That erupted into gun battles on the streets of Philadelphia. They became known as the Nativist movement opposing immigration. Of course, the Irish were Catholics and the previous immigrants were Protestant so the old hatred based on religion in England from the 17th century lingered still even to this day.
So the danger of "The Squad" is that they will consume all the attention and actually do far more damage to the Democratic Party than meets the eye. The high achieved by the Democrats in presidential elections has been in a bear market since their peak during the Great Depression. The more radical "The Squad" becomes, the worse this will be for the Democrats.