Blog/Politics
Posted Oct 3, 2019 by Martin Armstrong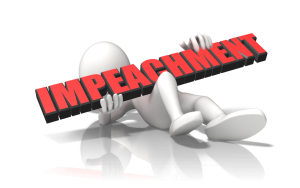 QUESTION: I really do not understand how this is an impeachable offense to ask Ukraine if there was any wrong doing on the part of Biden?
UD
ANSWER: It is not. They are twisting this by claiming Trump was seeking help from a foreign country to interfere in the 2020 election. It is the same old theory with Russia. It ignores the question of whether there was any criminal activity on the part of Biden. I am not concerned about the claim that Biden demanded a prosecutor be dismissed for investigating his son. I am not sure that is a true statement or allegation to begin with.
My focus would be on HOW Biden's son got that job in Ukraine to start with when his father was Vice President. That would be a hot topic and a prosecution the SEC would bring against any fund manager who happened to get funds from that entity to manage. That is the questionable area to investigate and that is completely valid.
The Democrats were demanding Trump's tax returns to investigate what he did in the past. This foreign interference, which the USA does all the time, is a novel theory to prosecute on. Obama ordered Trump to be investigated during the election. Is that OK because it wasn't involving anyone overseas? Hillary paid for Steele dossier which began the Russian investigation. That too was ok? That involved foreign players.
When Speaker Newt Gingrich made the push for impeachment of Clinton, the House held a formal vote to begin the inquiry and even 31 Democrats joined all 227 Republicans in support. Clinton actually committed perjury. While that was a crime, it was not directly involving his role as president. I thought that was going too far as well.
The November 1998 midterms turned into a referendum on Clinton. Here, the Democrats will turn the 2020 election into a referendum on Trump. It did not go well for the Republicans and Newt later lost his seat.
This will be the new scandal designed to keep the same theory of foreign interference in an American election. So get use to it. This will occupy the headlines going into the election. There was nothing with Russia so they have used the same theory with Ukraine.