Posted Apr 22, 2022 by Martin Armstrong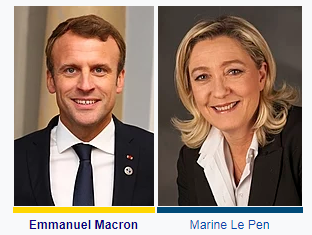 The French election this weekend really does hold the fate of the world in balance. The victory of Macron will set the fate of Europe on its course with destiny and the end of the West as we know it. Macron wants a European army and he really believes that the EU can defeat Russia. A Macron victory will indeed set Europe on course for war and 2023 will not look very bright. From a realistic model projection, Le Pen should win, but from a practical perspective, Macron will win because Europe must simply face its destiny.
A mere month-end close below 6385 on the CAC40 will signal that capital is indeed concerned and we can see the European markets decline into 2023. The CAC40 has penetrated into the broad uptrend channel but it has yet to closed back into that channel holding on for dear life.