Blog/Politics
Posted Apr 12, 2023 by Martin Armstrong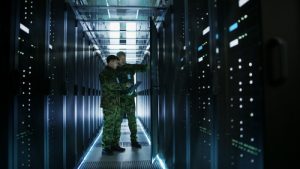 South Korea's diplomatic policy dictates that it will not send ammunition to countries at war. The recently leaked documents from the Pentagon reveal that the US is bullying South Korea into breaking its policy to arm Ukraine. Worse, the documents reveal that US intelligence agencies have been spying on South Korea. This is an unfortunate start to President Yoon Suk Yeol's meeting with President Joe Biden scheduled for April 26.
CIA personnel has been warning Washington not to speak to Seoul over the phone until they agreed to arm Ukraine. Former presidential secretary for foreign affairs Lee Moon-hee, named Yi Mun-hui in the documents, told former Director of National Security Kim Sung-han that South Korea would have two options. The first would be for the nation to change its stance. The second would be for South Korea to send weapons to Poland, using Poland as the middleman to avoid breaking policy as "getting the ammunition to Ukraine quickly was the ultimate goal of the United States." The documents also reveal potential wiretapping against South Korea who is supposed to be an ally.
Yoon is under pressure from both the US and his own policymakers. Opposition Democratic Party of Korea (DPK) floor leader Park Hong-keun is urging Yoon to demand an apology from Biden. "If confirmed, it is an unacceptable practice that cannot be tolerated in the 70-year alliance and a clear infringement of South Korea's sovereignty that shatters bilateral trust … The U.S. government should be faithful to its ally and apologize to the South Korean public and the government, if those reports are true," Park stated.
Why is the US risking its international alliances to fight a foreign war? The Biden Administration has completely abandoned domestic policy in favor of fighting a war on behalf of Ukraine. Countries previously yielded to the demands of the US as its military and economic power made it the key ally. Things have changed. Nations are increasingly distancing themselves from the US as the country spirals down a dark path that has already shaken its superpower status.