Blog/Politics
Posted Nov 7, 2018 by Martin Armstrong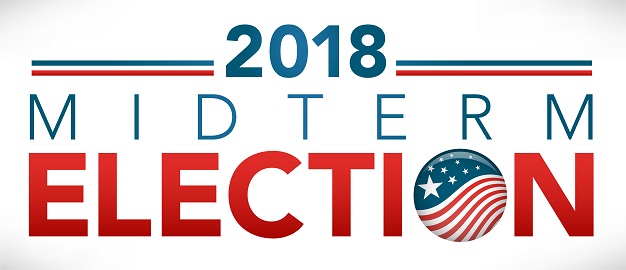 It looks like we will not have the final number on the MidTerm Elections at least until tomorrow. There are more than a dozen races across multiple states that are too close to call which include contests in Arizona, Florida, and Montana for the U.S. Senate and in Georgia for governor. There is a Senate special election in Mississippi that has gone to a runoff. Meanwhile, Florida Democratic incumbent Sen. Bill Nelson has called for a recount in his race for re-election after unofficial results appear to show him narrowly trailing behind Republican opponent Rick Scott, who is currently the state's governor. When we look at all of these numbers, what jumps out and smacks you in the face is precisely how divided the nation has become. With each side believing that a razor-thin majority gives them the right to exploit the other 50% there is no doubt that projecting this out long-term, we cannot expect this to end nicely.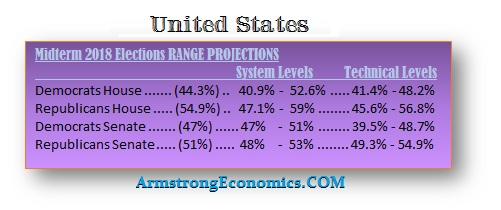 The two sides are just so far apart it really looks like we are headed into the fall of the United States the same as we saw the decline and fall of the Roman Republic. As it stands right now, the Democrats lost 2 seats in the Senate and that means they elected a Bearish Reversal which is extremely important to know. The declared House vote is 220 to 193 places the Democrats at 48% which is just under the technical resistance at 48.2%. This is still well below their last high of 56.7% in 2015. Of the 37 seats still not declared, if the Democrats won every seat in these close elections that would put them at 57%. If just one of those 37 seats not yet declared is won by a Republican, that keeps the Democrats below the previous high. The Democrats need 17 more House seats to be impressive.
Obviously, we have a HIGHLY contentious election that is not conclusive for the country and it just keeps getting worse to the point something will have to give. Meanwhile, the stock market has breathed a sigh of relief that there was no Blue Wave that would undo everything that has supported the market post-Trump election.