Blog/Politics
Posted Feb 21, 2020 by Martin Armstrong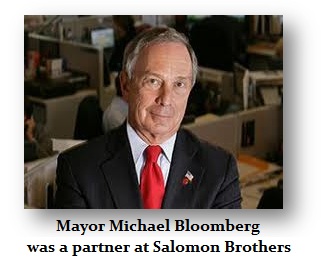 QUESTION: Wasn't Bloomberg part of the manipulation of the US Treasury Auctions at Salomon Brothers?
JF
ANSWER: No, he sold out to Phibro and was not asked to stay on. In 1973, Bloomberg became a general partner at Salomon Brothers, where he headed equity trading and, later, systems development. In 1981, Salomon Brothers was bought by Phibro Corporation, and Bloomberg was laid off from the investment bank. Perhaps they saw his personality and did not see where he would fit into the bank with what many say was a position of self-importance. Bloomberg News was founded by Michael Bloomberg and Matthew Winkler in 1990 to deliver financial news reporting to Bloomberg Terminal subscribers. The agency was established in 1990 with a team of six people while Winkler was the editor-in-chief.
Michael Bloomberg had the audacity to deliver a speech at the Democratic Convention saying, "There are times when I disagree with Hillary Clinton. But let me tell you, whatever our disagreements may be, I've come here to say: We must put them aside for the good of our country. And we must unite around the candidate who can defeat a dangerous demagogue."
He tried banning large sugary drinks which took effect on March 12, 2013. The pizza deliverymen were prohibited by LAW from delivering 2-liter bottles of soda, assuming one person would drink the whole thing. He never heard of a pizza party or a Superbowl party. Bloomberg is a very dangerous demagogue who accused Trump of being one. Perhaps it takes one to know one. The definition of a demagogue is a political leader who seeks support by appealing to the desires and prejudices of ordinary people rather than using rational argument. As far as a demagogue having the skills to manipulate the press, that's not Trump, but that is Bloomberg who owns the press.
"a gifted demagogue with particular skill in manipulating the press"
For someone who came from the market-manipulating house of Solomon Brothers, his attempts on stop-and-frisk, changing the law so he could continually run New York City eliminating term-limits, and his attempt to outlaw 2-liter bottles of soda are just the definition of a demagogue. He will take the green agenda and implement it in a dictatorial fashion as he ran New York City.
However, Bloomberg's actions with regard to "Occupy Wall Street" were so outrageous in how he protected his clients with terminals. He even drew outrage from the Washington Post (Bloomberg's disgraceful eviction of Occupy Wall Street). Bloomberg defended Wall Street against the protest "Occupy Wall Street" and arrested people for exercising their First Amendment Rights. Again, Bloomberg acted like a dictator. The Washington Post wrote: "The behavior of the NYPD and the mayor's office, in ordering this brazen action while blocking the press and the public from reporting on the eviction, is a disgraceful display of unnecessary force on a protest that for the most part has behaved lawfully and respectfully throughout its two-month existence."
Kathy Kiely, the Washington news director at Bloomberg Politics, said she resigned from her post after growing uncomfortable with the way her outlet responded to news that Bloomberg is considering an independent White House bid. She said when she resigned in January 2016, "I think that Michael Bloomberg has built a terrific news organization but that he needs to liberate it to cover all the news, even the news about him."
Actions speak louder than words. All of the actions of Bloomberg in New York City are a warning sign that this guy is a real threat to the American Constitution. He refuses to respect the right of freedom, speech, First Amendment, or due process of law. We will see Bloomberg News now become CNN in the financial world and distort all facts to support moving their leader to the White House.