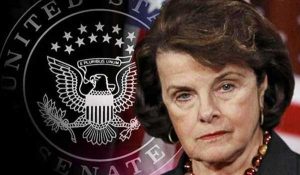 Dianne Feinstein adhered to Hillary Clinton's suggestion to die in office to save her seat for another Democrat. Feinstein earned about $200,000 annually as a public servant. And yet, she died a wealthy woman with an extensive real estate portfolio.
Lobbyists should be illegal. Their sole purpose is to bribe our elected officials in order to have policies passed that support their interests. A quick look on Open Secrets shows that Feinstein received funds from various sources. Energy companies like PG&E "contributed" nearly a quarter of a million, while Edison International gave $200,000. Emily's List, an organization dedicated to promoting pro-abortion female Democratic candidates, supplied her with $158,711. Banks like Wells Fargo and Bank of America helped to line her pockets too. Disney contributed $139,055, as we know they've been under attack by what some call the "far-right."
Feinstein, as with most politicians, have inside information that permits them to make investments before policies are implemented. She was questioned in 2020 regarding her second husband, Richard Blum, who was a successful investment banker. In one instance, he dumped shares in a biotech corp before coronavirus went public. The Justice Department naturally cleared her of any illegal insider trading.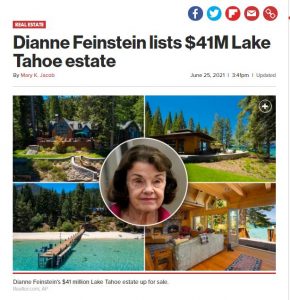 Between her illegal stock trades and lobbyists, Feinstein died a wealthy woman with a net worth of $160 million. Before her death, she sold her ranch in Aspen for $25 million and a compound on Lake Tahoe for $36 million. Her mansion in Washington, DC is estimated to be worth $7.4 million. She owned a $7.5 million beach house in California and a $5 million duplex in Hawaii. She had a mansion on San Francisco's bay worth about $21 million. Best of all, the woman who insisted that we, the Great Unwashed, adhere to green energy policies owned a $62 million Gulfstream G650 jet that she used to fly from mansion to mansion. We do not have public servants; we have actors who act in their own self-interest.