Blog/Politics
Posted Feb 21, 2022 by Martin Armstrong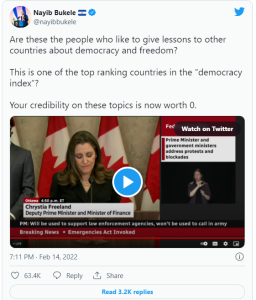 President Nayib Bukele of El Salvador criticized Canada's actions toward the Freedom Convoy and declared that Trudeau has lost all credibility. "Are these the people who like to give lessons to other countries about democracy and freedom? This is one of the top ranking countries in the 'democracy index'? Your credibility on these topics is now worth 0," Bukele tweeted. The president also included an excerpt from Canadian Finance Minister Chrystia Freeland's press conference where Freeland tries to justify invoking martial law by classifying the protestors as terrorists. Canada is now claiming that freezing the accounts of protestors is a push for anti-terrorist money-laundering prevention instead of the truth — a push toward the Great Reset.
Bukele's criticism has continued, with the president retweeting a post where someone compares Trudeau to the McDonald's clown. In fact, he is warning numerous world leaders to stay out of their internal affairs as the country deems bitcoin legal tender, which is a topic for another post. Bukele has been widely opposed to vaccine mandates and has gone as far as to claim the Ukraine crisis is a mere distraction from the mandate opposition. "The real war is not in Ukraine, it's in Canada, Australia, France, Brussels, England, Germany, Italy… They just want you to look the other way," El Salvador's president tweeted on February 13.
Trudeau's authoritarian rulings have caused him to become an international embarrassment. His nice-guy image has been dispelled by his actions that show the true nature of his character. Other leaders' public images are following suit. The emperor has no clothes.